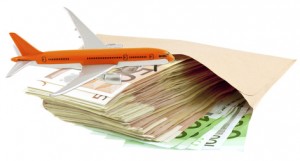 According to a "Domestic LCC User Attitude and Behavior Survey" released by Japan Tourism Marketing Co.,83.5% chose that "it was cheaper than other means for traveling" as the reason for selecting LCCs for recent travel occasion,  and this topped other reasons by a large margin. Over 60 years old seniors at the top of the list, older users in 50's and 40's tend to choose the inexpensiveness for the reason why they traveled on LCCs. Other reasons by many users were: "wanted to try LCC" (18.2%) and "it was the fastest means to get to the destination" (17.6%.)
As for the evaluation for LCC, the answers "it is good to be able to cut down expense by not ordering any food or beverage" and "it is good to be able to cut down expense by not checking any baggage" were selected by 75.6% users, showing that the system allowing to cut down charges according to each users' choice is highly evaluated. Among the free-answers, "it was better than expected" was one of the examples reflecting that many users felt the LCCs offer services which match their prices.
On the other hand, negative evaluations include "departure gate was too far" (74.4%) and "space between the seat in front was too narrow" (70.9%.) In free-answers, many comments were related to delays such as "delayed too much" and "poor communication and support in case of the delay". Some even stated that "will never use LCC" and perhaps delay is a serious factor which will affect the users' motivations for the future use.
LCCs compared with other airlines such as Starflyer, Skymark. Air Do and Solaseed Air (airlines excluding JAL and ANA), 59.5% answered "don't feel particular difference." On the other hand, those "feel difference" (30.9%) evaluate the low price and the simple system of the LCCs but evaluate other airlines concerning their services, schedule and trouble handling.
Furthermore, Japan Tourism Marketing Co. analyzed LCC users and classified them into 5 types according to their answers on attitude and behavior concerning daily life and travel. "Sympathizer type who tend to go along with the majority" who are not so strongly motivated to travel but want to be connected with others counted the most (41%.) These users prefer to travel on packaged tours and they see LCCs as a "must trend."
LCC uses are considered to be FIT-oriented and do not travel on packaged tours, however the survey revealed the fact that they want to use LCC but at the same time wish to travel more easily on packaged tours. In response to this result, Japan Tourism Marketing Co. presented a concept that packaged tours using LCC would lead to increase travel occasions of younger generations.
The survey was directed to Kanto and Kansai residents of over 18 years old. A screening survey collected 43,918 valid responses. The main survey was conducted during June 28 to July 3, 2013, directed to 949 users who used domestic LCC flights since March 2012.