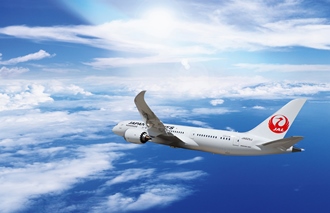 JAL announced that it has posted operating revenue of 1,383.2 billion JPY (+7.3% year on year), operating profit of 174.5 billion JPY (+2.5%), ordinary profit of 163.1 billion JPY (-1.1%) and profit attributable to owners of parent decline to 135.4 billion JPY (-17.5%) for FY2017 ended March 31 2018.
JAL explained that air travel demand remained strong for domestic and international flights due to moderate economic recovery trends seen in Japan and the overseas market. However, net income was down due to deferred income taxes from the previous fiscal year.
The air transport segment increased operating revenue by 8.4% to 1,257.2 billion JPY and operating profit by 5.3% to 161.2 billion JPY on a year on year basis. Jalpak, the JAL group travel company, resulted in operating revenue of 175.1 billion JPY (+1.5%) with a 1.4% increase in domestic travel customers to 2.51 million and a 4.2% decrease in overseas travel customers to 231,000. 
Operating revenue of the international passenger operation reached 462.9 billion yen (+11.5%) with a 2.3% increase in passengers (8,585,399 passengers). The load factor was record-high 81%. ASK was up 2.4%, and RPK 3.4%. 
In FY2017, JAL launched new services between Narita and Melbourne and between Narita and Kona in September and also signed new partnership agreements with Vietjet, Vistara, Hawaiian Airlines, Aeromexico, and Aeroflot to further improve its network.
Operating revenue of the domestic passenger operation was up 3.9% to 518.2 billion yen with a 4.5% increase in passengers (34,033,475 passengers). The load factor was 71.8%, 2.5 higher points than FY2016. However, revenue per passenger declined from the previous year because of severer competition with rival airlines. ASK was up 0.8%, and RPK 4.5%. 
JAL Group introduced the Embraer 190 aircraft on flights to/from Itami airport in order to improve the convenience and comfort level on regional routes. In addition, the state-of-the-art ATR42-600 turboprop was introduced to the island routes near Kagoshima Prefecture, operated by Japan Air Commuter.