According to the research conducted by VALUES, Inc., travel/transportation related Japanese websites with most visitors (unique users) in June 2014 were: 1st Rakuten Travel, 2nd Jalan Net and 3rd JAL (JL). The 1st and 2nd places remained the same as last year, but the number of visitors decreased at double-digits for both of those sites, 10% for Rakuten Travel and 13% for Jalan Net. Many of other top 10 sites marked double-digits decrease, except for JAL (12% increase), JR East Japan (7% increase) at 6th and JTB (3% increase) at 7th.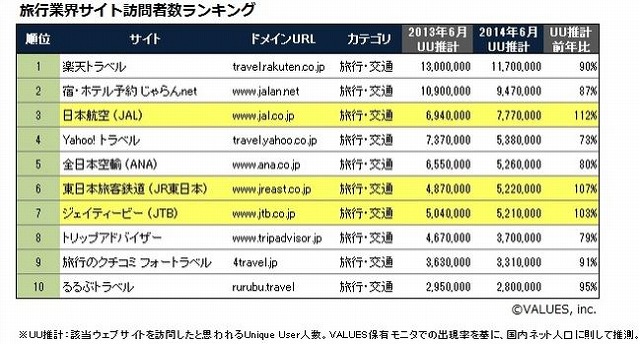 Survey about travel plans for this summer revealed that 48.9% plan to travel during this summer. Among those, 32.4% plan to travel within Japan, 7.0% plan to travel abroad and 9.5% have not decided the destination. 51.5% had planned to travel last summer, therefore the figure slightly went down this year.
The websites frequently browsed by prospective domestic travelers (websites with a major gap in the number of the non- prospective traveler visitors) were topped by accommodation sites: 1st Jalan Net, 2nd Rakuten Travel and 3rd Yahoo!JAPAN. Rakuten Ichiba at 4th and Amazon at 7th follow those sites, revealing that those planning domestic travels are brisk in their consumer confidence and often visit online shopping malls.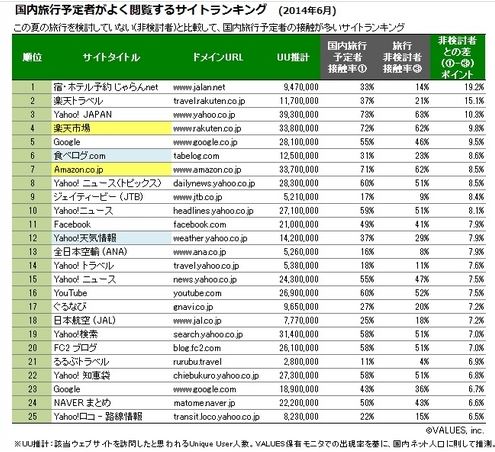 Websites browsed by prospective overseas travelers were: 1st HIS, 2nd JTB and 3rd ANA (NH.) In addition, "word of mouth" sites such as For Travel at 4th and TripAdvisor at 6th are frequently visited as well as Facebook at 5th. This shows that they were trying to collect information from the opinions of other users and reliable friends.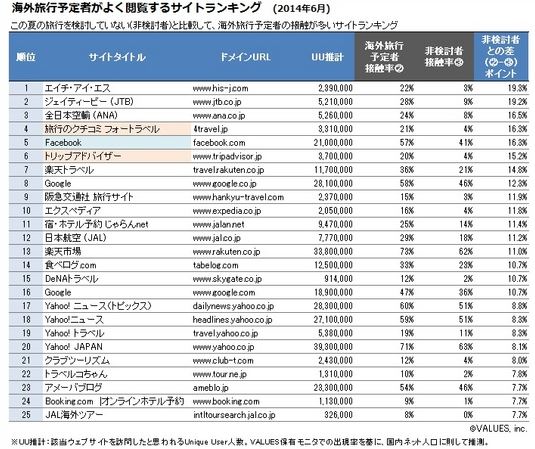 Furthermore, some of the websites frequently browsed by females among the overseas travelers (websites with a major gap in the number of the male overseas traveler visitors) included blogs and Q&A sites such as Ameba Blogs at 2nd and Yahoo!Chiebukuro (Q&A) at 3rd and also included content curation media such as All About at 5th and NAVER at 15th. also, "word of mouth" sites such as For Travel and TripAdvisor were browsed by more females compared with males. As a result, female overseas travelers' aggressiveness toward collecting information became evident.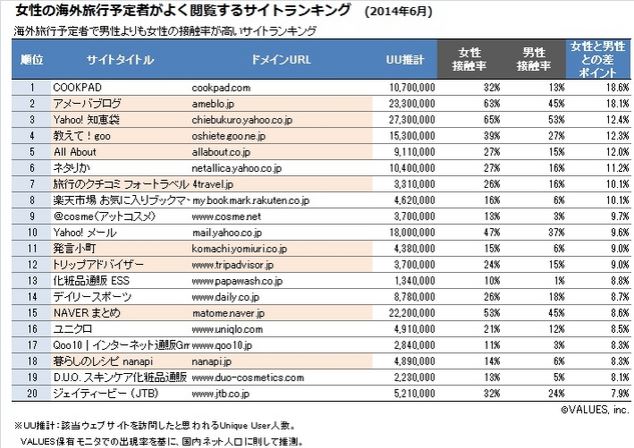 Besides, the following ranked within the top 25 of the keywords used for searching by the prospective domestic travelers: Jalan, ANA, Rakuten Travel, JAL and JTB. For the prospective overseas travelers, HIS ranked in on top of those 5 sites. On the contrary, ANA was the only travel/transportation related keyword ranked within the top 25 used by non- prospective travelers, and this revealed the clear difference between prospective travelers and non- prospective travelers.
The survey was conducted from June 25 to July 1, 2014 by VALUES, targeted at their monitors. The number of analysis target was 14,199. User behavior on the internet was analyzed by activity logs on the PCs.
(Travel Voice Editorial Department)