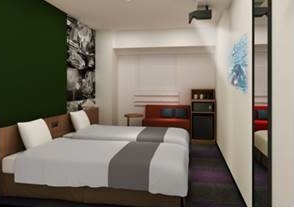 H.I.S. Holdings revealed that its hotel business will be expanded with opening of another Henn-na Hotels in Osaka, Kyoto, Kanazawa and Fukuoka of Japan and new hotels in New York State of U.S.A. and in Pamukkale of Turkey. 
New Hen-na Hotel will target international visitors to Japan particularly by increasing double or twin beds rooms. The original tablet-based service 'tabii,' which can control lights, air conditioner or TV in a room, will be available, in addition to entertainment-oriented robot services. 
New hotels in the foreign countries will target world's leisure and business travelers. H.I.S. expects that the hotels will be an opportunity for foreigners to select Henn-na Hotels in Japan when they visit Japan. Also, the new hotels plan to sell local activities. 
The following new Henn-na Hotels will open after October 2018:
Henn-na Hotel Tokyo Haneda on October 3 2018
Henn-na Hotel Fukuoka Hakata on January 17 2019
Henn-na Hotel Shinsaibashi Osaka on February 1 2019
Henn-na Hotel Nishi-Shinsaibashi Osaka on March 14 2019
Henn-na Hotel Kyoto Hachijyo-guchi Station in March 2019
Henn-na Hotel Asakusa in summer 2019
Henn-na Hotel Kansai Airport in autumn 2019
Henn-na Hotel Ishikawa Kanazawa in autumn 2019