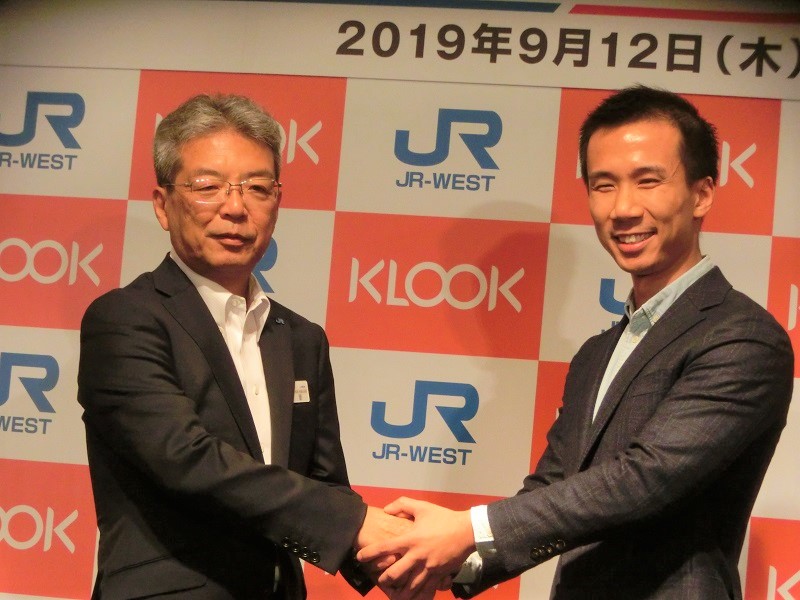 JR West, a major Japanese railway company covering western Japan, has formed partnership with Hong Kong-based in-destination product booking platform Klook in sending international visitors to Kansai and Hiroshima areas. As one of the partnership efforts, they have sold combination products of popular destination tickets with JR West railway pass since September 12 2019. 
They offer 10 sorts of combination products so far in Kyoto, Shidoshima, Hiroshima or Osaka. Depending on demand, JR West has a plan to increase the products and target destinations. 
Hiroshi Muro, Executive Officer, Senior General Manager of Marketing Department at JR-West, said at a news conference, "Together with Klook, we are going to develop tourist destinations in western Japan and at the same time to sell the tourist products overseas. Klook helps us send international visitors to Kansai area particularly in joint promotions."
The new combination products are sold on e-tickets with QR codes. A user can redeem the sent a QR code and an IC-based passport for a railway pass in a station after arriving in Japan. 
Ethan Lin, CEO and Co-Founder at Klook, said, "JR West is a very important partner for us in our business in Kansai area. Also the partnership became a big milestone for us in terms of deeper digitalization and the scale of a business."
Klook has triple-digit more users for Japan than a year ago, particularly preferred by the Millennium Generation. Globally, Klook users have reached 30 million, out of which mobile users account for 75% of the total. 
According to the Klook data, bookings in popular tourist destinations in western Japan, like Kyoto, Nara or Kobe have doubled, and railway-related service bookings have been five-fold more in the past year by August 2019.
Klook has launched a special campaign page 'Explore West Japan' on its platform to sell the combination products at 10% discounted prices by December 31 2019.