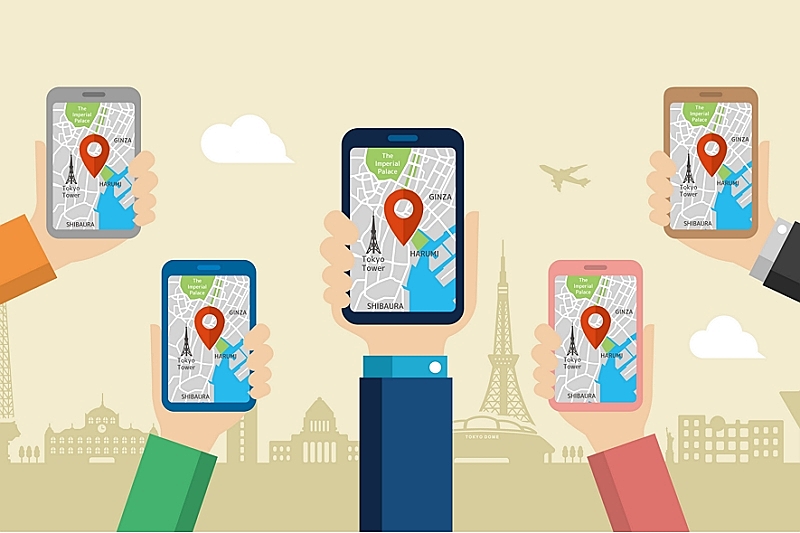 Meta Tourism Promotion Institute, launched in November 2020, has started its activities in earnest, when it held a kick-off event for Sumida Meta Tourism Festival on August 24 2021. Meta Tourism is a new tourism concept that oversees a variety of content layers for a particular place or a particular phenomenon.
Tomoe Makino, the Institute president and former TripAdvisor Japan manager, explained, "Old Japanese cafe 'Takemura,' for example, is not only a cafe but also has a variety of meanings, such as a scene in a novel by a Japanese famous novelist, a location of popular TV program or a location of a big-hit animation. You see the same place, but each of you consume different meanings from the place."
In other words, meaning of the big-hit animation is a fresh tourism content for a fan of the novelist. "If you can enjoy seeing a particular place from the different viewpoints, tourism will be more fun," Makino said.
One of the practical actions by the Institute is to visualize different meanings and values as location information on a digital map for a tourism tool.
Meta Tourism generates five effects
Makino picked five effects from Meta Tourism.
One of them is related to tourism digital transformation. If database is created to integrate cultural resources or tourism resources as location information, it will be a source to extract a variety of meanings about a particular theme and for a user to access to different meanings for a particular theme.
The second effect is to meet diversified travelers' needs and values through visualization of different meanings and values.
The third effect is a shift from mass tourism to individual tourism, which may contribute to decentralization of tourism. Makino said, "Having 100 places collecting 10,000 visitors rather than having a place collecting 1 million visitors maybe better for the future tourism."
The fourth point is sustainability. Meta Tourism is not an action to develop new tourism resources through big investments, but is to visualize existing tourism values.
Makino said that so-called 'civic pride' is important for Meta Tourism. Local people cab have an opportunity to recognize existing values in their neighborhood. "Who knows which area or place can be a tourist spot. Meta Tourism dose not succeed without commitment to local tourism by local people with local prides," he added.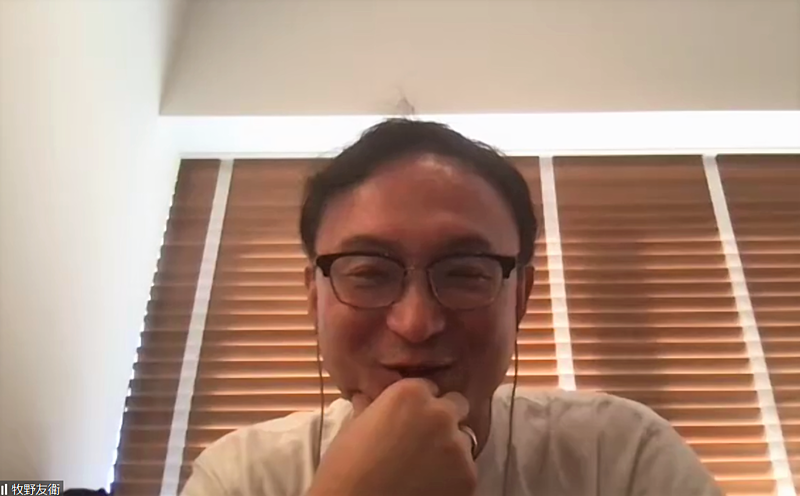 Tomoe Makino talks about Meta Tourism
'Sumida Meta Tourism Festival' as a model case
Meta Tourism Promotion Institute organizes 'Sumida Meta Tourism Festival' in Sumida, Tokyo, as a practical action for Meta Tourism from September to December this year.
After establishing a database inputting not only public information but also new attractions exploited by artists and experts, who are basically outside of tourism. Makino said, "Anyone, even personal memories, can input anything in a database. The next step is curation of the inputted information to visualize meanings and values on a map."
The curated data is visualized on universal uMap for the festival, but Makino said that the Institute has a plan to launch an original map platform as a Wikipedia-like map.
Using the curation map, a monitor walking tour will be offered in November, and a test tour for Meta Tourism will be sold in December. Works for the Meta Tourism Festival created by artists will be exhibited in The Sumida Hokusai Museum. An event to introduce Meta Tourism Map publicly will be held on December 4.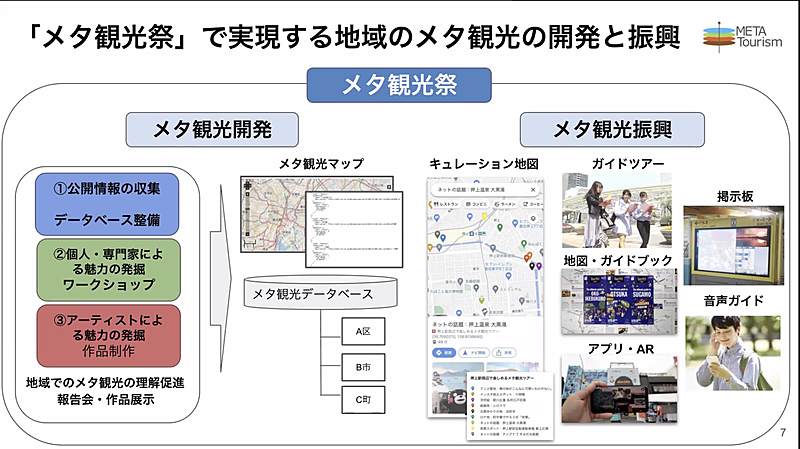 プレゼンテーションより