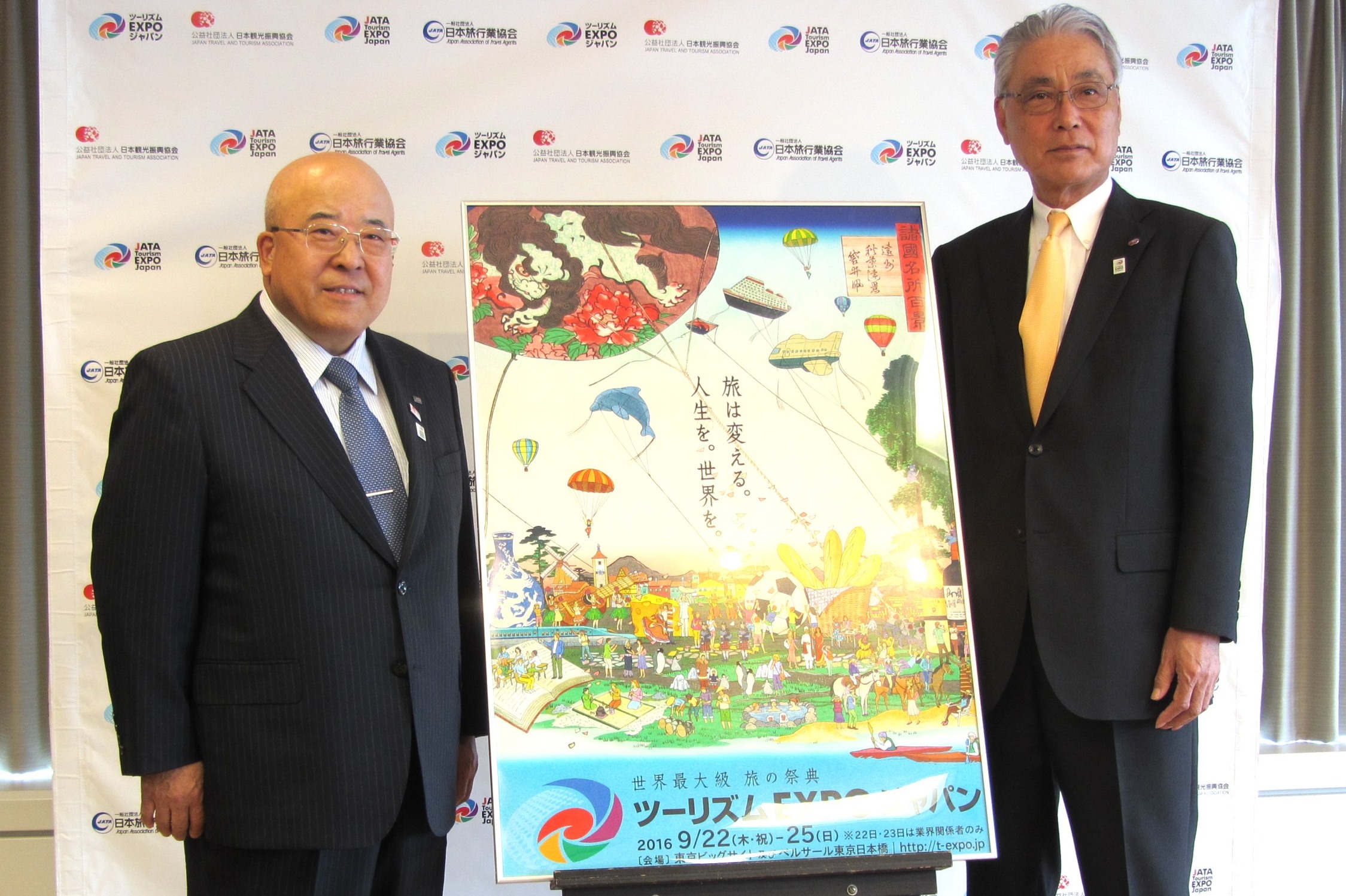 Japan Association of Travel Agents (JATA) and the Japan Travel and Tourism Association announced outlines of Tourism EXPO Japan 2016, which will be held in Tokyo Big Site in September 2016. Exhibitors in the travel showcase are expected to increase to 1,160 or more from 140 countries and regions, and exhibition booths will also increase by 4% year on year to 1,500 or more. Korea Tourism Organization and Brand USA will have the largest exhibition space, and Atout France will be an exhibitor for the first time in the past six years. The organizers have forecasted 185,000 visitors in total, more than 170,000 a year ago.
One of the key points in this year's event is to upgrade the International Tourism Forum Symposium last year to Tourism EXPO Japan Forum by extending the forum days to two days. The entire event period is also extended from three days last year to four days from September 22 to 25 2016.
"Placing the third year for the EXPO as a jump year to the future, we are going to make a complete form combining outbound travel, travel in Japan and inbound travel," Hiromi Tagawa, Tourism EXPO Japan 2016 Executive Committee Chairman and JATA Chairman, said. "The EXPO will be held in a golden year toward Tokyo Olympic in 2020, right after Tokyo called as the next Olympic in the closing ceremony of Rio de Janeiro Olympic. We are making efforts to make the event succeed as the first stage from a tourism-oriented nation to a great tourism nation."
He also said of the EXPO after 2017, "The program outlines should be redesigned every two years. As the supporting industries for tourism are extending, it is necessary to make partnerships with other industries and local DMOs, having an idea that tourism is not sustained only by tourism industry." After 2019, it is possible for the EXPO to be held in other cities than Tokyo because Tokyo Big Site may be used for Tokyo Olympic.
Referring IPW, the travel trading show of the U.S.A., with on-site contracts on $1,000 to $2,000 for hotel rooms, Tagawa emphasized that the Tourism EXPO Japan should have the same direction, putting its weight on trading opportunity.
Tourism EXPO Japan Forum 2016
In Japanese