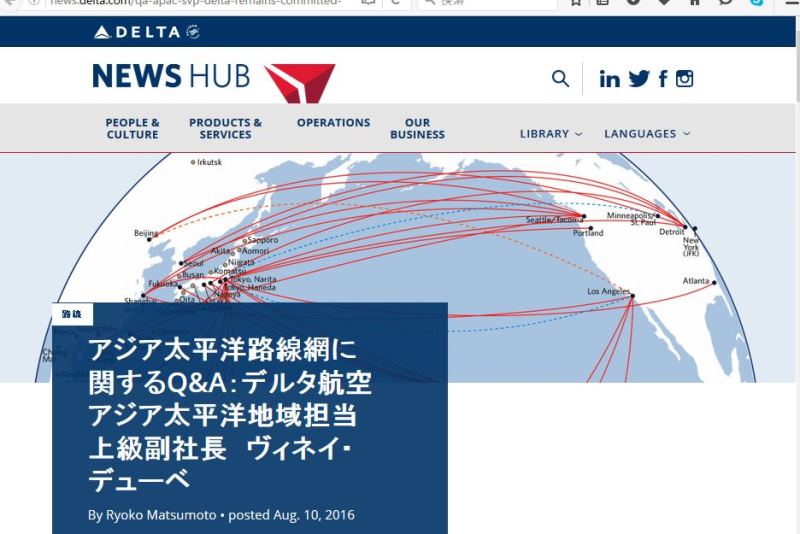 Delta Air Lines announced on August 10 that the airline will withdraw from three Narita routes to New York, Bangkok and Kansai International Airport as a connection service this fall, as one of its network reorganization in Asia Pacific after two Haneda daytime slots were awarded to the airline. Delta said that the airline remains committed to supporting a strong Asia-Pacific network.
The U.S. Department of Transportation tentatively awarded Delta daytime service from Los Angeles and Minneapolis to Tokyo-Haneda. Delta is tentatively slated to receive two of the five available daytime trans-Pacific HND frequencies available for U.S. airlines as part of the new aviation agreement between the U.S. and Japan
Requesting complete liberalization of Haneda Airport, Delta emphasized that the new Japan-U.S. agreement benefit U.S. airlines that have joint venture partners in Japan. Delta does not have a Skyteam alliance partner in Japan, unlike American Airlines with JAL for oneworld and United Airlines with ANA for Star Alliance.
Delta asserted: Japanese carriers have been able to build extensive Asia networks from Haneda over the past decade while the airport has been run primarily as a domestic hub. Now Japanese carriers and their U.S. joint venture partners will be able to easily access those networks through the eight of 12 trans-Pacific frequencies awarded to carriers of both countries.
Even after cancelling the three Narita routes, Delta serves Seattle, Portland, Detroit and Atlanta on the U.S. network, Shanghai, Taipei, Singapore and Manila on the Asia network and Honolulu, Guam, Saipan and Palau on the Pacific resort network.
In Japanese