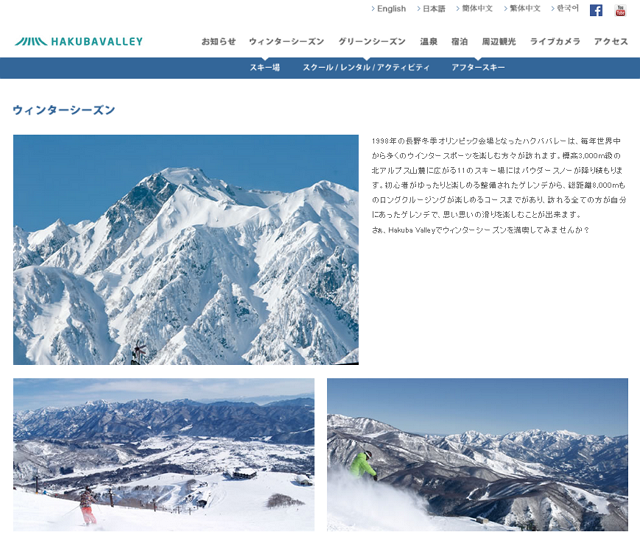 Hakuba Valley, a snow resort in Hakuba, Nagano Prefecture, has forecasted that foreigner skiers are expected to increase by 30% year on year to about 200,000 in the 2015-2016 winter season. The forecast is based on sales of tickets to foreigner skiers and the booking status of non-stop buses from Narita Airport to Hakuba and skiing tours, which are operated by JHN Travel.
The following table shows an increase in foreigner skiers since 2009: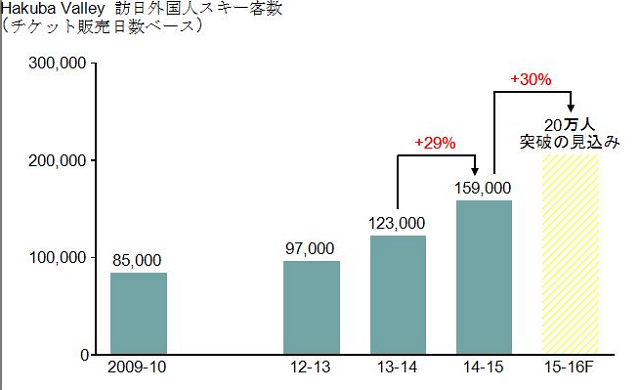 Hakuba Valley Promotion Board (HVPB), which consists of 11 ski resort operators, analyzes that the growth results from regular travelers and word of mouth. In the last year's survey, regular foreign skiers with more than twice visits accounted for about 55% of the total, out of which nearly 70% said that Hakuba was a ski resort to recommend to friends. Also, the previous effort to raise awareness in partnership with well-known ski resorts in Canada, the U.S.A. or France contributes to the growth of foreigner skiers, according to HVPB.
HVPB has an idea to continue attracting more foreigner skiers through improvement of conveniences for accommodation and transportation, diversification of skiing courses or thorough control of powder snow JAPOW quality.
In Japanese