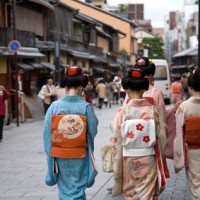 Kyoto Convention Bureau announced that a share of foreigner overnights accounted for 41% of the total in July 2015, 7.8 higher points than a year earlier. It was the first over 40% since the bureau began the survey.
The occupancy rate was 89.2%, 9.0 higher points than a year earlier, marking year-on-year growths for six months in a row.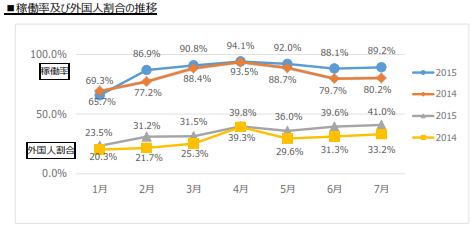 By market, Chinese overnights increased by 133.7%, which represented year-on-year doubling growths for three months in a row, and the number of rooms occupied by Chinese travelers were more in July than any other months in this year. Likewise, the most rooms in this year were occupied by travelers from Taiwan, Hong Kong, Korea, Holland, Spain and Mexico.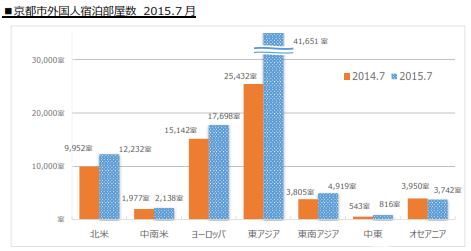 By international region, the largest share of occupied rooms was 48.8% by travelers from East Asia (+8.3 points), followed by 20.7% by those from Europe (-3.4 points) and 14.3% by those from North America (-1.5 points).
In Japanese