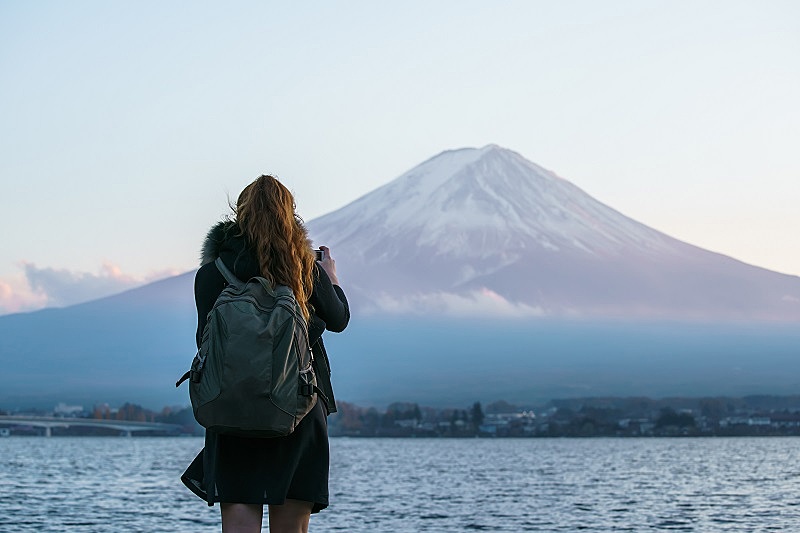 Japan National Tourism Organization (JNTO) announced that the number of international arrivals in Japan in 2022 was 3,831,900, which were much more arrivals than 245,862 in 2021 but 88% fewer arrivals than 2019. International arrivals have increased since the border practically opened in October, as the result in December 2022 were up 1.5 times to 1.37 million compared to November.
The largest source market in December 2022 was South Korea with 456,100 visitors, followed by Taiwan with 170,200 visitors, Hong Kong with 141.300 visitors, U.S. with 109,500 visitors and Thailand with 83,000 visitors. Visitors from South Korea were remarkably up 83.9% even compared to December 2019. JNTO said that recovery was seen not only in East Asia but also in Southeast Asia, Europe, U.S. and Australia.
According to OAG, international flights arriving in six major airports in Japan (Narita, Haneda, Kansai, Nagoya, Fukuoka and Sapporo) were up 234.7% year on year to 10,695 and available seats were up 225.2% to 2,531,177 in total. Sapporo increased international flights from zero a year ago to 478 flights, which represented strong recovery of the inbound travel market in Hokkaido.
The following graph shows international visitor arrivals by month and by source market.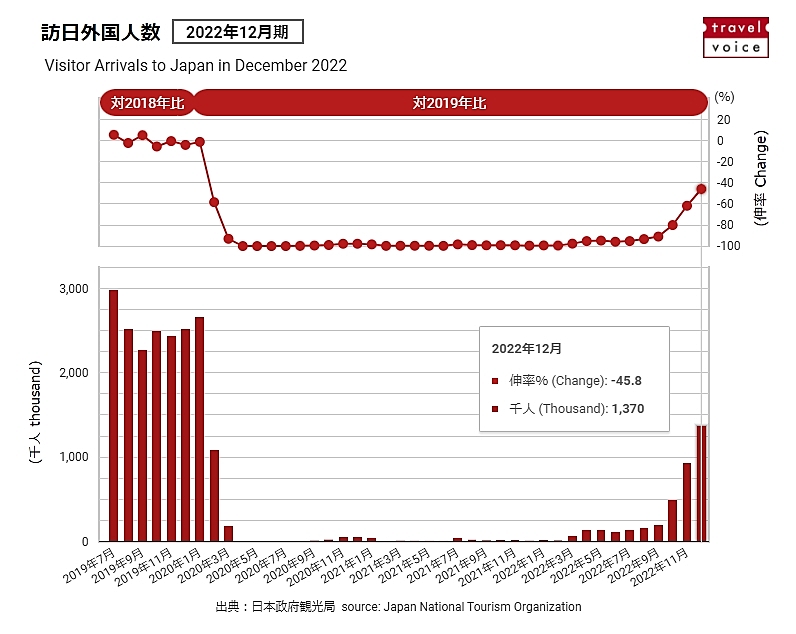 ※本グラフはコピー&ペーストで自由に転載可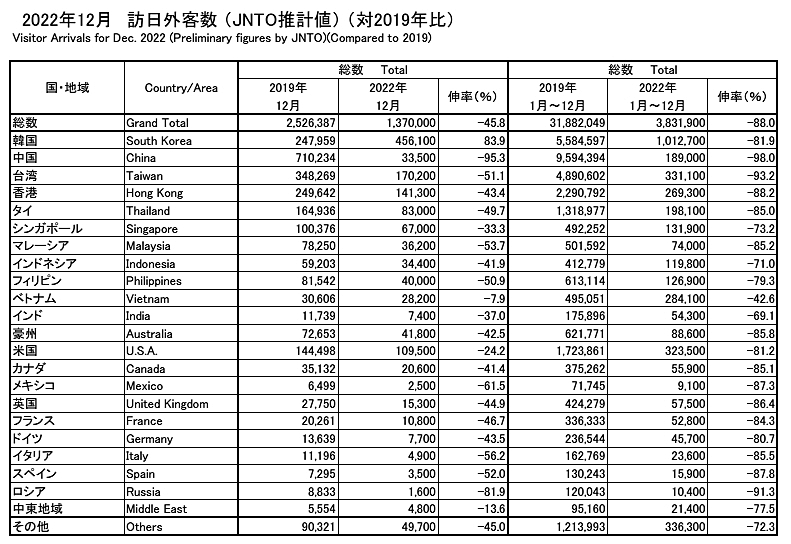 JNTO資料(対2019年比)より
JNTO資料(対2021年比)より
Arrivals by source region in 2022 (compared to 2019)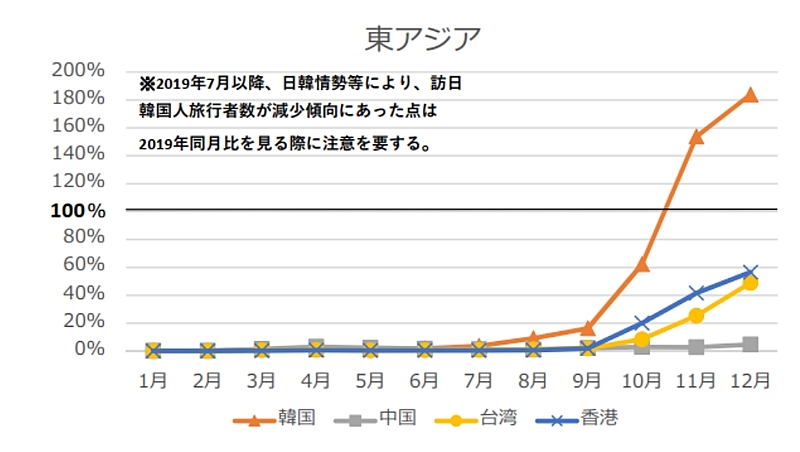 2022年 国・地域別の訪日外国人数推移(2019年同月比):JNTO資料より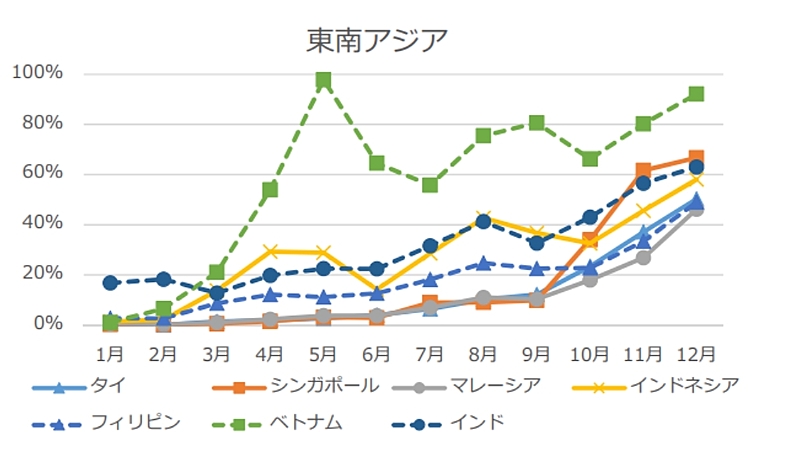 2022年 国・地域別の訪日外国人数推移(2019年同月比):JNTO資料より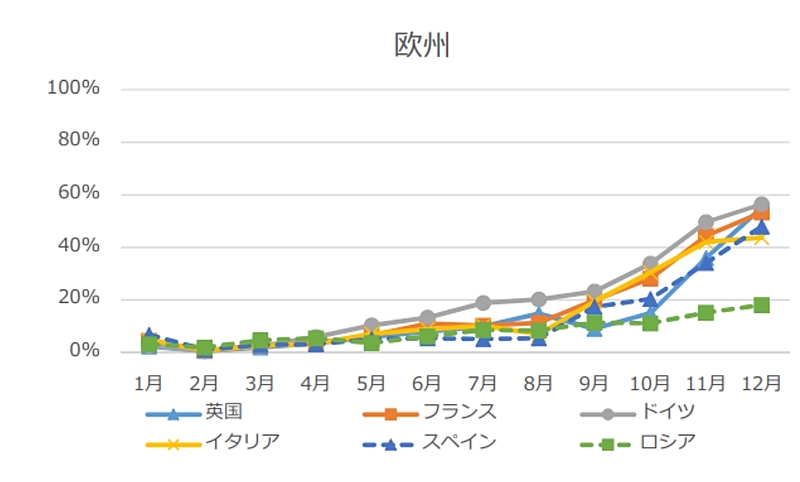 2022年 国・地域別の訪日外国人数推移(2019年同月比):JNTO資料より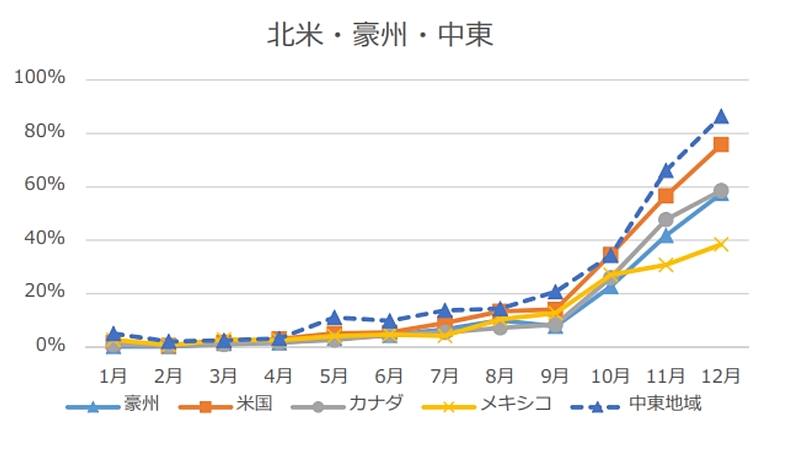 2022年 国・地域別の訪日外国人数推移(2019年同月比):JNTO資料より
International arrivals in the last decade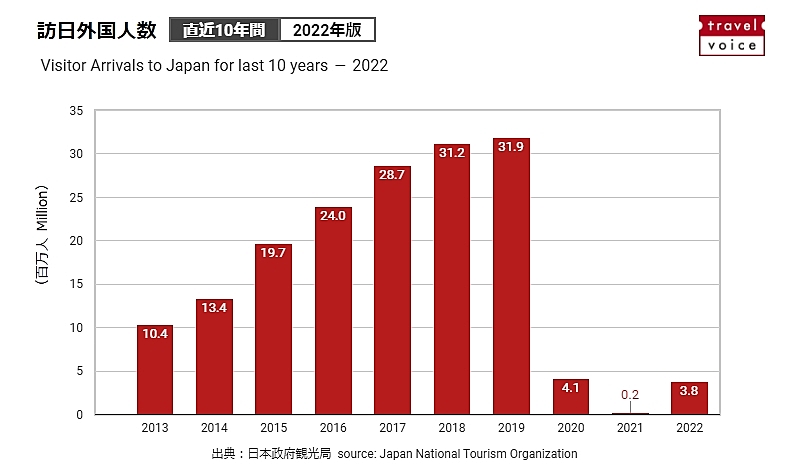 ※本グラフはコピー&ペーストで自由に転載可