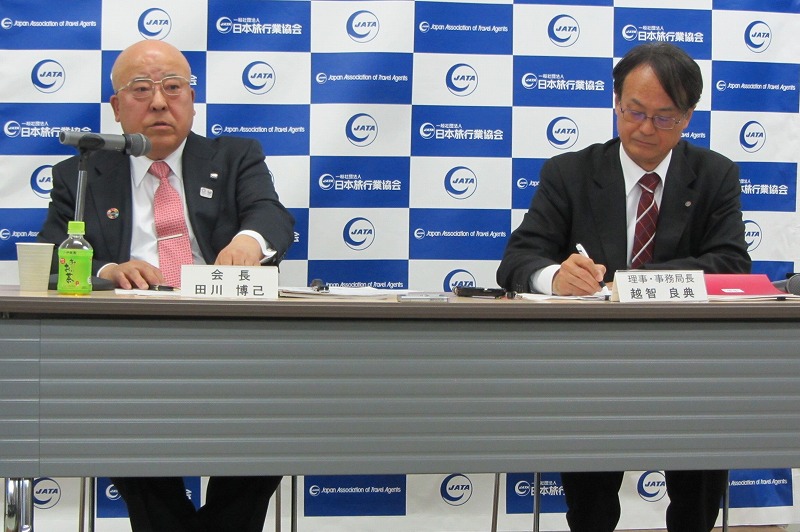 Japan Association of Travel Agents (JATA) Chairman Hiromi Tagawa said at a New Year press conference that 2018 is the year of opening a transformation era for the tourism industry toward sustainable development. Tagawa particularly pointed out three important themes: 1) the departure tax, 2) prevention of another Tellme Club bankruptcy case and amendment of the liquidation rule and 3) the land operator registration rule and revision of translator guide system.
Regarding 1), JATA is proposing policies to revitalize the outbound travel market and to make Japan the next generation tourism-oriented country. One of the proposals is to encourage the government to promote overseas travel by young people and to activate two-way tourism in the FY2019 budget, for which JATA creates a policy outline by February this year before an official proposal in March this year.
Regarding 2), JATA has already launched its original guideline for a travel company to receive 20% or less of the price as an application fee and the rest in two months before a departure day. In preparation for liquidation, JATA is trying to encourage JATA member companies to join the bond guarantee, which is a voluntary system for a travel company to accumulate 1% of a package tour price. The bond guarantee should be one of the criteria for a customer to choose a package tour product, Tagawa added.
JATA is strengthening activities of JATA Outbound Tourism Council (JOTC), especially focusing on two-way tourism with France, Russia and Spain celebrating anniversaries of partnerships with Japan. 
The travel market in 2017 is expected to grow with around 18 million Japanese outbound travelers, about 306 million domestic travelers and 30 million international travelers to Japan. The outbound travel market was boosted by recovery of demand for Europe, growth of demand for China and almost the same demand for Korea despite the North Korea problem. Tagawa said that the market will keep having a good sign for growth in 2018.