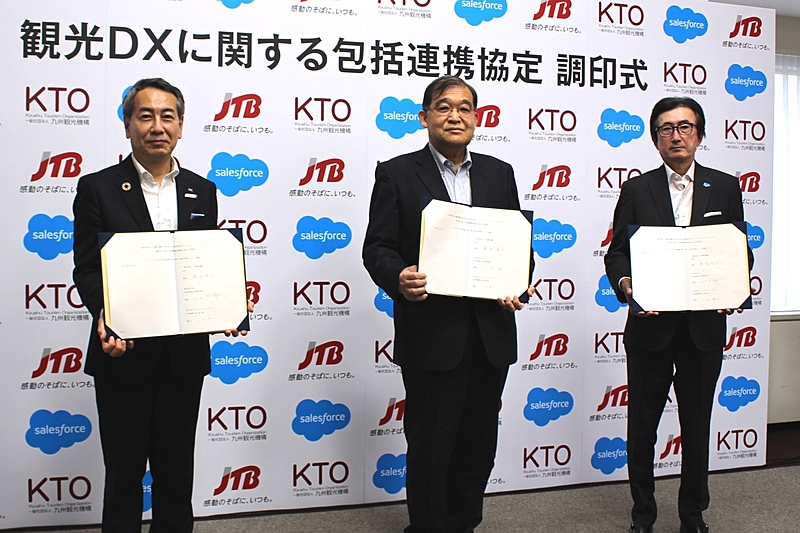 Kyushu Tourism Promotion Organization, JTB and Salesforce Japan signed a comprehensive partnership agreement to promote tourism DX. Drawing up a DX strategy together, they are launching a tourism platform to increase fans of Kyushu and repeaters for sustainable economic growth over Kyushu.
Based on the agreement, they aim to improve tourist conveniences by providing tourism information seamlessly, to extend stays in Kyushu by providing more enriched tourism experiences and to develop CRM to raise traveler satisfaction.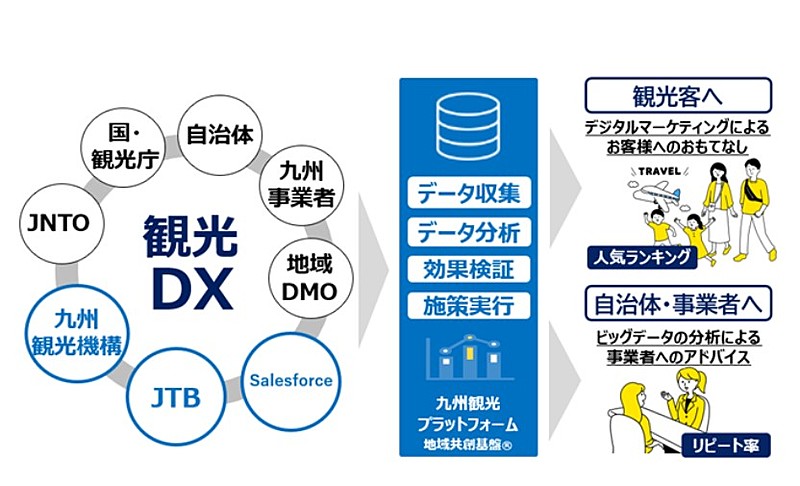 報道資料より
"To increase sales in tourism, it is important to increase regular travelers as well as newcomer travelers," Koji Karaike, Chairman at Kyushu Tourism Promotion Organization, said at a news conference. "The bases for the goal are to become more attractive tourist destination and to develop tourism DX." The organization expects to increase the ratio of regular travelers from 60% today to 70% of the total.
In FY2022, tourism information from local governments, local DMOs and tourism business operators will be linked on a platform, and also a variety of business data from JTB and the tourism organization will be accumulated.
In FY2023, a DX strategy will be drawn up to accelerate digital marketing approaches and to accomplish PDCA. In FY2024, the tourism organization will start providing members and stakeholders with consultation and marketing supports.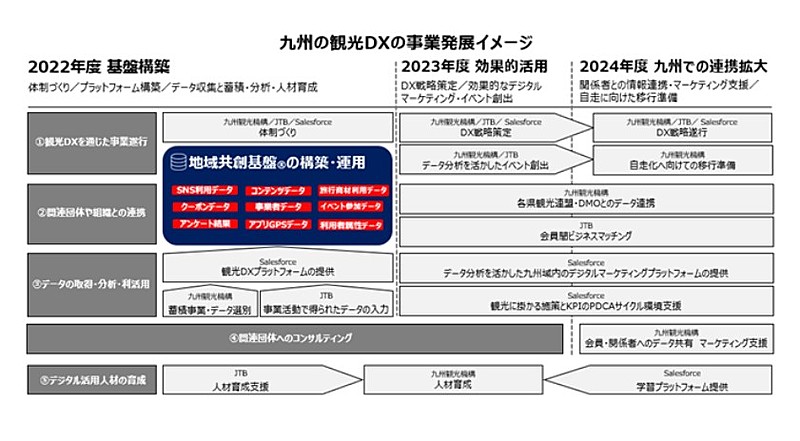 報道資料より
Salesforce Japan will provide its original services, such as Salesforce Service Cloud or Tableau, for the partnership. Shinichi Koide, Chairman and President at Salesforce Japan, said, "It is essential to understand customers and provide the best customer experiences before traveling, in traveling and after traveling. For that, effective management of tourism data is required."
Eijiro Yamakita, President at JTB, said, "We are creating a close linkage among a variety of tourism operators, stakeholders and tourists in Kyushu." Through the partnership, JTB is looking for business opportunities for booking of local experience products, product development, last-minute transportation, consultation business and event planning.
JTB and Salesforce Japan signed a partnership agreement in 2020 to revitalize local economy through DX. They have been working together to establish a local tourism platform, such as a pilot project in Nikko. The partnership in Kyushu is the first full-scale DX project for them.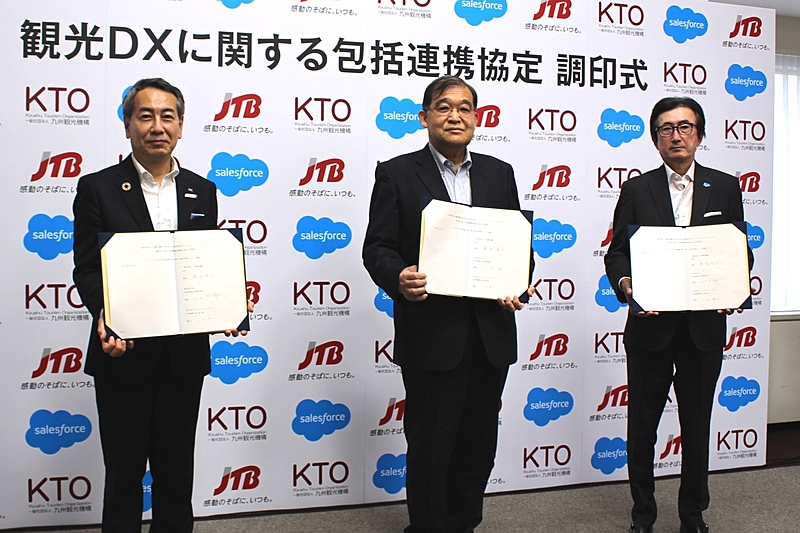 左から)JTBの山北氏、九州観光機構の唐池氏、セールスフォース・ジャパンの小出氏