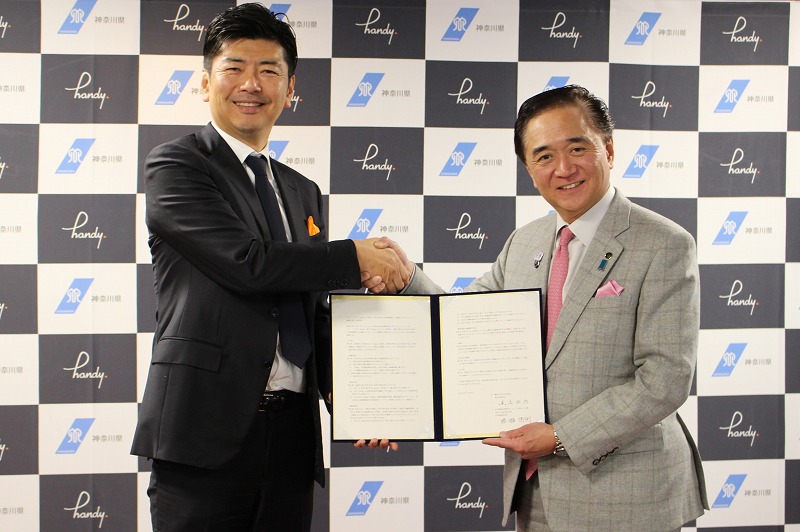 Kanagawa Prefecture will begin providing international visitors with a free rent-a-smart phone service at tourist information in cooperation with handy Japan. In the beginning, as a demonstration phase, 300 handy smart phones will be available at five tourist information places in Yokohama, Kamakura and Hakone.
 The prefecture hopes that the service will improve international visitors' satisfactions, offering more comfortable 4G internet connection and promotional information in 15 different languages on handy. In addition, delivery of tourist spot information is expected to raise awareness of unknown tourist spots in the prefecture, and location information of international visitors will help the prefecture grasp and analyze their behavior data.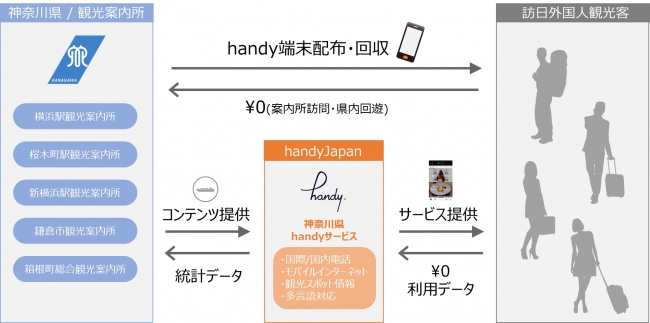 Yuji Kuroiwa, Kanagawa Governor, said at a news conference, "Data analysis will help us develop more effective tourism strategy." The demonstration will run by the end of March this year. Kuroiwa said, "We have an idea to extend the service throughout the prefecture as soon as possible after seeing the demonstration results."
 "Possibility of the free-rent-a-smart phone is unlimited," Hironori Katsuse, handy Japan CEO, said. "It replaces conventional paper pamphlet and become new smart tourist pamphlet to serve three functions of travel guidebook, tourist data analysis and disaster prevention management at the same time."
 handy Japan has rapidly been growing as it has already places handy smart phones in 230,000 rooms since starting the service in July 2017. handy Japan has a plan to extend the service to another local governments or local DMOs in addition to hotels or ryokans.