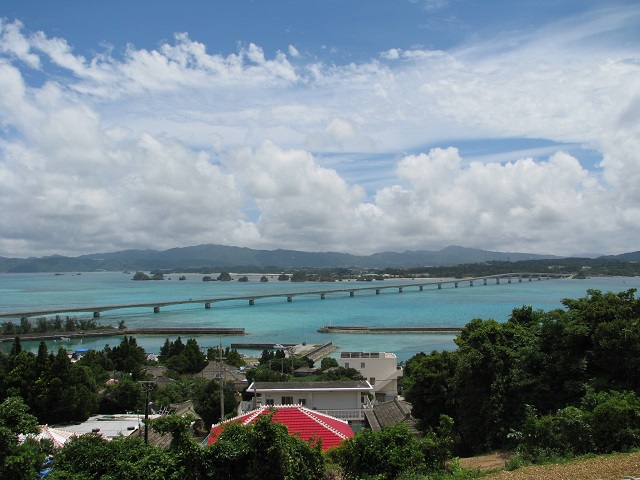 Okinawa Convention & Visitors Bureau (OCVB) announced at a regular press conference on August 26 2020 that it has revised downward its annual visitor forecast for 2020 from originally 3.91 million (announced on July 29) to 3.61 million, 64.5% fewer visitors than a year ago, mainly because of more group travel cancelations than expected. It has also foreseen that Okinawa will lose 494 billion JPY in tourism spending.
Yoshiro, Shimoji, OCVB Chairman, revealed that the operation rates are just 20 % in hotels and below 10% in buses, and most of them barely survive with financial supports from the government. Okinawa saw a good sign for recovery in July, but the demand has been down since August. OCVB hopes to welcome travelers who keep 'New Normal Travel' rules.
Shimoji mentioned the ongoing domestic travel recovery campaign 'Go To Travel,' saying that it is essential for the tourism industry. "But, the campaign did not work effectively in the peak season of August," he said. "We have requested Japan Tourism Agency to continue the campaign even in the next fiscal year."
OCVB estimates that domestic visitors may reduce by 70% in August, 65% in September, 55% in October and 45% in November and December on a year-on-year basis, and that international visitors will result in zero this year.
Supposing the current infection situation in Okinawa will be worse, Okinawa may reduce annual visitors by 66.8% to 3.37 million and lose 511 billion JPY in tourism spending.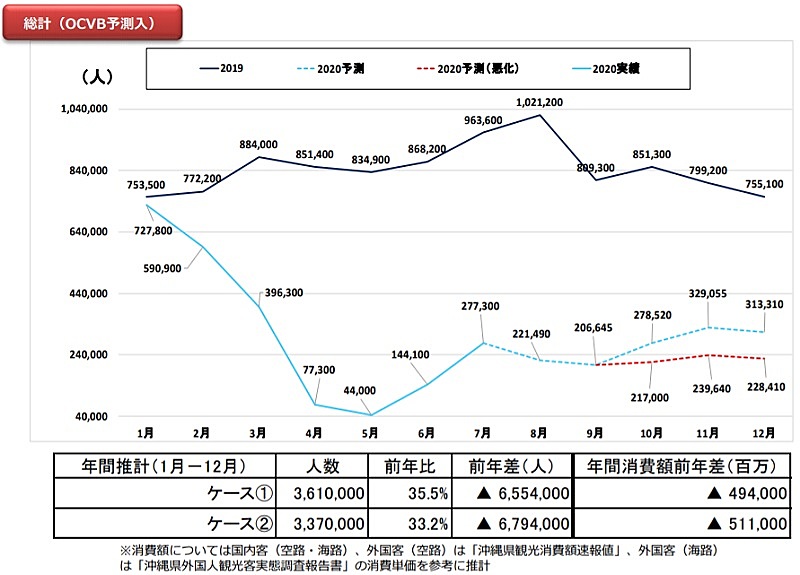 発表資料より
Okinawa Prefecture has launched Travelers Access Center Okinawa (TACO) in Naha Airport as a new quarantine facility and also started an antigen test at the airport quarantine office since August 9. TACO treated 12 health inquiries and one antigen test case (the result was negative) in the period between June 19, the launch day, and August 24.
In the meantime, OCVB and Okinawa Prefecture supported three-days 'JANOG46 Meeting' from August 26, as one of their MICE support projects. JANOG46 Meeting, a meeting to discuss internet, was held with hybrid of a virtual venue and a real venue in Okinawa.
Tourism EXPO Japan, the biggest tourism event in Japan, will be organized at Okinawa Convention Center in this coning October.