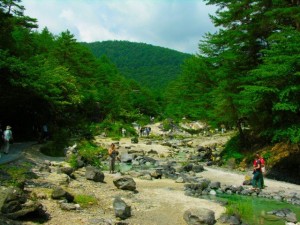 "White Paper on Tourism in Japan, 2013" ("State of Tourism in FY 2012" and the "Tourism Policy in FY 2013") marks the 50th issue counted since its first publication, and this year is also the 10th year since the launch of "Visit Japan" campaign. This milestone issue features international tourism in and outside of Japan over the 50 years, reviews the trends and the government policies and foresees the future prospect.
Japan had been promoting foreign visitors based on the Tourism Basic Act established in 1963, with an importance placed on obtaining foreign currency. However, when the economic friction with Europe and the United States occurred during the bubble years, policies promoting outbound travel began. "Doubling Outbound Travel Plan" set an objective to attain 10 million outbound travelers by 1991, and was accomplished in 1990.
Since, the number of travelers for outbound far exceeded the inbound, tourism policies shifted their axes back to promoting inbound travelers. "Welcome Plan 21" aimed to double the number of inbound travelers to 7 million by 2005 was programmed in 1996. In 1997, "Act on Promotion of Inbound Tourism" was established with intent to attract international visitors to local areas.
Then in 2002, Prime Minister, of the time, Koizumi stated in the policy speech that the tourism will be an important policy agenda. In 2003, "Visit Japan Campaign" aimed to attract 10 million inbound travelers by 2010, thus began the full-scale effort to attain a tourism-oriented country. In 2006, Tourism Basic Act was fully amended to establish "Basic Act for Promoting a Tourism-Oriented Country" and related measures were promoted under "Basic Plan for Promoting a Tourism-Oriented Country."
Although external factors do drastically affect the number of foreign visitors, it substantially increased after the "Visit Japan Campaign" started. Nevertheless, even in 2010, when the record high 8.61 million visited Japan, it remains the 30th worldwide and 8th in Asia. Also, in terms of international tourism revenue, Japan remains the 19th worldwide and 8th in Asia, thus the White Paper states that "Japan has only grown to be an 'emerging country' from an 'undeveloped country' regarding tourism.
On the other hand, international tourism greatly expanded worldwide during 1960s to 70s. Its growing rate showed slowdowns in 2003 with SARS epidemic and in 2009 affected by global economic downturn and H1N1 influenza, but keeps its upturn in overall. The World Tourism Organization (UNWTO) foresees the international tourists in 2020 to reach 1.36 billion, and the World Travel and Tourism Council (WTTC) calculates the tourism GDP in 2023 will become $10.5 trillion which will account for about 10% of the global GDP.