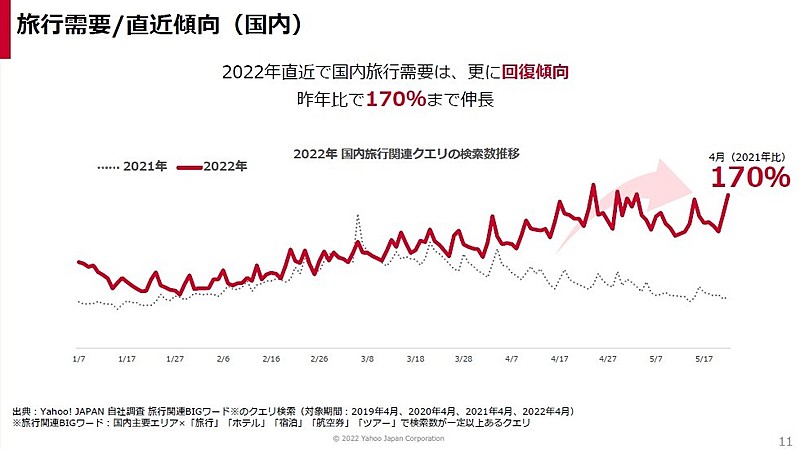 The travel market of Japan has been more active since late March 2022, when the pre-emergency restrictions were lifted nationwide. Extension of the domestic travel campaign and restart of overseas package tours have boosted the market.
Yahoo Marketing Headquarters gave its insights on the updated travel trend based on Yahoo!JAPAN data at Travel Voice LIVE.
According to analyses by Yahoo, the number of queries about domestic travel on Yahoo!JAPAN (major destinations plus 'Travel,' 'Hotel,' 'Stay,' 'Air ticket' or 'Tour') as of April 2022 recovered to 48% of the 2019 level, increasing from 28% in 2021 or 30% in 2020.
It was noteworthy in the date Yahoo showed that senior travelers has started considering travel again, as the ratio of 50 years old or older who considered traveling as of April 2022 accounted for 44% of all of the age segment, up 5 points over a year ago. Naoto Suzuki, Yahoo Marketing Headquarters, analyzed that their hesitations to travel have reduced because majority of them completed booster vaccination shots.
Also, the ratio of family travels accounted for 40% of the total, 1.6 times more queries than March 2021.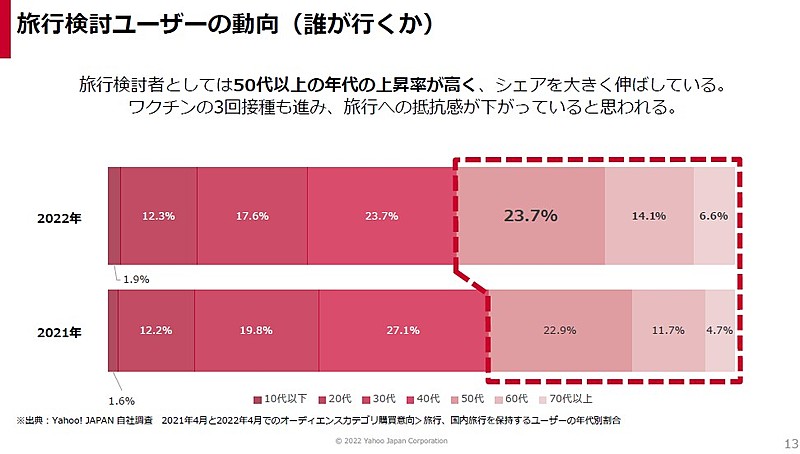 旅行、国内旅行を保持するユーザーの購買意向シェア(発表資料より)
Yahoo analyzed logs in 19 travel OTAs by users for three months until this year's Golden Week period who traveled to long-haul domestic destinations during the holiday period. About 75% of them visited several OTAs, and among them, about 25% visited five or more OTAs for considerations. The data also found that they considered their travel plans for one or two months.
The most-searched destination was Okinawa, followed by Kyoto and Kanagawa, and newly-opened or renewed hotels in the last year were searched more.
The more-searched travel contents during the Golden Week period were 'sauna,' 'eating around,' 'room with outside onsen bath' and 'luxury hotel.' The number of queries about hotels at 30,000 JPY or more a night was up more than 30% over 2019, and queries about 100,000 JPY or more a night were up 54%.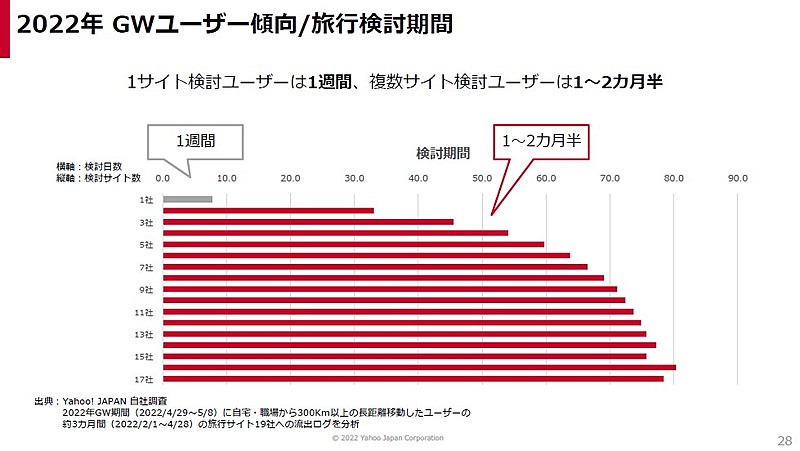 ゴールデンウィーク期間中に300キロ以上移動したユーザーが見た旅行サイト数(発表資料より)
Based on users' position location information, the number of users in Tokyo and Kansai areas who traveled 300 km or longer was up 120%, and in other regions, the growth rates were 80% to 96%.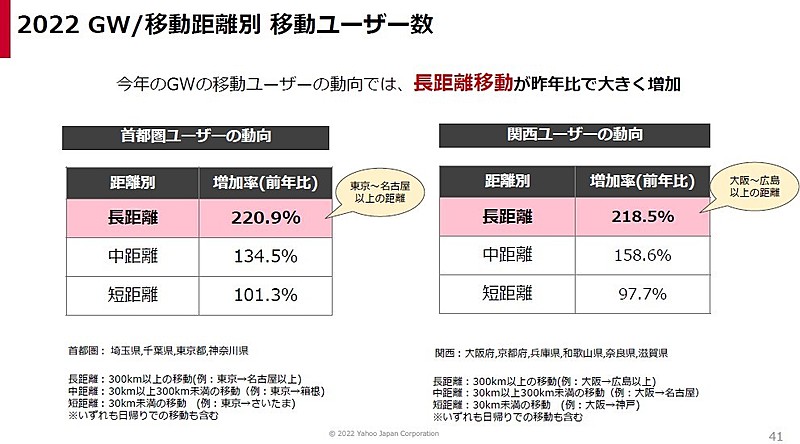 Yahoo! JAPANアプリで位置情報取得を許諾したユーザーの移動距離増加率(発表資料より)
Queries about outbound travels as of April 2022 were up 220% compared to a year ago, although it was just around 25% of queries in 2019. On the second week of April, right after restart of tours for Hawaii was announced, searches for Hawaii tours increased by 680% compared to the previous week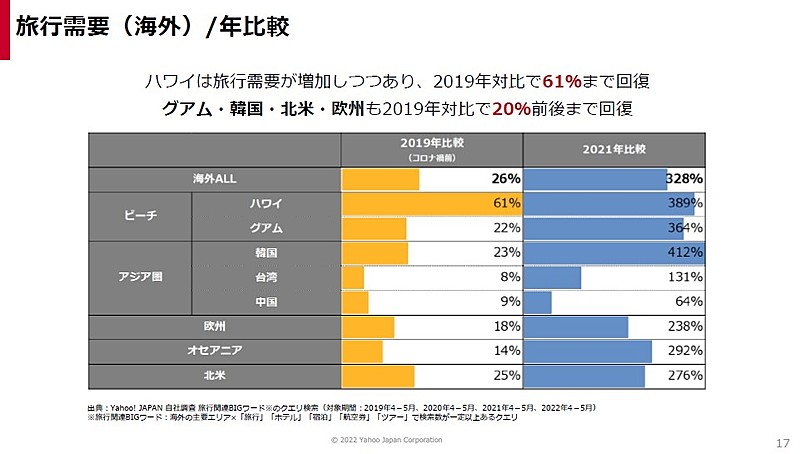 2022年4月、5月の国・地域別検索動向(発表資料より)