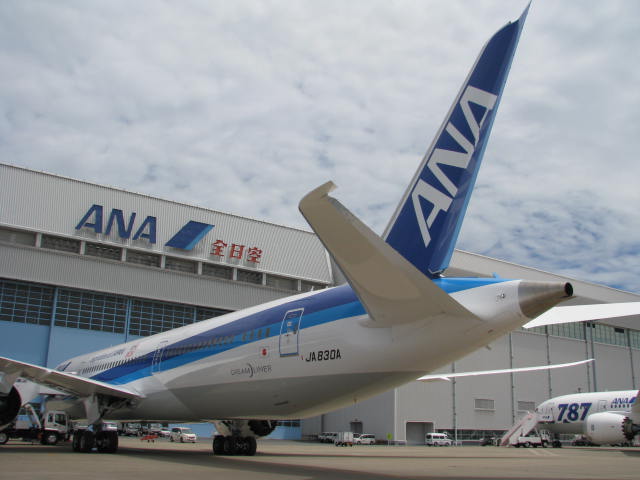 ANA announced FY2016-2020 ANA Group Corporate Strategy with a concept of 'Aggressive and Speedy Management' on January 29 2016, focusing on expansion of the airline business, creation of new businesses and growth of the existing businesses. ANA is trying to become one of the world's leading airlines by achieving operating income of 200 billion JPY and ROE of 10% in FY2020, five years earlier than the initial target year under the long-term strategy plan announced in the last year.
ANA is seeking entry into new markets/creation of new businesses, strategic investments and creation of innovations for aggressive management and timely and integrated delivery of information, simpler judgment process and lean startup for speedy management.
One of the core strategies is to expand the full-service business. While maintaining the current revenue of 689 billion JPY for the domestic passenger business, ANA is trying to increase the international passenger business by 40% from currently 517 billion yen by extending its network to Latin America, ASEAN and resort destinations. At the same time, the cargo business is expected to grow by 40% from currently 185 billion JPY.
To complete its dual-hub strategy in Tokyo, connectivity will be improved with "Tokyo Triple-bank" model, which creates three time zones a day of evening at Narita and morning and night at Haneda. Enhancement of the international network includes "white spots" in Asia and Central and South America, Vietnam (ANA has already decided to invest to Vietnam Airlines) and the A380 operation on the Honolulu route.
Vanilla Air, the LCC of the ANA Group, aims to increase its revenue by 3.1 times from 23 billion JPY through efforts to carry travelers from foreign countries to Japan and to create new passenger demand in the domestic market.
The strategy also includes expansion of the non-air business particularly focusing on a new business for foreigners' traveling processes in Japan . In detail, ANA will optimize the Group's assets, business partnerships and ICT technologies to expand the business to the fields of tour guide products, vacation rental, duty-free shops, in-flight selling, cross-boarder EC or global logistics as well as the conventional selling of tours and hotels.
The following table shows foreigners' traveling processes in Japan and ANA's business chances:
The financial goals under the corporate strategy are operating revenue of 2,600 billion JPY, operating income of 200 billion JPY, operating margin of 9.3%, ROE of 9.8% and ROA of 7.6% in the final fiscal year. ANA HD will continue to assess new ways of improving overall shareholder returns while maintaining a stable base of a 5-yen dividend per share.
In Japanese