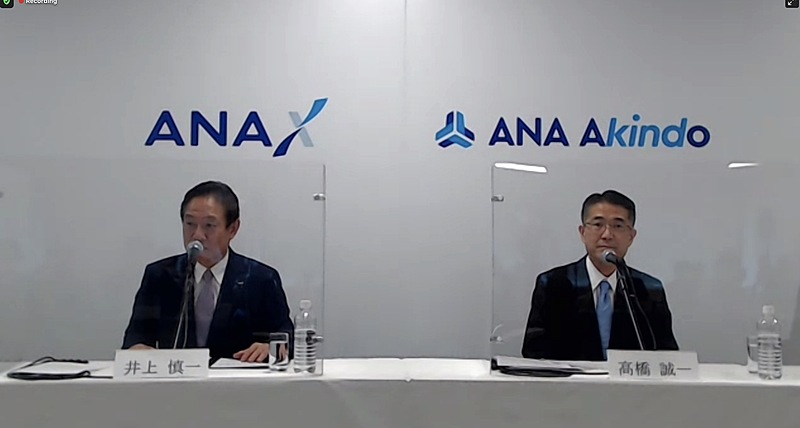 ANA Group will kick into gear to establish a Milage-based Ecosystem on April 1 2021, launching 'ANA X' as a platform business company and 'ANA Aknido' as a local revitalization business company, which are reorganized from former ANA X and ANA Sales.
Both of the new companies aim at sales of 400 billion JPY five years later, almost doubling from 120 billion JPY to 130 billion JPY of the travel business and around 70 billion JPY of the ANA Card business under normal circumstances.
Shinichi Inoue, ANA X President, said at a news conference, "We are trying to break away from the aviation business only, expanding non-aviation revenue on a super app covering not only out-of-the-ordinary services, such as flight or travel, but also ordinary life services."
Seiichi Takahashi, ANA Akindo President, explained about the local revitalization business, "We are contributing sustainable growths in local regions through collaborations with a variety of business partners."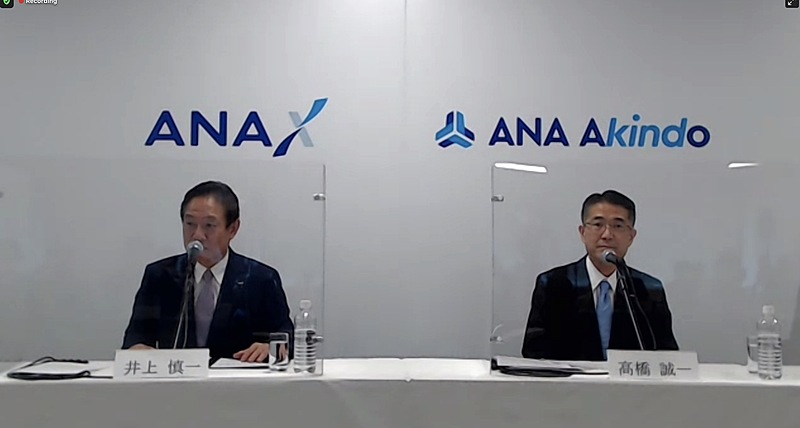 ANA X President Inoue (left) and ANA Akindo President Takahashi
Based on about 37 million ANA Milage members, they will expand life style products and services to save and use milages for users on a super app. Also, the payment function will be enhanced by integrating the service into QR code-payment 'ANA Pay.'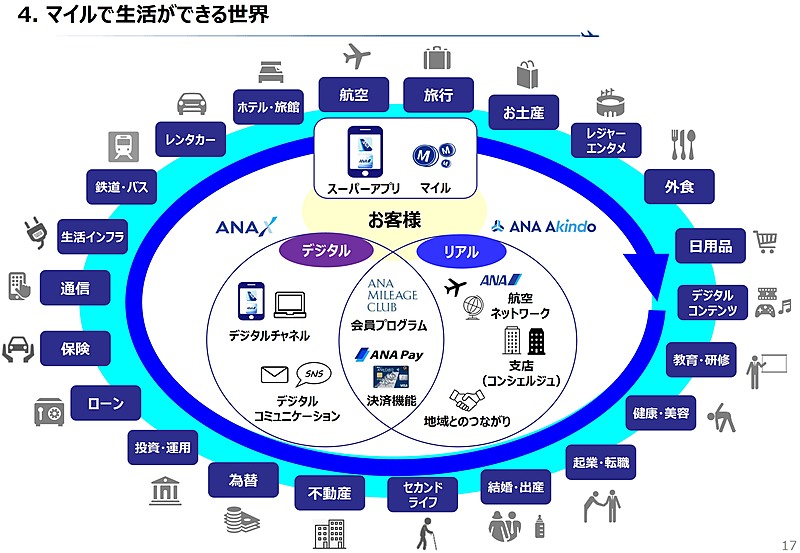 報道資料より
A super app is expected to be launched in FY2022. "It will be based on the existing app of ANA app or AMC app or a totally new app. We will think which one is better for cost performance," Inoue explained.
Integration of digital and real is a strength
ANA X is developing four business functions: Travel Business transforming from ANA Sales, Air Sales Business mainly on digital channels, Life Service Business dealing with daily life services, such as EC or financial service, and B to B Solution Business for business partners.
Regarding the Travel Business, ANA X will offer seamless services from before-traveling, such as search, booking and purchase, to in-destination, such as ground transportation, local experience, shopping and payment, as TaaS or Travel as a Service.
ANA Akindo will develop local-based businesses, in which its 33 offices nationwide and about 120 community-based staff are finding and solving challenges in local regions, working together with business partners. An air sales function will be consolidated to Tokyo.
In detail, it is exploiting new businesses, such as re-use of deserted cultivated lands, two-way living, workcation, branding and online selling of local products. Also, it will make efforts to create and increase so-called 'engaged travelers (relationship travelers),' as Takahashi said that keys for local revitalization are to solve shortage of labors and to stimulate economic activities in a region.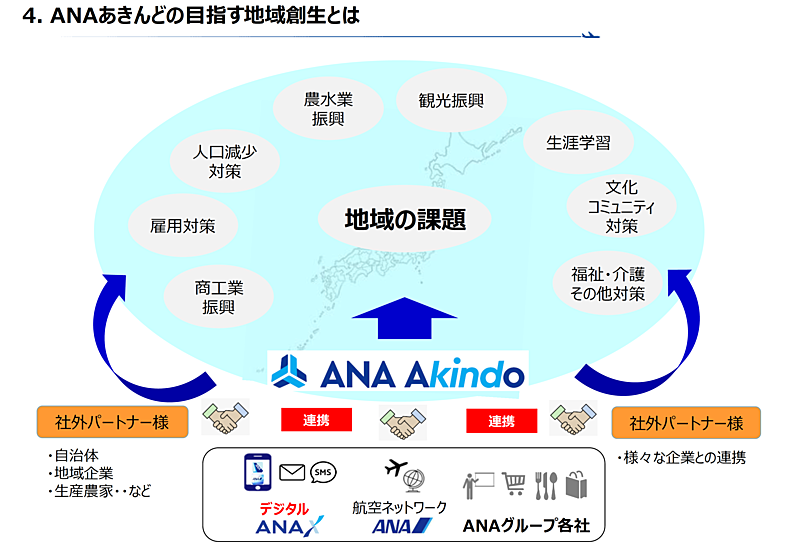 報道資料より
"A local revitalization business cannot be done by ANA Group only. We have to establish a network with partners, such as local start-ups, local governments or DMOs, who can share ANA values," Takahashi added.
"It is crucial for us to multiply digital platform of ANA X by real approaches by ANA Akindo to develop our new businesses," Inoue emphasized.