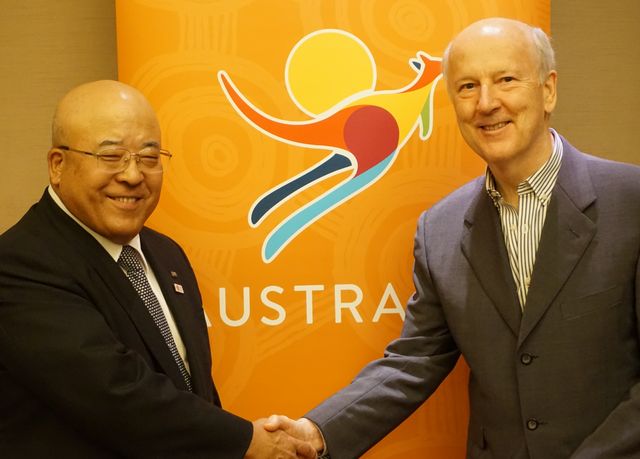 Tourism Australia (TA) hosted 'Walkabout Japan 2015' seminar for travel agents of Japan in Tokyo, jointed by Hiromi Tagawa, Japan Association of Travel Agents (JATA) Chairman.
Andrew Reilly, Regional General Manager Japan and Korea of TA explained at a news conference that the reduction rate of Japanese travelers to Australia for the first half of 2015 was just 1.8%, though Japanese overseas travelers reduced by 4.9% year on year for the first six months of 2015, however in the same period.
Expecting that an increase in air seats, including new Haneda-Sydney and Narita-Brisbane services in August this year by Qantas Airways and new Haneda-Sydney service in December this year by ANA, is an opportunity to boost the market, Reilly has forecasted that double-digit monthly growth will continue from January next year.
Walkabout Japan 2015 was the first business secession between Japanese travel buyers and Australian sellers in the past four years. Fifty-four Australian sellers of 47 companies visited Japan, and 489 Japanese buyers of 271 companies attended the secession.
"In the 50th anniversary of Japanese free overseas travel, it is important for travel agents to find meanings of overseas travel for consumers," Tagawa said. "To increase Japanese overseas travelers, it is necessary for them to make a product-driven action to propose attractive products rather than a market-driven action to develop products for meeting market needs." About the outbound travel market from Japan to Australia, Tagawa added that the market may grow to a scale of 500,000 Japanese visitors a year at least, expecting that the new Haneda services are a chance to carry local travelers to Australia.
Tagawa and Reilly also shared an idea that a keyword for growth of the market is 'expereince.' "It is important to create strategically unprecedented products, such as a 10 nights or 15 nights product for active senior travelers," Tagawa said.