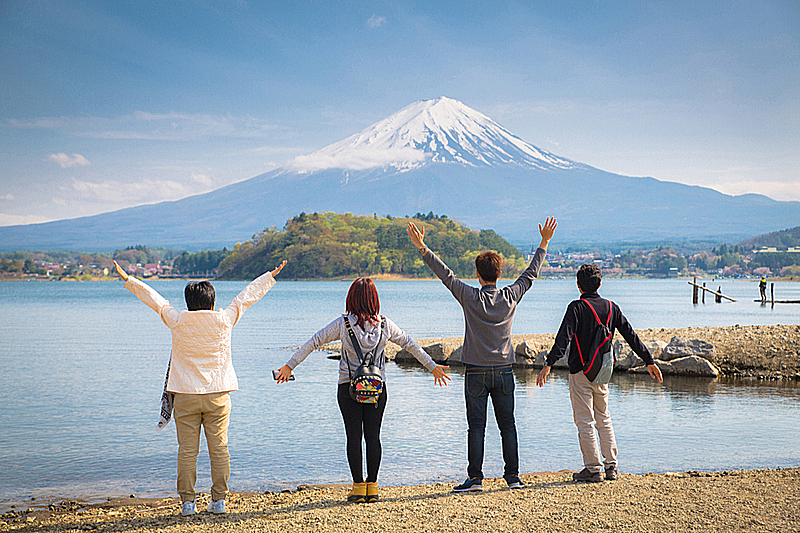 Japan Productivity Center disclosed outline of 'Leisure White Paper 2020,' which summarizes Japanese leisure activities in 2019. The Paper is usually published in early August every year, but this year the publication is delayed to September 30 because the COVID-19 impacts on the leisure market by lifting of the state of emergency declaration were reviewed.
The Paper says that domestic travel was the most popular leisure activity for nine years in a row, though participants slightly reduced from 54.3 million in 2018 to 54 million in 2019. The top 7 activities were unchanged from the previous year. Among top 20, increases in participants were seen in 'dining out' 'watching cinema (except watching on TV),' 'listing to music,' 'walking' and 'lottery,' and rise in ranking seen in 'karaoke,' 'lottery,' 'music concert' and 'TV gaming at home.'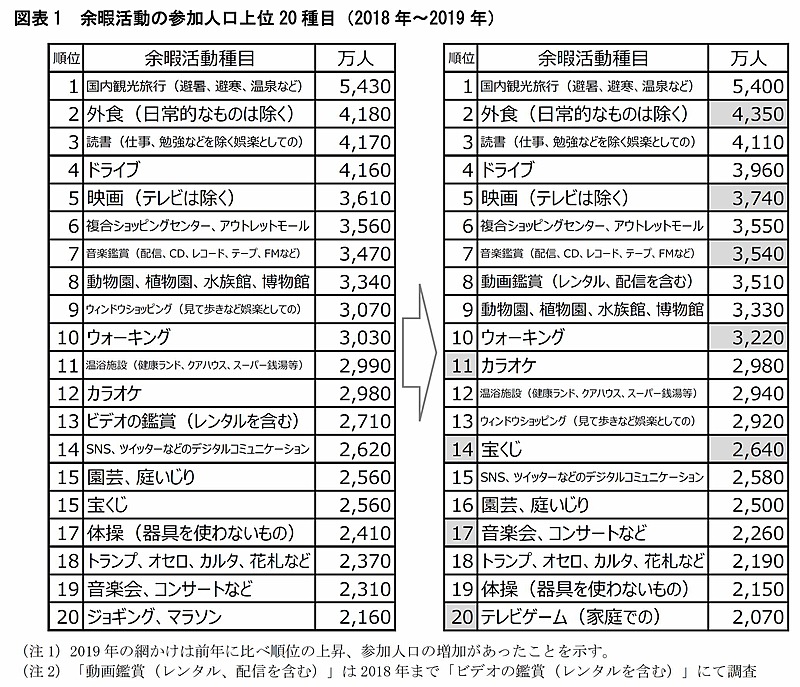 Top 20 leisure activity participants in 2018 (left) and 2019
The average participating leisures a person was 12.3, 0.1 fewer leisure than a year ago. Participants increased in the hobby and creation category, while those decreased in the sports and entertainment category.
The number of leisure activities increased among 10s, 20s and 70s males and 10s, 20s and 40s and 70s females, and the number among 10s females particularly increased from 15.5 activities in 2018 to 17.3 activities in 2019.
One of the notable trends was that the ratio of participants in 'watching sports events (except watching on TV)' increased by 2.1 points to 16.5%, especially 3.1 points to 21.3% among males, primarily because sports events, including Rugby World Cup, were more exposed on media. The highest growth was found in 20s males (up 11.2 points to 32%), followed by 20s females (up 7.9 points to 20.9%).
The market scale of leisure activities in Japan amounted to 72.3 trillion JPY in 2019, 2.2% more than a year ago, resulting in year-on-year growth for seven years in a row (except public gambling).
Growing every year since 2011, mainly boosted by the inbound travel market, the market scale of tourism reached more than 40 trillion JPY in 2019. In the tourism category, the record-breaking market scales were found in 'railway' 'hotel' 'overseas travel' and 'domestic flight,' but the market scale of 'ryokan' had recently shrunken.
Changes of tourism-related market scale
The highest growth of market scale was seen in 'subscription movie' with 26.1% up, followed by 'online publication' with 23.8% up and 'subscription music' with 10.9% up. The subscription services grew even before COVID-19, but the growth is accelerating amid COVID-19.
The White Paper points out that leisure activities amid COVID-19 will require higher-valued services, revision of price strategies, closer communication with customers, personalized services based on data and improvement of productivity including new job training.