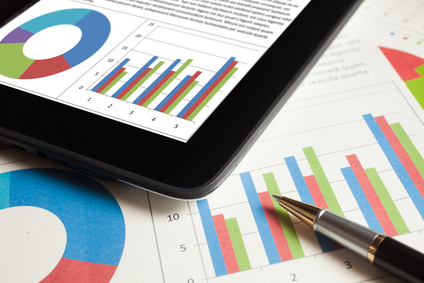 Japan Tourism Agency announced that a total of guest nights in Japan in October 2015 increased by 10.5% year on year to 45.6 million. Out of the monthly total,  foreign travelers' guest nights were remarkably up 46.9% to 6.42 million, which were more than 4.93 million in September 2015 (+45.1%). Japanese guest nights were up 6.2% to 39.17 million in October 2015, marking year-on-year growth following a 6.4% increase to 38.58 million in September.
The occupancy rates were 62.7% in September, which was record-high for September, and 64.9% in October. By hotel category, the rates were 81.6% in September and 85.2% in October for city hotels, 77.6% in September and 79.5% in October for budget hotels and 60.7% in September and 63.0% in October for resort hotels.
The following table shows monthly changes of the occupancy rates by category: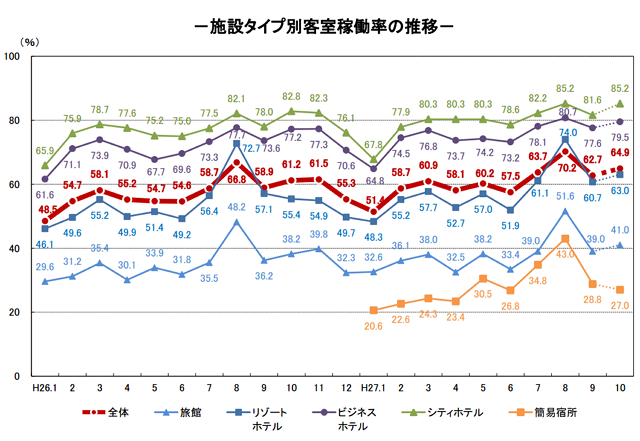 By prefecture, the occupancy rate of 70% or higher was recorded in Hokkaido, Tokyo, Ishikawa, Kyoto, Osaka, Fukuoka and Okinawa. Among them, Osaka particularly had the high occupancy rates of 86.2% in total (95.6% for resort hotels and 88.8% for budget hotels).
Chiba, Tokyo and Okinawa recorded the occupancy rates of 80% or higher for resort hotels, and 12 prefectures including Hokkaido, Kanagawa, Toyama, Ishikawa, Kyoto, Hyogo, Shimane and Hiroshima had the occupancy rates of 80% or higher for budget hotels
The following table shows the occupancy rates in September 2015 by prefecture: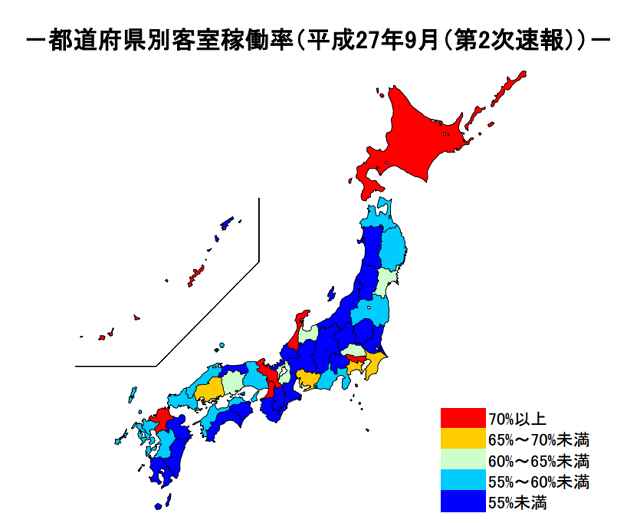 In Japanese