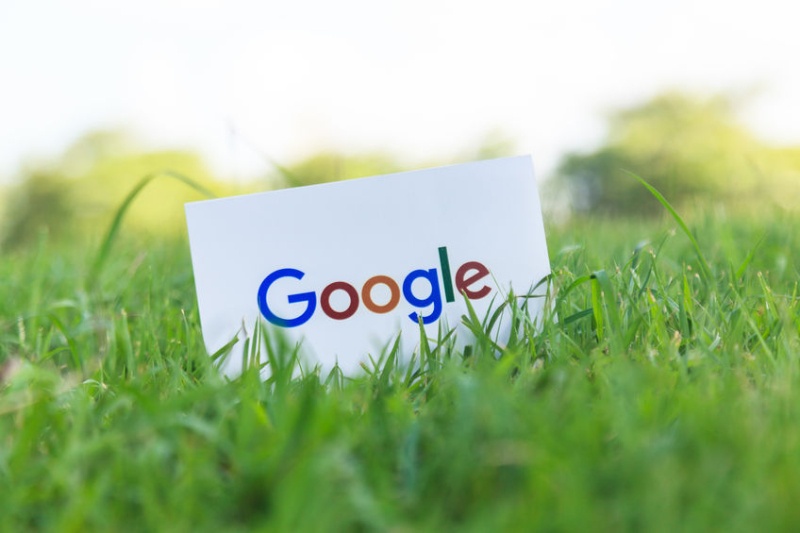 Google announced the updated inbound travel trend based on search keywords, particularly focusing on transportation, accommodation and experiences (events) as characteristic changes in 2017. Mina Kagawa, Google APAC International Growth Team Senior Consultant, pointed out 'growing in-destination market,' 'diversified travelers' needs' and 'growing expectation for personalization' as three noteworthy trends 
In the past three years from 2014 to 2017, searches about Japan as a travel destination was up 25% a year, which was higher than 16% increase in searches for travel in the world.
Searches about other keywords in Japan, mainly comprising sightseeing, foods, traditions, contents and fashion, were also up 22% a year. Among the five categories, searches for foods and contents especially increased.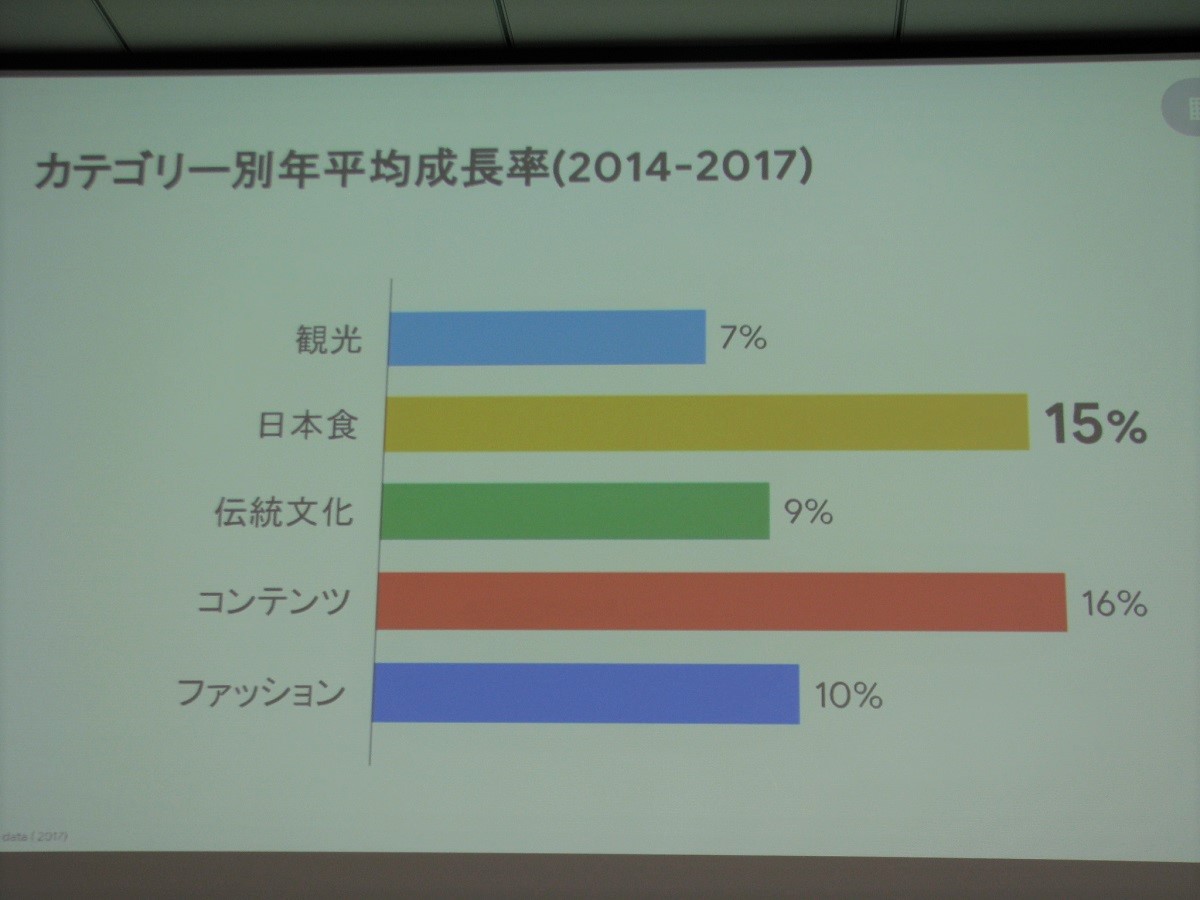 Based on search volume, the top five popular cities were unchanged in 2017, but the growth rates were different. The growth rate of searches about Tokyo was just 4%, while that about Okinawa was 26%. Kagawa said that regular international visitors tend to pay more attentions to other cities than major cities. Top five cities and growth rates in terms of search volume are as follows:
1. Tokyo (+4%)
2. Hiroshima (+12%)
3. Osaka (+26%)
4. Okinawa (+26%)
5. Kyoto (+9%)
Interestingly, searches about particular transportation names were up 40% in the past three years. Kagawa said that it is also an evidence for more attentions to local regions by regular international visitors. 
Particular search keywords of 'Shinjuku expressway bus terminal,' 'shinjuku mount fuji bus,' 'shinjuku bus to kawaguchiko' and 'shinjuku bus willer' have been increasing. The result represents higher interests in short trips from Tokyo in the in-destination activity and also diversification of travelers' needs, Kagawa added.
For accommodation, the search keyword of Ryokan was up 40%, and Kagawa said that the trend was not seen a few years ago. In addition, higher interests in accommodations in local areas have been found. By city, major search keywords were 'hotel' in Tokyo, ryokan in Kyoto and Airbnb in Osaka.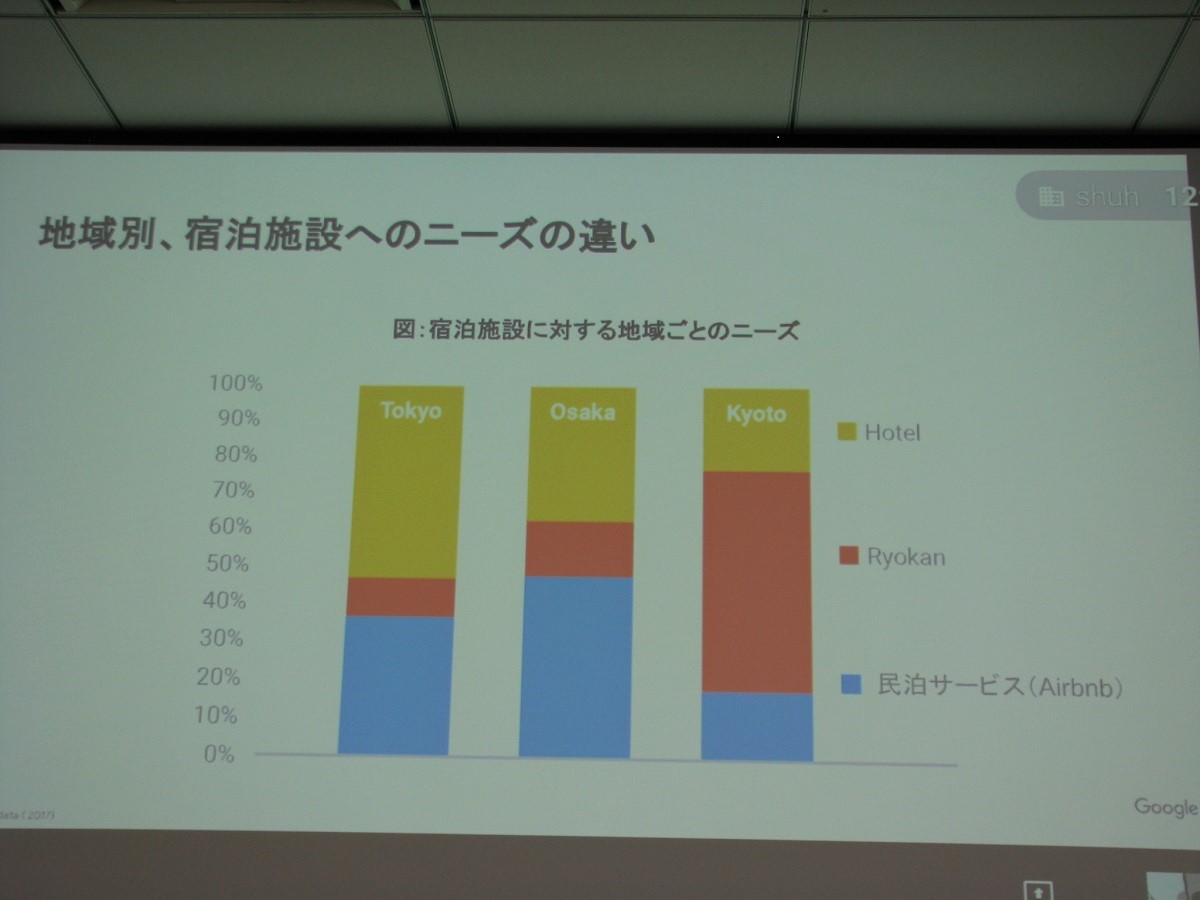 For experiences, it is noteworthy that searches about winter in Japan or snow activities in Japan have increased, and also search keywords have been more concrete as follows:
Aomori Nebuta Matsuri (+335%)
Japan Skiing tour (+4557%)
Sumida Hokusai Museum (+431%)
Snow tours Japan (+279%)
Legoland Japan (+1495%)
Sumo Wrestling Game (+414%)
Another search trend is 'something near me' without inputting position information. The keyword of Sushi near me' after arriving in Japan, for instance, increased by 257%, and 'hotel near me' up 173% in comparison between Q1 of 2017 and Q1 of 2018. Also, keywords of '(hotel) today' or 'Tokyo Tower open' have been increasing. 
The analyses are based on alphabetic keywords in Europe, North America, Latin America and Asia. No search data for China.