HIS posted a net loss of 50 billion JPY for FY2021 ended October 31 2021, doubling from the previous fiscal year, as sales were down 72.4% to 118.6 billion JPY.
Sales in the travel business were down 98% to 43 billion JPY, which accounted for 6% of 722.5 billion JPY in FY2019, as HIS suffered from considerable demand reduction in its core overseas travel market.
"We spent a harder time than before in FY2021, and the current situation is not optimistic yet," Hideo Sawada, HIS President said. "We expect that overseas travel demand may begin recovering the next summer."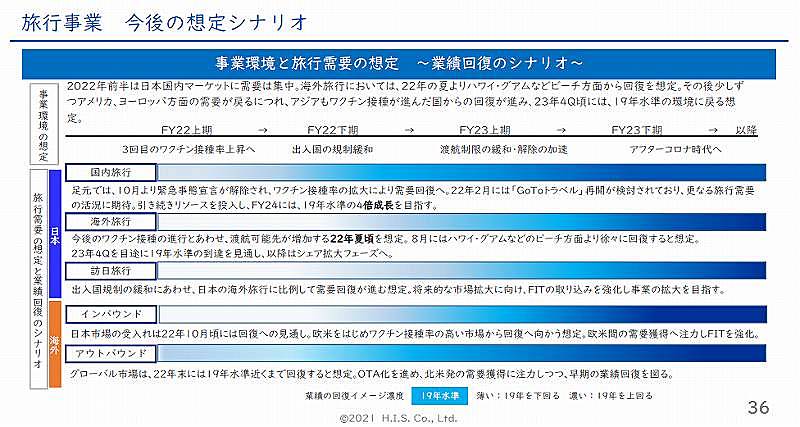 HISの想定シナリオ:発表資料より
For FY2022, HIS has a strategy to expand its market share with speedy management and to strengthen its financial bases through cost reduction efforts and productivity improvement. Also, it is developing new businesses to achieve an annual profit as soon as possible.
For domestic travel, HIS signed direct contracts with Tobu Railway as well as ANA and JAL, and the number of contracted hotels increased by 2.5 times to about 5,500 over a year ago. HIS has goals to increase sales in domestic travel business to 80 billion JPY in FY2022, doubling from FY2019, and to 150 billion JPY in FY2024.
For overseas travel, HIS expects that earlier recoveries will be seen in Hawaii or Guam and also cruises departing from Japan. When the border opens, HIS will try to differentiate itself from rivals by providing cancellation support or COVID-19 insurance services.
In addition, HIS is accelerating DX not only for product sales and development but also for purchase and arrangement. HIS has already partnered with global OTAs, such as Agoda and Booking.com, and global hotel chains to increase contracted hotels to 420,000 in total.
HIS revealed that up to 640 million JPY will be returned to the government due to unfair dealings in Go To Travel by its consolidated subsidiaries, Miki Tourist and Japan Holiday Travel.
Negative influences on HIS financial results in FY2021 were 2 billion JPY in sales, 587 million JPY in operating income and 395 million JPY in recurring income.