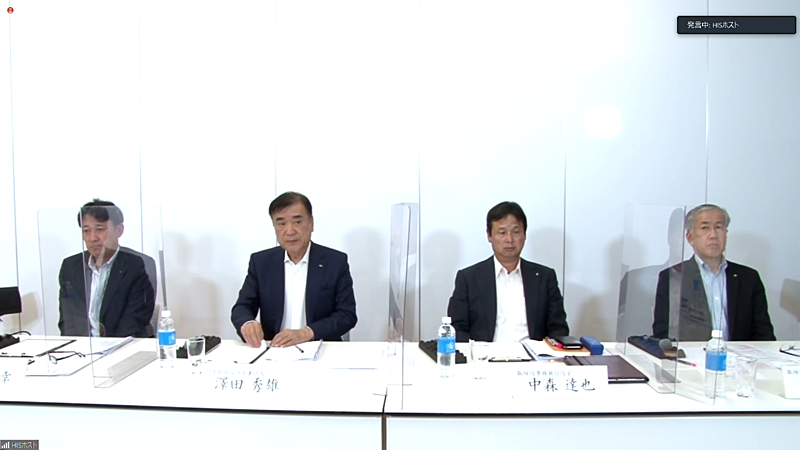 HIS Chairman and President Hideo Sawada revealed at a news conference for the half-year financial results ended April 2021 that one of the biggest travel companies in Japan is trying to lower the sales ratio of core travel business from 70% currently to around 50% in the next five years to make its business portfolio stronger, particularly focusing on restaurant business and ryokan rehabilitation business as a new business portfolios.
HIS is simultaneously making efforts to increase sales of the travel business by 22.2% to 560 billion JPY in 2024 compared to 2019 by expanding the business in each of domestic, overseas, inbound and global markets in accordance with recovery from COVID-19. HIS especially plans to increase sales of domestic travel by four times to 160 billion JPY in 2024 compared to 2019.
For business rationalization and productivity improvement, HIS is accelerating digital transformation and at the same time reducing its employees to 70% of those in 2019 (13,975 employees today, 23% less than 2019) to generate stable sales and profit even under a crisis like COVID-19.
How does HIS forecast market recovery?
HIS has forecasted that the domestic travel market is on the right track for recovery in August this year, expecting three times more bookings and two times more sales after October than the same period of 2019 if Go To Travel campaign restarts. HIS is trying to guide its 3 million overseas travel customers to the domestic travel market until the overseas travel market opens again.
In preparation for expansion of domestic travel demand, HIS has already strengthened online selling including dynamic pricing and charter flights in a peak season, particularly expecting to send 1 million customers annually to Okinawa.
In the overseas travel and inbound travel markets, recovery is expected to begin in spring 2022. HIS has forecasted overseas travel demand will recover to the 2019 level in the fourth quarter of 2023, expecting Hawaii and Guam first, followed by US, Europe, Australia and Asia in order.
In the global market, HIS expects to begin recovery of Japanese travelers from foreign countries to Japan in around March 2022 and recovery of foreign travelers between third countries in the summer 2021. HIS revealed that bookings from Europe to Canada have recently increased, and HIS Paris Office received an order of a 8,000 participants tour from Russia after October 2021.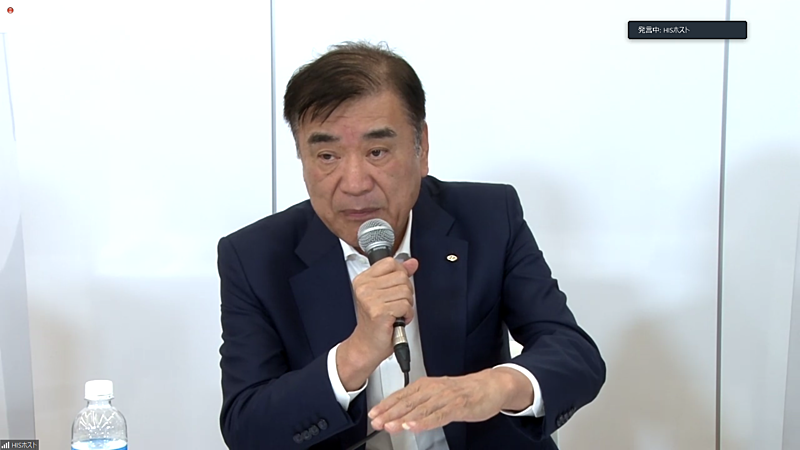 Sawada explains the future business of HISHIS has successfully sold online experience tours to more than 90,000 users for 4,300 contents since the new service was launched in May 2020. By expanding the service not only for individual users but also corporate demands, HIS aims to increase the sales to 6 billion JPY with 1 million users in total by 2025.
For the global business, HIS will launch a OTA in the North America market, Group Miki Holdings, a HIS Group company, has purchased CEETIZ, an activity booking platform, in Europe.
For the overseas travel business, HIS aims to raise the ratio of online sales from 30.6% in 2019 to 50% in 2024.
Financial results for the first six months of FY2021
HIS posted 67.7 billion JPY in sales (-80.4% year on year), 31.1 billion JPY in operating loss, 30.7 billion JPY in recurring loss and 23.2 billion JPY in net loss for first six months of FY2021 ended April 30 2021. Special profit of 4.8 billion JPY as subsidies from the government was posted as well.
Sawada explained, "We are hitting a bottom now,' as leisure travel demands have been cooled due to repeated emergency declarations and delay of vaccinations. HIS aims to make a profit again in FY2022.
Financial results by segment
Travel : 29 billion JPY in sales (-90.3% year on year), 18 billion JPY in operating loss
Theme-park: 8.5 billion JPY in sales (-13.2%), 600 million JPY in operating loss
Hotel : 3.1 billion JPY in sales (-51.5%), 2.6 billion JPY in operating loss
Kyushu Sanko Group (bus operation): 8.7 billion JPY in sales (-29.9%), 900 million JPY in operating loss
Energy: 17.6 billion JPY (+25.7%), 7.8 billion JPY in operating loss
Others: 1.8 billion JPY in sales (-54.8%), 300 million in operating loss