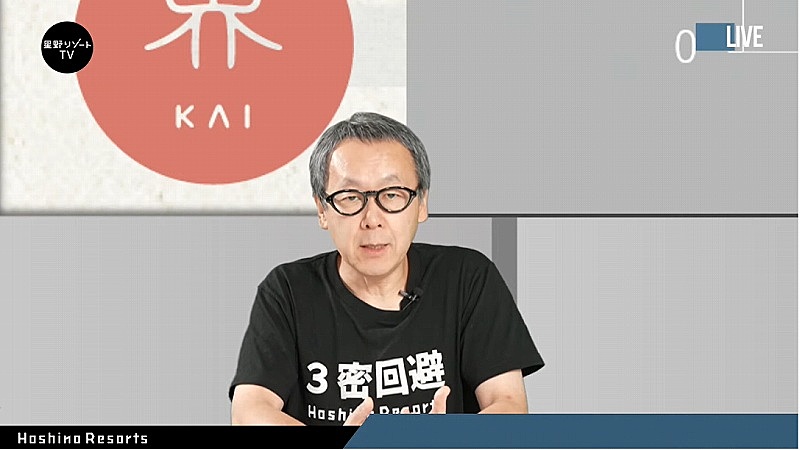 Yoshiharu Hoshino, Hoshino Resorts CEO, talked about how its business is going amid the pandemic and how he foresees the future business at 'Hoshino Resorts LIVE 2021 Autumn,' an online event for media.
When the pandemic broke out, the well-regarded hotel group of Japan forecasted that the crisis might end in autumn 2021, probably September to November, and drew up a survival plan for 18 months. Hoshino said, "The situation around us has been changing a lot, but our business has mostly been progressed as we expected."
Successful Micro Tourism
Hoshino Resorts hammered out three basic principles of 'maintenance of cashflow,' 'maintenance of human resources for the coming restoration' and 'flexible priorities.' Particularly referring to human resources, Hoshino said, "Lost profit will not be back, but human resources are essential for us to grab demands after COVID-19.
Hoshino Resorts has also been focusing on so-called 'Micro Tourism,' which means people travel in their neighborhoods. It has developed several 'Micro Tourism' campaigns for each market, offering special plans or prices exclusively for people living near each of Hoshino properties. "The Micro Tourism market is expected to grow by about 300% in 2021 compared to 2019," Hoshino revealed. "It was the biggest business evolution for us in 2020 and 2021."
International travelers to Japan will not come back easily?
Looking back to the last 18 months, Hoshino said, "We had a lot of cancellations in the first to third infection waves, but we didn't see large reductions in the fourth to five infection waves probably because customers have shifted to new normal life and understood no big risks in traveling even amid the pandemic. Also, guests appreciate our health protocols." As the fifth wave is coming to the end, bookings are coming back well, according Hoshino.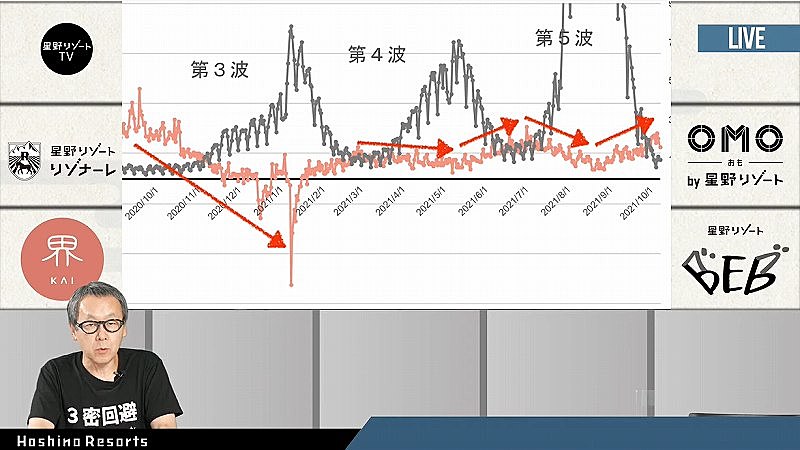 第4波と第5波の予約の動きは、それ以前と異なるという
Hoshino has, however, a cautious stance for the inbound travel market in the future. "I think it is important for the whole Japanese travel industry including us to prepare for the compete recovery toward OSAKA EXPO in 2025."
Hoshino has forecasted that recovery will be seen by market because the vaccination rates vary with counties or regions. For travelers from Asia including China, which accounts for 70% of all visitors to Japan, early opening may not be easy because they use unapproved vaccines in Japan. In Europe and U.S. the same approved vaccines as Japan are used, but the market share was just 30%. Hoshino said, "If they come back earlier, the whole inbound travel market will be far from full recovery."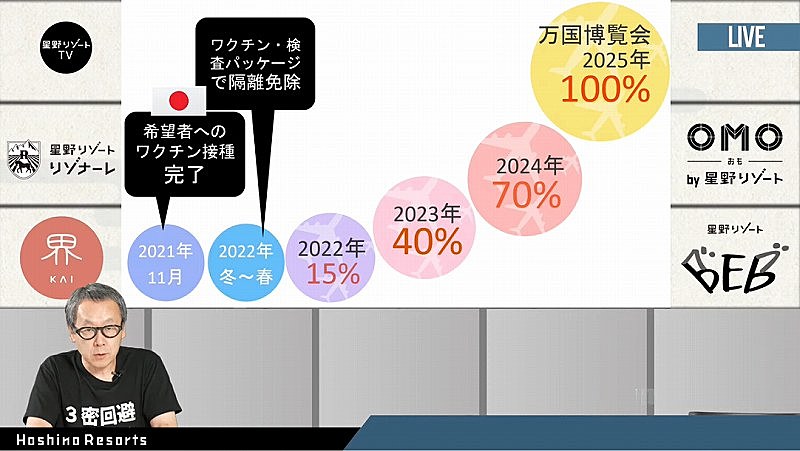 インバウンド再開と回復予想
Concerning about wait-and-see attitude until Go To Travel restarts
About restart of the domestic travel-boosting campaign 'Go To Travel,' Hoshino pointing out that it should be designed more simply and successively to prop up the tourism industry. Simple design is important not only for users but also business operators to reduce their workloads.
His basic thought about 'Go To Travel' is that it should be a campaign to prop up the tourism industry rather than to encourage consumers to travel, and his concern is consumers' wait-and-see attitudes until the campaign restarts. "I want the government to decide when it restarts as soon as possible," he added.
Hoshino Resorts is preparing for 'Go To Travel' in terms of prices and also the government-led 'Vaccination and Test Package' initiative after November.