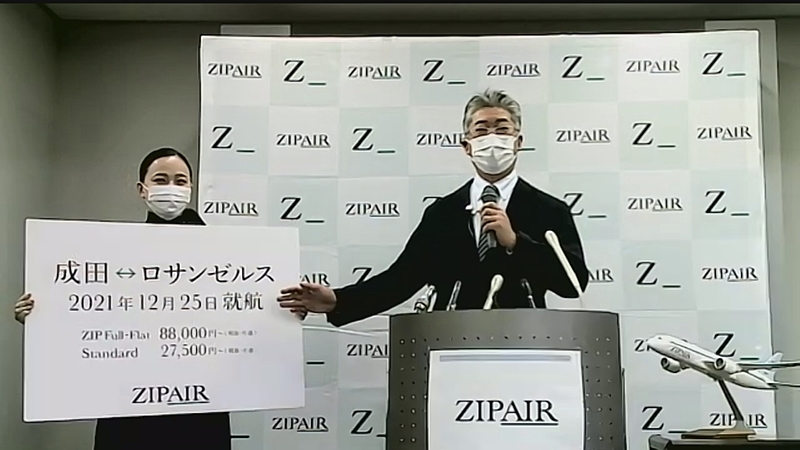 ZIPAIR Tokyo, a JAL Group LCC, announced that it will launch three flights a week service between Narita and Los Angeles on December 25 2021. ZIPAIR will be the first LCC serving transpacific flight, following Seoul, Bangkok, Honolulu and Singapore flights. It's initial goal is to serve middle- or long-range international flight as a LCC.
Shingo Nishida, ZIPAIR President, explained at a news conference that it has chosen Los Angeles as the first long-range destination because of the largest Japanese community city in the world, the biggest network base between Southeast Asia or Japan and North America and high cargo demand on the route. He stressed, "Los Angeles is the first priority destination for us."
In addition, the decision to launch the service in December is based on entry deregulations in both Japan and U.S. since November 8 and reception of the third Boeing 787-800 in December.
"We have still been affected by the pandemic, but we can gradually see the bright light ahead," Nishida said. "We are going to offer a new alternative on the full service carriers-dominated route."
ZIPAIR will use Tom Bradley International Terminal, which is also used by JAL. Airfares are set at 88,000 JPY or more for ZIP Full-Flat Value and at 27,500 JPY or more for Standard Value. "Our full-flat class airfare is very competitive with less than one-fourth of the FSC7s airfares," Nishida said. "We will maintain the airfare levels as much as possible."
Like JAL, ZIPAIR will introduce digital health certificate app 'VeriFly' for its service.
"As there are many cities with big Japanese communities along the west coast from Canada to U.S., we have many choices for the next destination in the future. As a leisure city, Las Vegas is one of candidates," Nishida said. "In addition, we are focusing on transit demand between Southeast Asia and North America via Narita."
The LCC will take delivery of the fourth 787-800 by the end of March next year and the fifth and the sixth in FY2022 to achieve a fleet of 10 787-800s in total by FY2024.
The Narita-Los Angeles flight schedules are as follows:
ZG24 from Narita at 14:45 to Los Angeles at 7:40 on Tuesday, Thursday and Saturday
ZG23 from Los Angeles at 9:40 to Narita at 14:25 next day on Tuesday, Thursday and Saturday