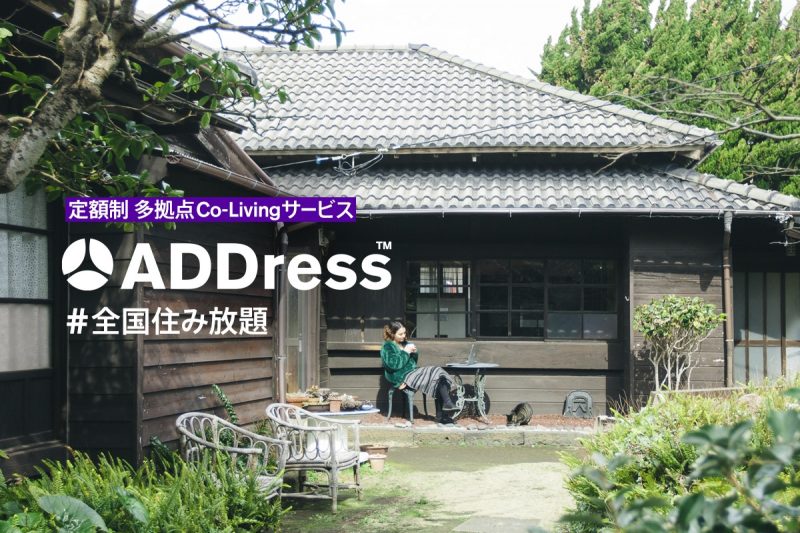 ADDress, a co-living sharing service platform of Japan, will begin offering its service in the subscription way of a 40,000 JPY a month. By paying the subscription fee, a user can stay in any houses nationwide Japan listed on the platform. ADDress explained that the service represents population sharing between urban areas and local areas. Takashi Sabetto, ADDress President, said, "As population in local areas is reducing, the sharing service will be a great opportunity not only to revitalize local communities but also to solve the ongoing vacant house issue."
Listed properties contain purchase or sub-leasing of renovated vacant houses, unused second houses, a property room or ADDress originally developing properties in the future. Also, the platform has an idea to make partnerships with hotels, ryokans, guesthouses or vacation rentals.  
In addition to these properties, ADDress offers a service to lease a fixed bed, which can be registered as residence certificate. Based on the rental bed, a user can enjoy 'ADDress Hopper,' which is a travel style to visit multi-properties nationwide on a month basis. For the service, stricter identification than when booking other sort of properties will be required. 
An annual subscription member pays 480,000 JPY a year or 40,000 JPY a month, covering fixed furniture and house electronics, Wi-Fi, utility charges, amenities or cleaning of shared spaces. A monthly subscription member pays 50,000 JPY. Also, a corporate member can use listed properties with one account at 80,000 JPY a month. Sabetto said, "90% or higher of users may be annual members, and I suppose they will renew contracts every five or ten years."  
In April 2019, the service launch month, properties in 11 cities or towns nationwide (Chiba, Kanagawa, Shizuoka, Gunma, Fukui, Tokushima, Tottori and Tokyo prefectures) will be listed on the platform and after April another three cities (Hokkaido, Tochigi and Miyazaki) will be added. 
In addition to leisure users, ADDress has already reached corporate contracts with five companies and intends to expand corporate partnerships in the future. 
ADDress was established on December 20 2018. Since then, it has received about 1,100 applicants as member candidates, out of which 20's to 30's account for 70% of the total. Toward beginning of the service in April, ADDress has launched crowd-funding with a goal of 20 million JPY on Makuake, and the return from the funding will be the first opportunity to become official members. Sabetto said, "We have goals of 1 million members, 200,000 properties and 1 million available rooms by 2030."
Sharing the ADDress concept, Otsu City in Shiga Prefecture signed a partnership contract with ADDress to create ADDress society in the city. Naomi Koshi, Otsu Mayor, said, "I hope that ADDress users from urban areas will stay in Otsu City longer than usual travel and spend money and time with local people in the city." 
ANA also joins the project as a mobility partner, and amenity suppliers for listed properties, real estates or a house renovator for search of properties and another property providers are involved in the ADDress services. Furthermore, ADDress will tie up with different sharing services to create and develop local communities. Sabetto said, "We are looking for partnerships with local secondary transportation services, such as bike sharing or car sharing, or creating a new transportation service by ourselves if demanded."