The latest smart phone app user trend, reported by the consumer trend analysis service provider Nielsen, finds that Japanese market phone users as of April 2-16 were 54.96 million, and the average usage hours were 2 hours and 11 minutes a day per user, comprising 80% on apps and 20% on browsers.
The app with the most users among top 10 was Japanese communication app LINE with 43.1 million (+20%), followed by Google Map with 27.4 million (+18%). The largest growth rate of users was found in Yahoo!JAPAN with +42%, followed by Apple Music with +30% and Twitter with +29%. Also, users of Instagram, which was ranked 18th, skyrocketed by 84% to 10 million for the first time. In contrast, the growth rate of Facebook users was just 6%.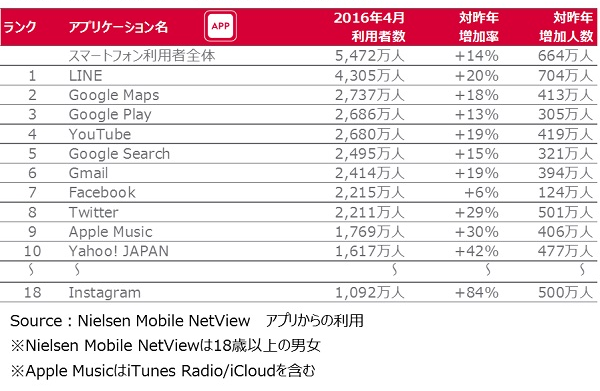 In year on year demographic comparison of Instagram users, the most users were found in 18 to 34 years old females with the growth rate of 49%. The remarkable growth rates were found in 35 to 49 years old females (+126%), and 50 years old or older male users were up 226% to 1.5 million, which almost tripled 570,000 users of 50 years old or older females.
The survey was based on data from Nielsen Mobil NetView in April 2016.