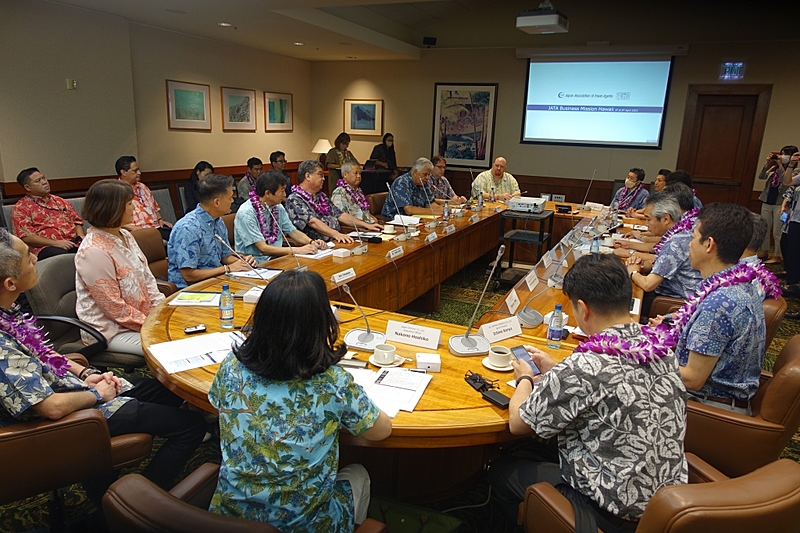 Japan Association of Travel Agents (JATA) sent an inspection delegation to Hawaii on April 3 to meet Hawaii Tourism Authority (HTA) and policy makers in Hawaii. Positioning the delegation as the first step for reopening of outbound travel from Japan, the pair confirmed that they are working together for restart of Japanese travels to Hawaii.
Hiroyuki Takahashi, JATA Chairman, said, "We are seeing a light ahead in the dark tunnel. I believe that JATA member companies will begin producing and selling products for Hawaii this summer," when he and delegation members met Ronald Kouchi, President of the Hawaiʻi Senate, and Scott Saiki, Speaker Hawaii House of Representatives.
"We need mutual understandings for business promotion. Out Aloha Split has been respected by Japanese people for a long time," John De Fries, HTA CEO, said. " In addition to that, we are informing 'Malama (taking care of others). We want Japanese travelers to be standard for Malama." He emphasized that HTA is looking for well-balance between local vitalization by tourism and improvement of quality of life in local communities, appealing 'Responsible Tourism.'
"We have seen recovery of tourists particularly from US mainland, but they don't spend money so much. We hope that Japanese travelers will be back soon in both quality of travelers and economy for Hawaii," President Kouchi said. "Hawaii is not the same as US mainland in terms of COVID-19 cases or fatality.
According to Mitsue Varely, Hawaii Tourism Japan (HTJ) Vice President, Japanese visitors to Hawaii were 24,000 only in 2021, however local spending by them totaled $9 million. She said that local tourism operators highly expects full recovery of the Japanese market.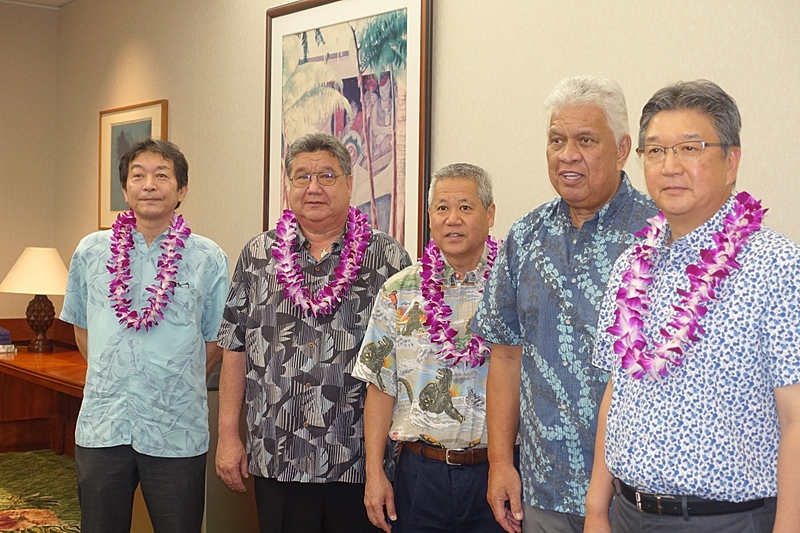 (左から)在ホノルル青木豊総領事、コウチ上院議長、サイキ下院議長、HTAフリース局長兼CEO、JATA高橋会長
JATA has set goals of 600,000 Japanese travelers to Hawaii, around 60% of those in 2019, and $1.1 billion in local spending, 50% of the amount in 2019, in 2022. For 2023, Japanese travelers are expected to restore to 1.5 million, almost the same level as 2019, and spend $2.4 billion, 10% more than 2019, with spending of $265 a traveler a day.