The latest survey on the labor shortage issue in the tourism industry of Kyoto City, conducted by DMO KYOTO, finds that labor shortage is still serious in hospitality services. Tourism operators have been managing their businesses with a variety of efforts, such as rise in wage, priority to flexible works, outsourcing or business automation.
The survey results show that 65.1% of all answers said fewer employees than pre-COVID-19, and about 40% of accommodation and restaurant operators said that they lost 20% or more employees.
The ratio of operators who have recognized labor shortages is 71.3%, and the highest ratio is found in the hospitality service with 46%, followed by sales with 34% and cooking with 22.7%.
Major reasons for labor shortages are 'fewer job seekers (70%)' and 'more leaving jobs (42.7%).' Some operators said that labor forces may shift to Osaka from Kyoto for Kansai Osaka EXPO in 2025.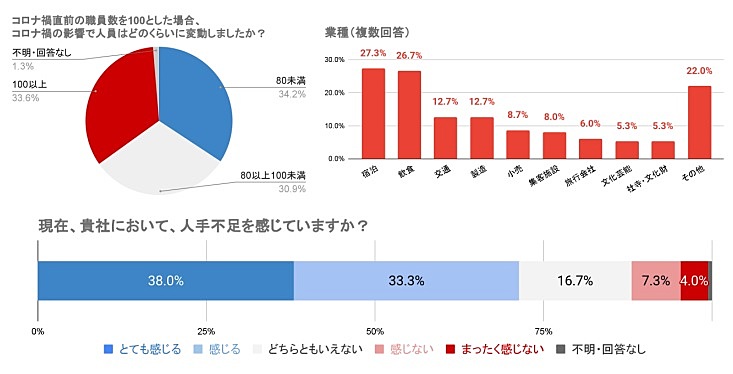 出典:京都市観光協会 観光業界における人手不足についての調査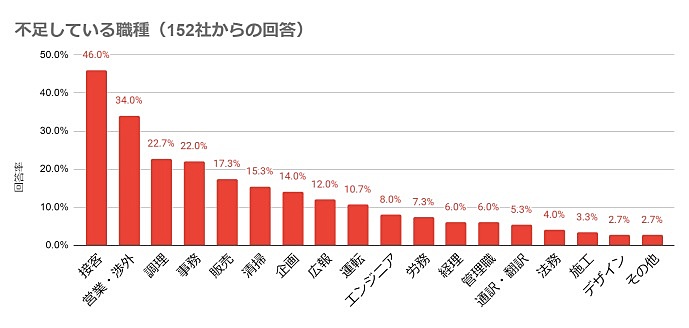 出典:京都市観光協会 観光業界における人手不足についての調査
Efforts to keep businesses with limited labor forces
Major reasons for 'fewer job seekers' are 'low wage (40%)' and 'no flexibility in working hours (34%).' Major reasons for 'more leaving jobs' are 'longer working hours, services on holidays or nighttime working (30.7%)' and 'low wage (26.7%).' Some operators said that they have a structural issue in the tourism industry, such as 'no future vision (26.7%).'
Even though some operators are making efforts to raise wage, they have still suffered from fewer job seekers. DMO KYOTO analyzed that competition with other industries in hunting employees is severe because rise in wage is found in other industries.
Necessary actions to solve the labor shortage issue are 'rise in wage (32.7%),' 'more effective operations with digital solutions (22.7%)' and 'reception of labor forces from foreign countries (20%).'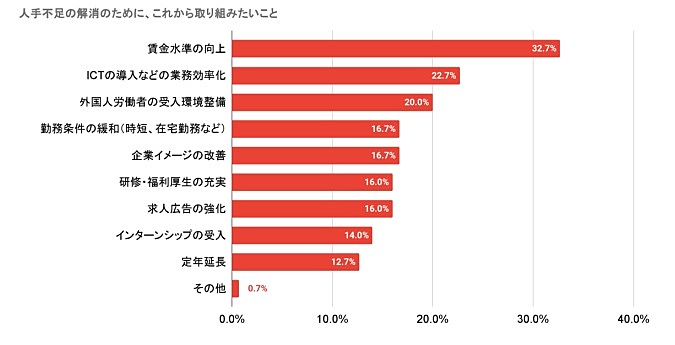 出典:京都市観光協会 観光業界における人手不足についての調査
Several operators said that multi-tasks by employees will be required to maintain businesses with the limited labor forces. Also, the survey results find that some operators have succeeded in improving productivities, services and acquisition of paid holidays by limiting guests intentionally.