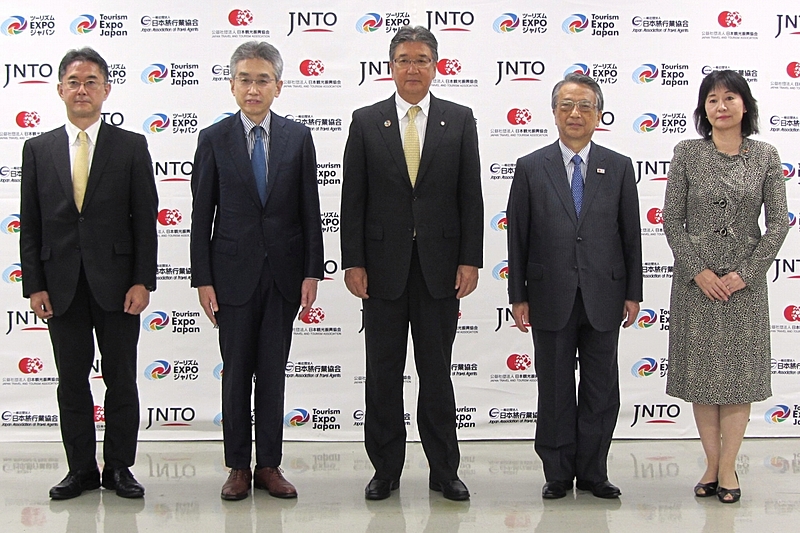 Japan Travel and Tourism Association, Japan Association of Travel Agents (JATA) and Japan National Tourism Organization (JNTO) will jointly organize 'Tourism EXPO Japan (TEJ) 2022' in Tokyo Big Sight for four days from September 22 2022.
Tokyo will be a host city for the first time in the past four years, followed by Osaka in 2019 and Okinawa in 2020 because of Tokyo Olympics and Paralympics. The planned EXPO in 2021 in Osaka will be postponed to 2023 due to the pandemic.
"Tourism stakeholders from the World will meet in person in Tokyo," JATA Chairman Hiroyuki Takahashi said. "It will be an opportunity to appeal tourism regeneration of Japan to the world and will be more significant than before."
The main theme of the EXPO is 'Challenges to a new era - ReStart -.' "We have to offer safer-oriented tours than before. One of the new trends is that a traveler is willing to pay for the values," Takahashi said. "It is necessary for the tourism industry to change and evolve itself. We are restarting for the new challenges."
The organizers have forecasted 150,000 visitors in total, about 350 buyers and about 7,000 business appointments for four days. More than 1,000 booths from 47 prefectures in Japan and the world, probably including Kiev in Ukraine to appeal world peace, will be exhibited.
Also, the EXPO will exhibit 'Adventure Tourism,' 'Cruise,' 'SDGs,' 'Sports Tourism' and 'Academy' as theme-oriented communication and 'Workcation,' 'Stargazing Tourism,' 'Driving Tourism' and 'Sake brewing Tourism' as new travel styles.
A main theme for tourism forum is 'Tackling Climate Change – Tourism Stakeholders' Endeavors.' Ministerial Round Table will be joined by tourism minister from 8 to 10 countries and key persons from UNWTO and WTTC, will be broadcasted live on YouTube.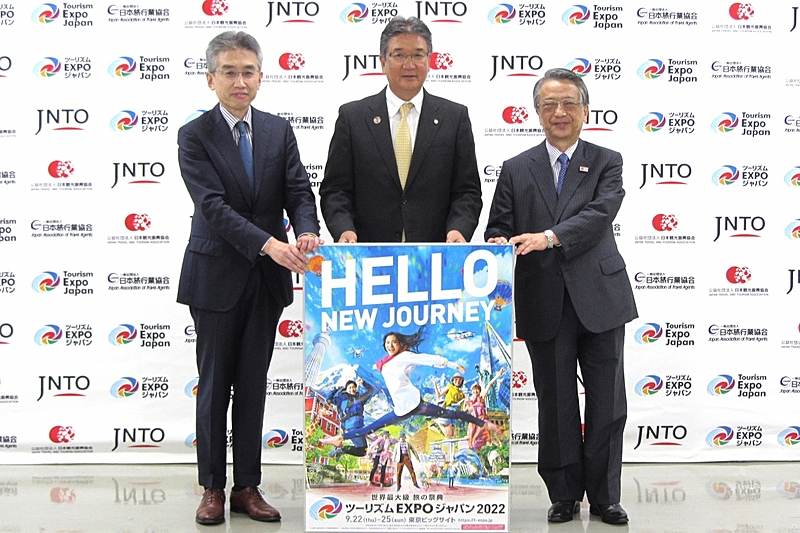 左から)日観振・理事長の久保田穣氏、JATA会長の髙橋広行氏、JNTO理事長の清野智氏
JNTO will organize 'VISIT JAPAN Travel & MICE Mart (VJTM)' for the inbound travel market, in which about 220 domestic sellers and 220 international buyers will meet in person or online. Out of the total of international buyers, about 50 buyers are supposed to visit Japan.
For two business days, Tourism EXPO Japan and Nikkei Shimbun will jointly host 'Travel Solution Exhibition 2022,' in which about 50 private companies will exhibit their digital solutions for new tourism.
For three days from September 23, Asahi Shimbun will host 'GOOD LIFE Fair' to deliver information on future life styles including SDGs.