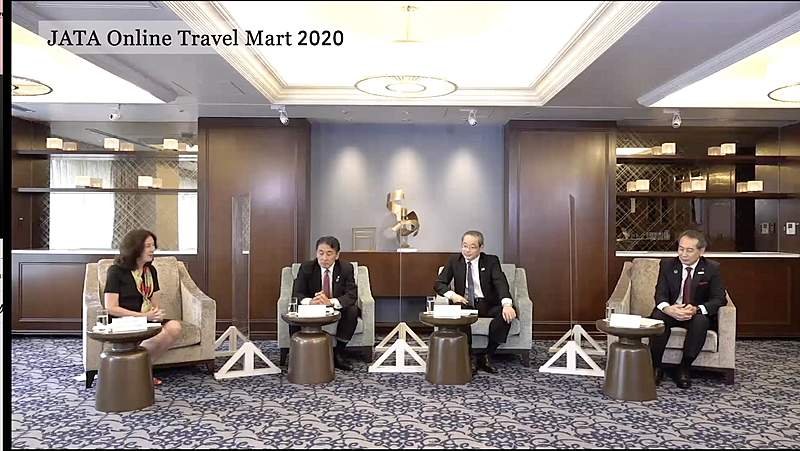 Japan Association of Travel Agents (JATA) organized 'JATA Online Travel Mart 2020 Forum' with a theme of 'Restarting the Travel Business in the New Normal,' where Akihiro Horisaka, NTA President, Akimasa Yoneda, KNT-CT President and Eijiro Yamakita, JTB President, talked about what will happen next in the travel market.
JATA will organize the online seminars and meetings between Japanese buyers and overseas sellers for outbound travel products on August 31, September 1 and 2 2020, four-days Tourism EXPO Japan 2020 in Okinawa on October 29 and three-days business meeting event 'Travel Festa' in Tokyo on January 7 2021. 'JATA Online Travel Mart 2020 Forum' is placed as a kickoff event toward a series of events for reopening of the outbound travel markets.
Quantity travel to quality travel
The three top travel agents of Japan are not exceptional in terms of deadly damages by COVID-19. "The pandemic is a good opportunity for us to transform from conventional quantity travel to quality travel," Horisaka said. "I believe that outbound travel demand is still high worldwide. Travel globalization will not change." With his view that international exchanges of people will be more important, he emphasized that NTA continues strengthening the international exchange business, including educational trips for young generation.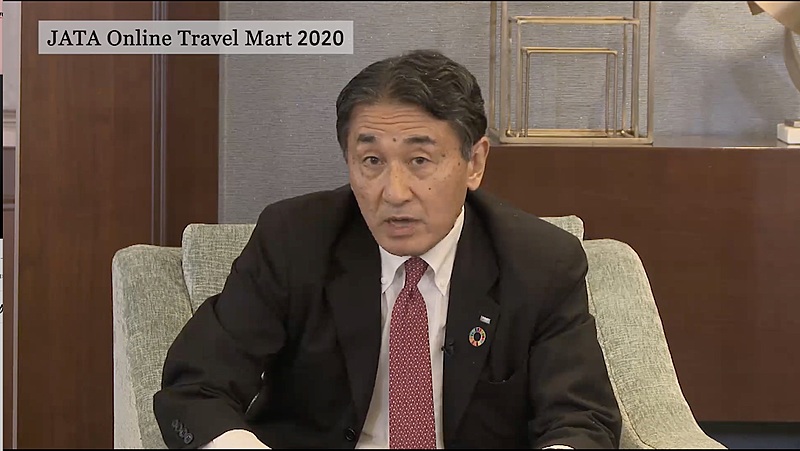 NTA Horisaka
Yoneda foresaw that new travel demands, such as Workcation, will be created amid change of lifestyles in Japan. "I think that the hub & spoke-typed travel for longer stay based on a lodging, rather than touring travels, will be preferred," he said. "We need to promote decentralize demands between weekday and weekend or among seasons."
Yamakita picked 'Digitalization' and 'Personalization' as what JTB should continue addressing in the future. "It is important for us to enhance engagement with out customers and business partners by offering hybrid of digital and real solutions," he said. "Travel agents have focused business scales for development of their businesses, but from now on we need to focus on how we can manage decentralized demands."
Accelerating online distribution
Amid the global spread of COVID-19, online distribution is further accelerating, and offline street stores have faced a challenging time worldwide. "It is true that it is difficult to sell packaged tour products, but I don't think that everything will shift to virtual or online distributions. It is a good timing for us to reconstruct a real store network," Horisaka said. NTA has an idea to transform its business model from mass targets at once to small targets at many times and from commodity to theme-oriented or SIT contents.
Yamakita mentioned a possibility to build 'new dynamic package service,' combing air & hotel with local activities. "Digitalization allows you to go anywhere or do anything whenever you want," he said. "Adding a basic insurance service even in the new dynamic package service, it will be a strong value-added product." Also, he revealed that JTB is offering travel information or booking opportunities on mobile phone, instead of real stores, as one of DX approaches.
"Amid drastic change of working behaviors or lifestyles, we also have to change ourselves for a sustainable business toward the future," Yamakita stressed.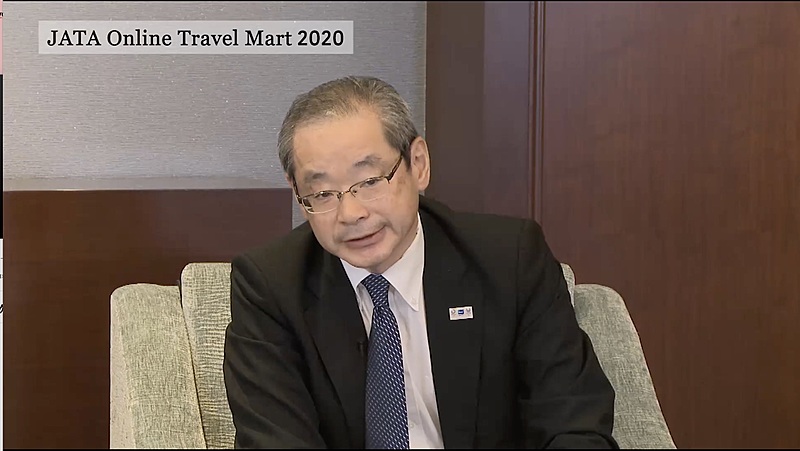 KNT-CT Yoneda
Introducing the company's careful actions for safe travel in the New Normal, such as quality certification in hygiene measures, Yoneda said to overseas suppliers that Japanese travel companies are looking for updated precaution information including local medical systems, which is crucial for recovery of the outbound travel market.