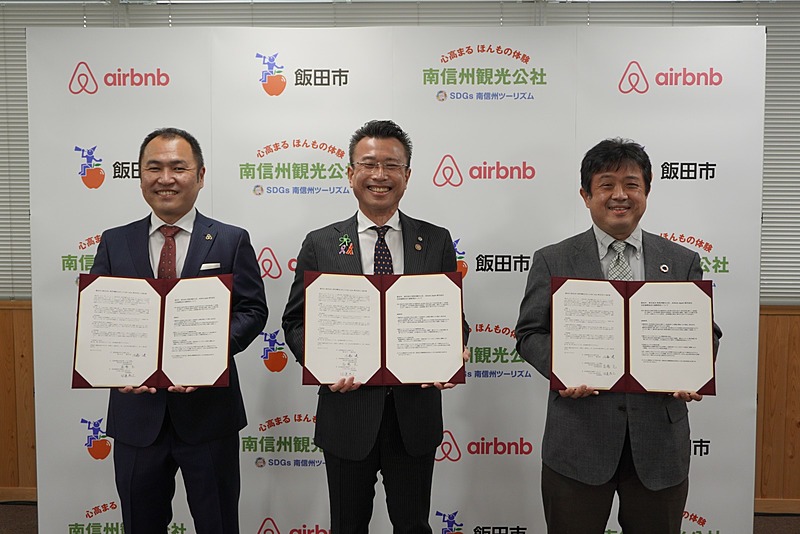 Airbnb Japan signed a partnership agreement with Iida City and local DMO South Shinshu Tourism in Nagano Prefecture to work together for sustainable tourism growth. They are addressing to increase engaged travelers in south Nagano area and to revitalize local economy through promotion of farm stay tourism and re-use of vacant houses.
Iida Mayor Takeshi Sato said at a news conference, "Through the partnership, we will give travelers opportunities to meet local people and life , and to encourage them to live in south Nagano area in the future."
Iida City is supposed to open a station on the Linear Chuo Shinkansen or Superconducting Maglev train, which will open in 2027. As the fastest train at 500km/h, it will connect Iida City with Tokyo for about 45 minutes and wth Nagoya for about 25 minutes. Sato said, "Even after the Linear opens, Iida will continue being high-quality local city, not a copy of an urban city"
They will together explore farmers for farm stay and develop new farm stay opportunities by re-using vacant houses, which are expected to revitalize local communities. In addition, they will deliver local tourism information on each of their own communication channels and organize community events to connect local people with travelers.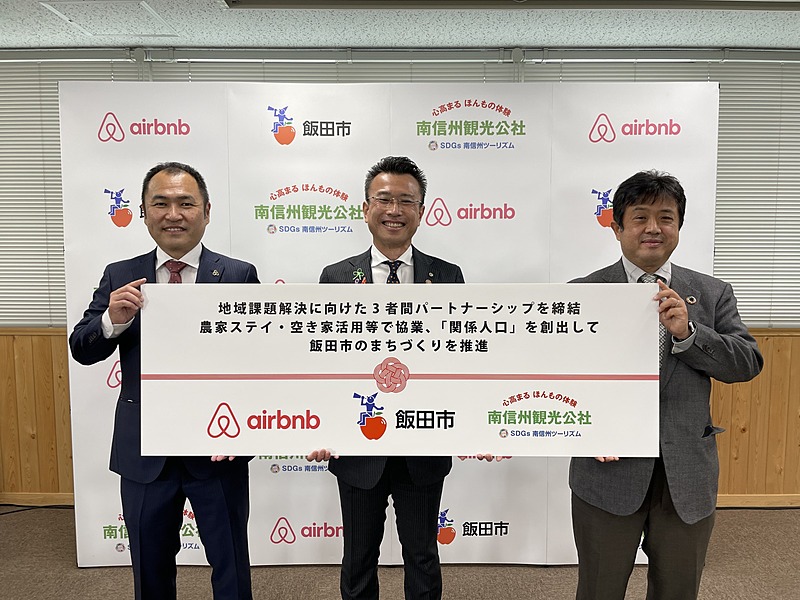 (From left)Airbnb Japan Tanabe、Iida Mayor Sato、South Shinshu Tourism Takahashi
Makoto Takahashi, President of South Shinshu Tourism, said, "We are going to appeal new farm stays in this area to individual travelers not only in Japan but also from foreign countries." There are about 100 farmers in Iida City and about 200 farmers in South Nagano area to provide farm stays, according to Takahashi.
"Airbnb will be an infrastructure to connect guests with hosts through a journey," Yasuyuki Tanabe, Airbnb Japan Managing Director, said. "We will encourage local Airbnb hosts to register them as farm stay listings and also discover new farm stay hosts."
The partnership with Iida City followed the partnerships with Nagano Tourism Organization and Tatsuno City in Nagano Prefecture for Airbnb Japan. Tanabe revealed that Airbnb Japan has a plan to extend such a partnership to other areas in Japan and to create Japan's original 'Experiences' that contribute to local revitalization.