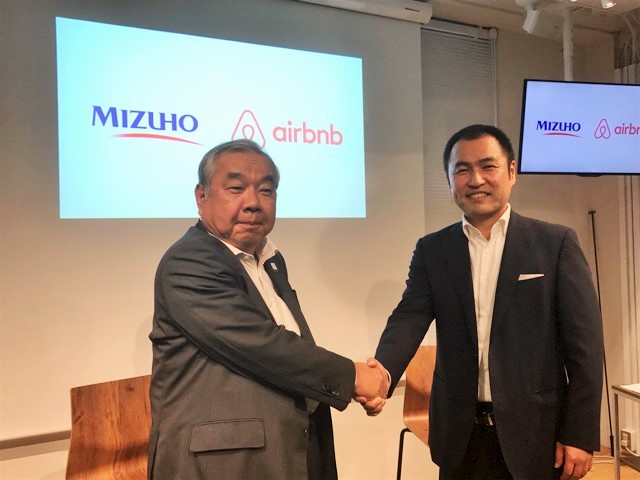 Airbnb Japan, Mizuho Bank, a Japan's leading bank, and Blue Lab, a Mizuho's venture company, have signed a business partnership for exploration of vacation rental business and creation of new tourism demands. This is the first business partnership between a major bank of Japan and Airbnb. Blue Lab was established by Mizuho Bank and venture capitals to support creation of the next generation business models using state-of-the-art technologies. 
Using the Airbnb's experiences and knowledge as the world's leading vacation rental platform and the Mizuho's customer bases, the three companies will work together for exploration of vacation rentals including renovations of houses, creation of new travel experiences and supports to vacation rental-related businesses. Also, Mizuho Bank has an investment and loan plan to vacation rental owners or the related-business providers.
Daisuke Yamada, Blue Lab President and Mizuho Bank Managing Executive Office, said, "It is a social justice to address the vacant house issue and local revitalization by using unutilized assets before Tokyo Olympics and Paralympics in 2020." Blue Lab has an idea to support exploration of hidden assets, like company residences, stations or even shrines.
"I believe that vacation rental is a business field with a lot of rooms to grow. We will focus on exploiting properties under the new vacation rental law, which has just passed by the Diet, for the time being," Yamada said.
"It is essential for us to make partnerships with different companies or local governments for our future growth," Yasuyuki Tanabe, Airbnb Country Manager Japan, said. "One of our missions is to enrich our contents in Japan." International travelers staying in Airbnb listings in Japan reached 3.7 million in 2016.
Tanabe also said that it is necessary to form a Japan's original vacation rental system including the related-services, such as cleaning or insurance, to co-exist neighborhoods, and also to enrich local experience programs that can create new values or economic effects in the travel market.