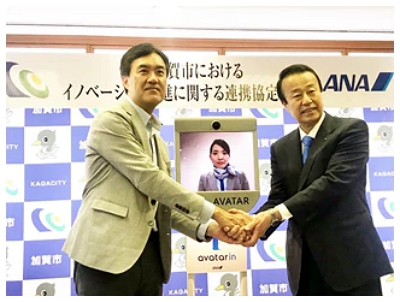 ANA Holdings and Kaga City, Ishikawa Prefecture have recently signed a partnership agreement on local revitalization through the ANA's innovation initiatives for state-of-the-art technologies or business models, including the Avatar technologies. 
ANA has promoted ANA AVATAR VISION since April 2018, trying to commercialize Avatar services integrating multiple exponential technologies such as robotics, haptics, AR/VR, and AI to enable humanity to instantaneously teleport their presence, consciousness, knowledge and skills to a remote location.
In the partnership with Kaga City, the Beam Pro, a remote communication technology, will be placed in the city hall to answer questions from citizens and be used as an education opportunity. Also, Kaga City plans to take advantage of the Avatar technologies to provide local tourist experiences with remote areas. 
In terms of a sharing economy business model, ANA helps the city promote share of tour guide skills among residents for local experiences or international visitors. In addition, drone operation and effective utilization of vacant houses, which are also among the ANA's innovation initiatives, are expected to help the city solve local issues.