Booking.com is strengthening its businesses in Japan, expecting an increase in vacation rental properties, for which a new rule is made in the next spring, extension of its office network and development of a new campaign.
James Whitemore, Regional Director North Asia, revealed that sales in the Japanese market including both inbound and domestic travels increased by 821% in 2015 compared to 2012, following Taiwan with the growth rate of 996%. "Four years ago, Japan was a new challenging market, but now is a mature market," he said.
The inbound market from the world to Japan is particularly growing, as Japan moved up from 32nd in 2012 to 10th in 2015 and 8th in the first half of 2016 in its popular destination ranking. Whitemore said that Booking.com has a goal that Japan is always within top 10.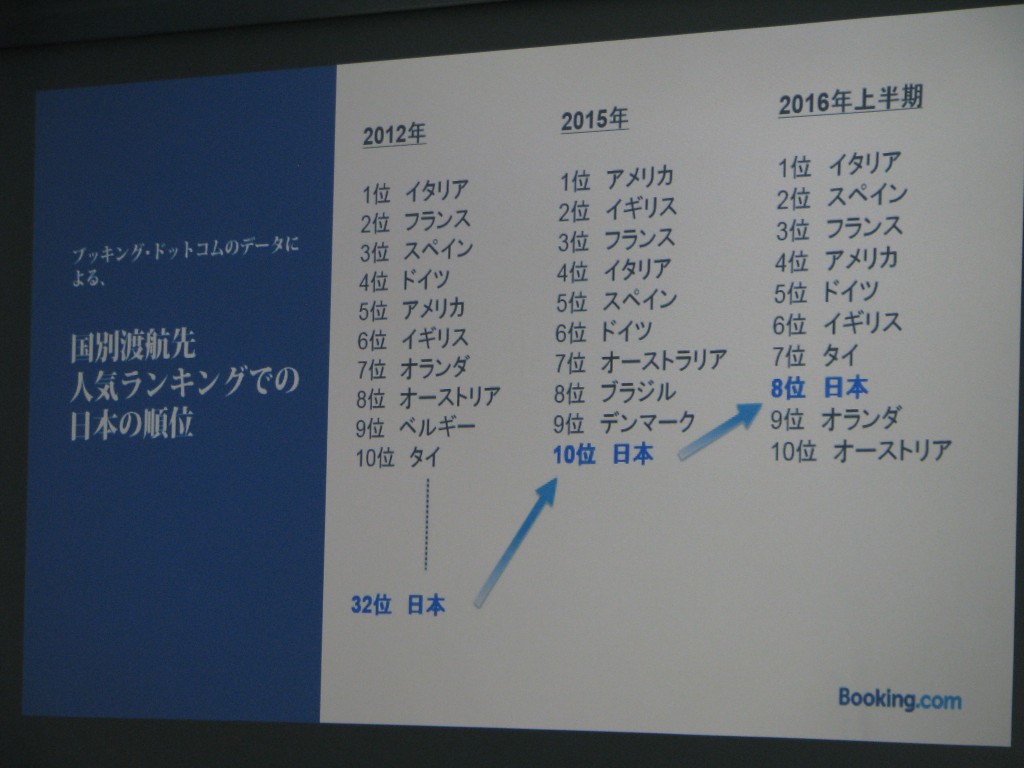 In the inbound market, the top nation is China, followed by Taiwan, Korea and Thailand. Bookig.com forecasts that travelers from the nations will be regular travelers for Japan and visit Hakone, Okinawa or local ski resorts as well as so-called Golden Route.
At the same time, Booking.com succeeded in increasing bookings in Japan by Japanese travelers as a result of its efforts to raise awareness through a variety of campaigns and TV CM. On online advertising campaign, the awareness rate doubled compared to before the campaign started. Accordingly, Booking.com is continuously broadcasting CM on TV in Japan, focusing theme-oriented experiences such as food, sports or onsen.
As of August 2016, the OTA listed more than 1 million accommodations, out of which accommodations in Japan were 8,800, 29% more than a year earlier. A goal is to increase listings in Japan to 10,000 by the end of this year. On top of traditional lodging properties and unique lodging experiences, Booking.com will increase vacation rental properties or minpaku in Japanese in Japan, according to a new rule made in the next spring, in addition to minpaku properties in Ota, Tokyo, which is a ward specially designated for vacation rental, since June 2016.
Booking.com has an idea to extend its local offices in Japan, maybe seasonal offices like Nagano or Niigata in a snow season, in addition to five domestic offices today to increase listed properties.
Specializing in booking of lodging properties, Booking.com has started dealing with museum tickets on trial in Amsterdam. Booking com said that it is probable to launch such a new service in the future because users tend to seek deeper travel experiences.
In Japanese