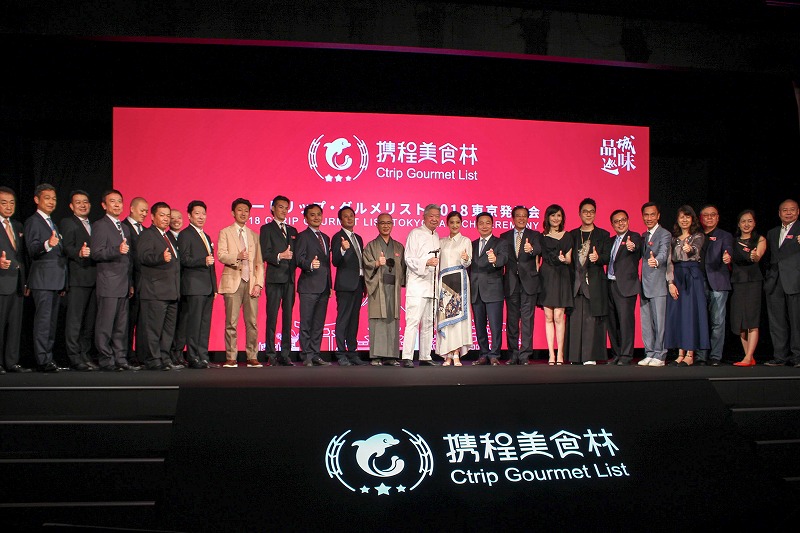 Ctrip, the largest OTA in China, held an announcement event of Ctrip Gourmet in Tokyo on September 5, following Bangkok in June this year. Ctrip Gourmet is a restaurant rating guide listing 18,000 or more restaurants in 150 cities in the world, which are rated by specialists and gastronomists, and own of the business focuses for Ctrip to strengthen in-destination services. Ctrip has started its original booking services in China and tie-up with Open Table, an online restaurant booking platform, in North America. 
Min Fan, Co-founder and Vice Chairman of Ctrip, who joined the event in Tokyo, explained, "Ctrip Gourmet is a good opportunity for Chinese travelers to know restaurants in Tokyo." Ctrip Gourmet encourages users not only to book restaurants but also to spread word of mouth on their SNS.
Ctrip revealed that 83% of Chinese travelers to Japan check restaurants before their departing, and 35% go to a restaurant directly. The ratio of those who succeed in booking is less than 15% of the total. Ctrip is expected to be a online solution for Chinese travelers to book a restaurant more easily than before. 
In Japan, Ctrip has already made a partnership with Gurunavi, the largest restaurant guide and booking platform in Japan.
Ctrip Gourmet combines ratings by 20,000 ore more celebrities, Chinese and local gastronomists with tourism big data Ctrip has acquired. Based on word of mouth, three different categories of 'Star' for high-end restaurants, 'Selected' for high quality restaurants, and 'Local favorite' for local popular restaurants. In Tokyo, 405 restaurants have already been registered, including five 'Three Stars,' 15 'Two Stars' and 28 'One Star.' 
Kimi Xiaozhou Liu, CEO of Ctrip Gourmet, said that Tokyo is the most popular food-oriented destination for Chinese travelers, and their searches on Ctrip Gourmet reach 10 million or more a year. Listings in Tokyo are the most in the world, and 'Star' restaurants in Tokyo are 1.5 times more those in the second city. 
Ctrip Gourmet has a plan to develop its service not only on Ctrip but also its global brand Trip.com to provide world travelers with the booking service.