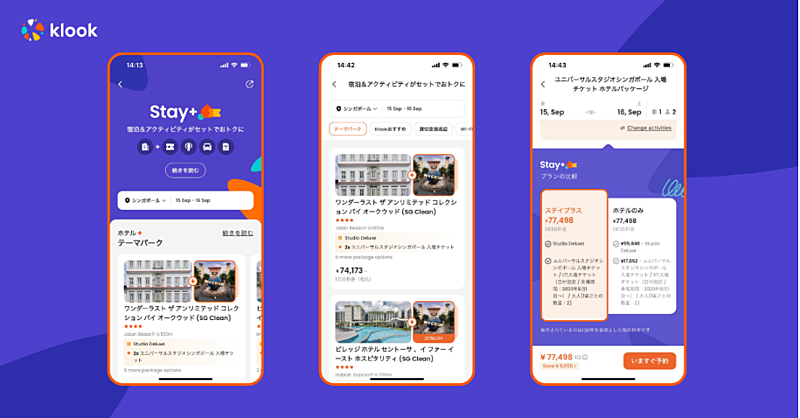 Local experience booking platform 'Klook' has started offering 'Stay +,' a package combing accommodation booking with in-destination products, such as tickets or a railway pass. The package is cheaper than individual purchases, and booking and payment are completed simultaneously.
The packaged In-destination products are basically highly demanded by travelers, such as airport railway tickets, SIM card, WI-Fi or popular theme-park admission tickets for inbound travelers to Japan, and airport transportations in Bangkok, railway tickets in Taiwan or Universal Studio Singapore ticket for Japanese outbound travelers.
Klook expects that the package is particularly preferred by young generation travelers who are more interested in local experiences. The klook survey in July this year finds that 85% want to spend more money for local experiences, and 65% make an itinerary in a destination before booking a flight. Also, 42% of all searchers book hotels as well on the Klook platform.
'Stay +' was launched in 2022 first in Taiwan, Hong Kong and Singapore, followed by Thailand, Philippines and Malaysia. Klook said that the conversion rate of hotels for Stay + is 33.9 higher points than others.
In Japan, Klook had prepared for the service launch, as it completed a linkage with TL Lincoln, a hotel distribution system provider of Japan, in June this year. Also, it acquired a travel business license in Japan in 2020.
The partnership with TL Lincoln helps Klook increase partner accommodations in Japan from 5,000 in January 2020 to about 35,000 in June this year. Klook has a plan to sign direct contracts with accommodations.
Stay + is currently joined by about 1,000 hotels in APAC and 20 chain hotels in Japan.