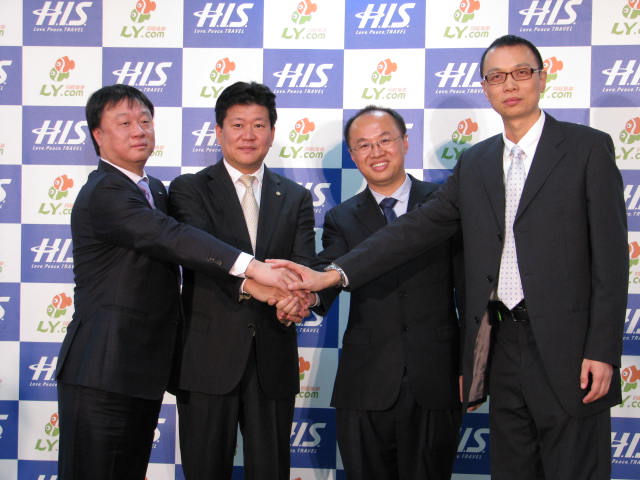 H.I.S., one of the Japan's leading travel agents, and LY.com, one of the largest OTA in China, will launch a new joint venture to develop the inbound travel business from China to Japan mainly. Also, the joint venture, invested 40% by H.I.S. and 60% by LY.com, has business plans for Chinese outbound travel overseas and Japanese outbound travel to China.
"The joint venture will focus on Chinese FIT," H.I.S. President Akira Hirabayashi said at a news conference. "I hope that they will create travel products to satisfy Chinese FIT as soon as possible." One of the biggest reasons for launch of the joint venture is that LY.com emphasizes quality while it is growing very rapidly. Also, H.I.S. may have a merit in handling Chinese travelers by the travel agent's extensive network over the world.
H.I.S. today earns about 200 billion JPY from its overseas bases, which mostly handle Japanese travelers. In tie-up with LY.com, the joint venture is expected to give H.I.S. overseas offices a great opportunity to handle Chinese travelers, as Hirabayashi said that the volume is tremendous.
The followings are expected businesses by the joint venture:
<Inbound travel from China to Japan>
Japan Holiday Travel, a member of the H.I.S. group, will provide the joint venture with tourism resources in Japan.
The joint venture and LY.com will sell hotels or theme parks of the H.I.S. group in China.
<Outbound travel from China to the world>
H.I.S. will provide the joint venture with tourism products dealt by H.I.S. overseas local offices in 62 countries, and LY.com will sell the products for Chinese outbound travelers.
<Outbound travel from Japan to China>
Tourism products, hotels or high-speed railway in China purchased by LY.com will be sold to Japanese travelers on the H.I.S. sales network.
Established in 2004, LY.com is growing to the 9th largest OTA among travel agents in China and the 3rd largest among OTAs in China in accordance with the growth of Chinese economy. Its app for smart phone with 800 million downloads in total helps LY.com expand the business. LY.com expects to have 100 million customers in total in 2015 and to increase annual operating revenue from 5.7 billion yuan (about 114 billion JPY) in 2015 to 82.6 billion yuan (about 1,652 billion JPY) in 2020.
E-commerce on smart phone is growing rapidly in China, as the ratio accounts for 35 to 40% of the total, and the ratio of purchase of admission tickets and air tickets on the smart phone app is likely to reach 70% of the total, according to LY.com.
In Japanese