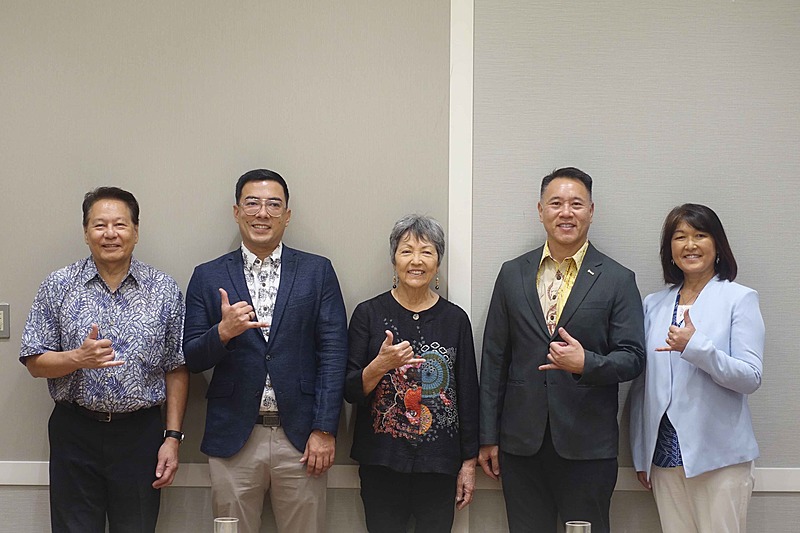 A Hawaii State Legislature delegate of a total of 13 members including Hawaii Tourism Authority (HTA) and Department of Business, Economic Development and Tourism (DBEDT) recently visited Japan to deepen economic partnership and friendship with Japan. They talked about the current condition in wildfire-damaged Maui.
Michelle Kidani, Senator of Hawaii, Vice President, emphasized that all of Hawaii islands except western Maui including devastated Lahaina welcome tourists. "People in western Maui lost everything, but they do not want lose jobs, either," she added. Tourism revenue in western Maui accounts for 15% of the entire Hawaii State. Allegedly, about $9 million a day have been lost since the wildfire hit Lahaina.
"We want Japanese travelers to visit Hawaii except western Maui for people in Maui," Daniel Naho'opi'i, HTA Chief Administrative Officer, who visited Maui several times to hear voices from local people said. "Support them with tourism."
Although a share of Japanese travelers to Maui is just 2%, Mitsue Varley, Hawaii Tourism Japan (HTJ) Country Director, said, "Earlier recovery of Japanese travelers to Hawaii helps the reconstruction project for Maui. We want to deliver a message that all of islands including Maui except the devastated area are safe for tourists."
Dennis Ling, DBEDT Business Development & Support Division Administrator, expressed his gratitude to Japanese people for financial supports to the disaster. HTJ launched a Japanese Yen-based donation program on August 17. As of August 31 a total amount of donations reached about 52 million JPY, and support activities have extended among the tourism industry of Japan, including Japan Association of Travel Agents (JATA).
HTA has approved a budget of $2.6 million for 'Malama Maui Campaign' reconstruction plan focusing on the U.S. market.
Amid natural disasters happen everywhere in the world, safe travel may be more important. Varley said, "HTJ is again appealing that Hawaii is a safe destination for everyone, emphasizing the well-established emergency communication system for Japanese travelers in Hawaii in partnerships with local media, Japanese consulate or local Japanese companies.
For safe travel, Naho'opi'i said that HTA has ab idea to develop smart tourism in the future to establish a safe confirmation system combing the existing apps with the reservation systems, for instance.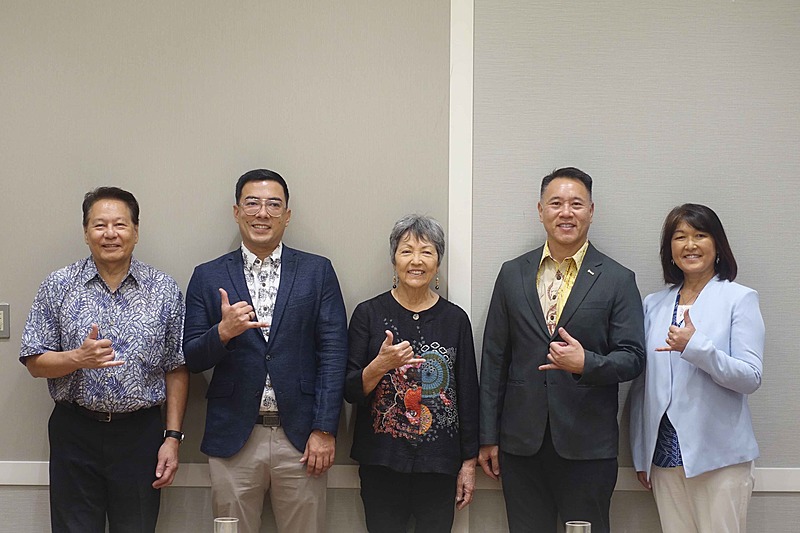 (左から)DBEDTリン氏、ホルト下院議員、キダニ上院議員、HTAナーホオピイ氏、HTJヴァーレイ氏