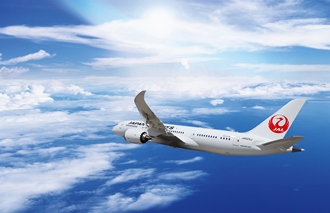 JAL posted operating revenue of 770.1 billion JPY (+8.4% year on year), operating expenses of 653.3 billion JPY (+10.1%), operating profit of 96.8 billion JPY (-2.3%), ordinary profit of 94.2 billion JPY (-3.5%) and net income (profit attributable to owners of parent) of 73.3 billion JPY (-5.9%) for the first half of FY2018 from April 1 to September 30 2018) on a consolidated basis. 
For the international passenger service, JAL carried more passengers both from Japan and from overseas cities during the period, launching Haneda-Manila and Narita-Seattle services and extending code-shares with Garuda Indonesia Airlines, VietJet Air, Alaska Airlines and British Airways.
JAL has enhanced facility functions at Kansai International Airport since the airport was seriously damaged by the 21st Typhoon in September 2018 and at the same time offered special airfares for foreign travelers to visit Kansai area. Also, JAL revealed that renewal of the Passenger Service System (PSS) has helped JAL increase revenue. 
As a result, ASK was up 6.9%, and RPK up 8.7%. The load factor reached record-high 82.4%. With a 9.4 % increase in passengers, passenger revenue was up 17.4% to 269.2 billion JPY.
For the domestic passenger service, JAL increased passenger revenue by 1.2% year on year to 268.1 billion JPY, as it enriched its local route networks, such as launch of new services for Amami Oshima by Japan Air Commuter, extension of the Itami Airport-based Embraer 190 services or introduction of JAL SKY NEXT 727-800 for Naha Airport-based flights by Japan Transocean Air.
To address recovery efforts from the natural disasters, JAL operated temporary flights between Narita and Itami when Kansai Airport shut down due to the Typhoon and offered special airfares and tour products for foreign travelers to visit Hokkaido when the big earthquake occurred in eastern Hokkaido. 
As a result, ASK was up 0.5%, RPK up 0.7%. The load factor was 72.1% with a 1.4% increase in passengers.
For the full year of FY2018 ended March 31 2019, JAL has revised upward operating revenue from 1,455 billion yen previously to 1,488 billion JPY. Operating expenses are expected to increase to 1,321 billion JPY, supposing Singapore Kerosene price is $95 a barrel. JAL has accordingly forecasted operating profit of 167 billion yen, ordinary profit of 156 billion JPY and net profit of 110 billon JPY.