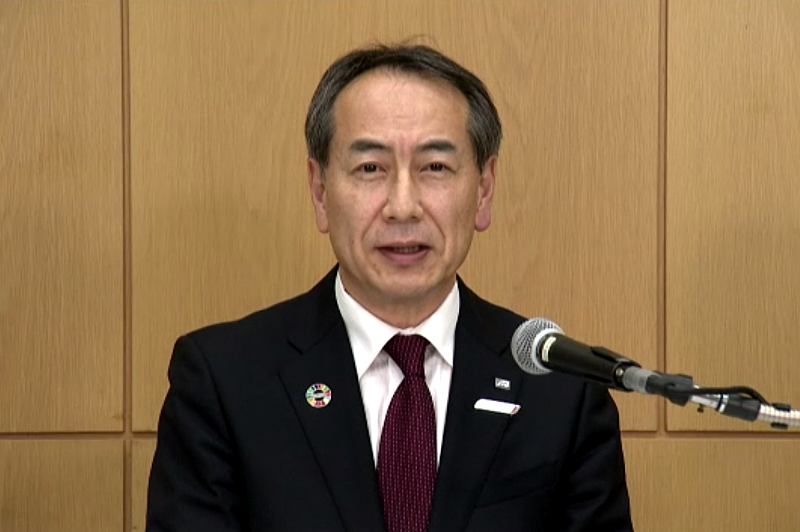 JTB posted the record-high net loss of 105.2 billion JPY on a consolidated financial basis for the full year of FY2020 ended March 31 2021, as the leading Japanese travel company had deadly suffered from COVDI-19 through the fiscal year. As a result, the capital adequacy rate was down from 24.3% a year ago to 6.9%
Sales reduced by 28.9% year on year to 372.1 billion JPY. JTB posted operating loss of 97.6 billion JPY (operating profit of 1.4 billion JPY for FY2019) and recurring loss of 74.3 billion JPY (recurring profit of 2.5 billion JPY for FY 2019).
Eijiro Yamakita, JTB CEO, said at a news conference that cost cut efforts and the new solution businesses through the business structure reform under the new mid-term business plan have contributed to the financial results, even amid COVID-19.
Sales of the travel business, combining domestic, overseas, inbound and global travels, reduced by 82.2% to 190.7 billion JPY. Domestic travel was tentatively stimulated in the Q3 by demand-boosting Go To Travel Campaign, while sales of overseas travel and inbound travel, which usually accounted for half of the travel business, halved respectively.
Sale of the solution business decreased by 15.6% to 181.4 billion JPY, as a variety of local revitalization businesses and the digital solution business expanded. As one of the solution businesses, JTB will continue developing hybrid MICE.
As the business structure reform, JTB has closed 73 street shops as of the end of FY2020, fewer street shops than an initial goal of 115. Also, JTB has decided to increase job cuts from initially 6,500 to about 7,200 jobs, and 5,705 jobs were already cut as of the beginning of FY2021.
FY FY2021 ended March 31 2022, JTB has expected to move back into the black, anticipating recovery of travel demands and acceleration of the cost cut efforts.
JTB particularly expects that the market recovery will depend on completion of vaccination in Japan by December this year, gradual lifting of domestic travel restrictions nationwide after July this year and restart of overseas travel for limited destinations in the latter half of FY2021.
Yamakita said of overseas travel, 'Firstly, packaged tours with safe and security measures by travel companies will be restarted for Hawaii or part of Asia or Europe. Full recovery to the 2019 level will be seen after FY2023."
Yamakita also emphasized that JTB will continue investing necessary financial and human resource to digital solution developments.
FY2020 sales by business:
Travel Business 190.7 billion JPY (-82.2% over FY2019)
-Domestic Travel 152.8 billion JPY (-66.4% over FY2019)
-Overseas Travel 22.5 billion JPY (-94.6% over FY2019)
-Inbound Travel 3.8 billion JPY (-94.4% over FY2019)
-Global Travel 11.7 billion JPY (-89.4% over FY2019)
FY2021 gross profit rate forecasts
Travel Business 150 to 155% of FY2020 / 35 to 40% of FY2019
-Domestic Travel 160 to 165% of FY2020 / 75 to 80% of FY2019
-Overseas Travel 5 to 10% of FY2019
Solution Business around 130% of FY2020 / around 55% of FY2019