Eijiro Yamakita, former Managing Executive Officer, officially took office as new President and CEO at JTB on June 30 after approved at a regular stockholder meeting. He talked about steering of the management toward JTB's initiative 'The Third Founding' amid COVID-19, digital transformation (DX), a solution business and retailer reform at an interview with Travel Voice.
Accelerating digital transformation
"We have been going through a difficult time, but all the more we have to rethink what is a tourism industry and develop tourism," Yamakita said.
One of the rethought business models for JTB is DX. "Amid new normal, I believe digitalization in the tourism industry is going forward quicker than before," Yamakita said. "We are accelerating DX more than before."
108 years old JTB has extended its business fields and at the same time its business stakeholders, which has recently been boosted by rapid expansion of the inbound travel market. A variety of industries, local governments and DMOs have been involved in the JTB's initiative of the interaction creation business.
"Working together with such stakeholders, JTB is going to develop innovative solutions necessary for new normal, taking advantage of technologies," he added. "We understand customers' purposes of travel and interaction, which is different from technology-centered OTA. Our business approach is to help our customers accomplish their purposes in partnership with technology partners."
New tourism interaction era with virtual and real combined
Yamakita depicts the JTB future as a new tourism interaction era with virtual and real combined. "Virtual is not good enough for tourism. Ultimately real is important for tourism." His goal is to create hybrid-typed interaction to take in benefits from both virtual and real.
JTB, for example, has launched 'Resort Wedding Online Consultation,' in which JTB professional staff takes care of customers online first and then realizes real wedding ceremony.
Also, JTB has started virtual MICE. "JTB has capability to grasp requirements for corporates to accomplish their goals," Yamakita said. "So, we can take advantage of our consulting and coordinating capabilities, including selection of venders."
Yamakita, however, said, "Virtual MICE is not a complete solution. We are looking for opportunities to develop from a small-sized real event to a large-sized virtual event or vice versa. I think this approach will be continued even after COVID-19."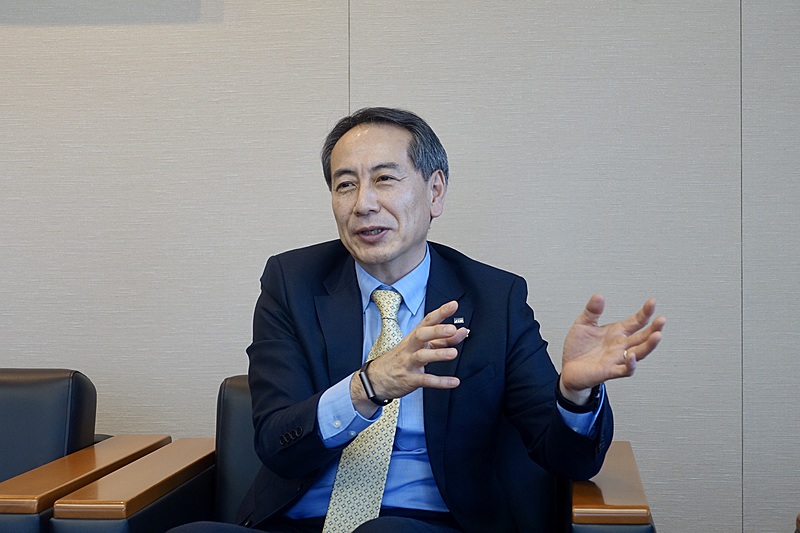 Yamakita has long-term career in Europe
Retailer reform optimizing JTB professional staff
Another challenges for JTB is to reform retail stores, which JTB has addressed even before COVID-19. "We are trying to downsize the store network as originally planned and at the same time change each store's functionality," Yamakita said. "To meet changing market needs, we will effectively develop specialized stores."
JTB is consecutively investing to human resources for DX, solution creation and stronger marketing capability. Even under the difficult time, JTB will continue recruiting new graduates next year.
Go To Campaign as a chance to revive domestic travel
JTB resulted in reductions of both revenue and profits for FY2019 ended March 31 2020 due to the COVID-19 damage in the fourth quarter. To survive the crisis, it has succeeded in financing 140 billion JPY in April. However, financial difficulty is likely to be seen in FY2020 as well.
Saying that travel demand is still high, Yamakita expects that the government's leading 'Go To Campaign' will boost domestic travel demand. On top of that, JTB has already started offering its original campaign, and also several local governments have issued their original travel coupons before Go To Campaign is launched.
Yamakita forecasted that the domestic travel market will recover to a normal level by the end of this year, revealing that JTB has already received bookings for Okinawa in this summer.
On the contrary, Yamakita has a negative view for overseas travel, expecting the market will slowly move after this autumn, maybe Hawaii or Guam in the beginning and Europe through the next year.
Toward sustainable tourism
Under new normal to restrict the number of travelers for congestion avoidance, revenue structure is probably changing. Yamakita said that it is necessary to transform the revenue structure from the current business model sending large-sized groups to a business model sending smaller-sized group more frequently. For the business model, a key is dynamic pricing that flexibly changes prices depending on demand.
The new business model is expected to realize sustainable tourism in challenging over-tourism and also in deeper connections with local communities. Even though JTB is practically closed today, Yamakita said that communication with local communities have recently increased.
"With or after COVID-19, SDGs ideas will more be focused in the tourism industry," Yamakita said. "We need to evolve tourism sustainably, flexibly responding changeable market needs and creating a strong digital platform."