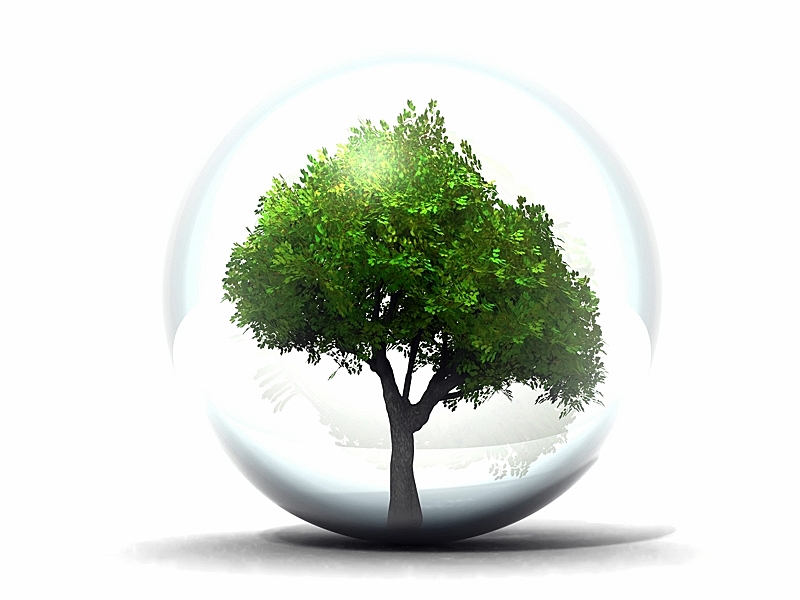 The latest survey on SDGs actions in the tourism industry of Japan, conducted jointly by Rikkyo University and JTB Tourism Research & Consulting, shows that the tourism industry is far behind other industries in terms of the number of companies taking measures for SDGs. The ratio is 20.3%, much lower than the highest 85.7% in the financial industry.
In the tourism industry, the ratio is 43.3% for the accommodation industry , while it is just 16% for the travel industry.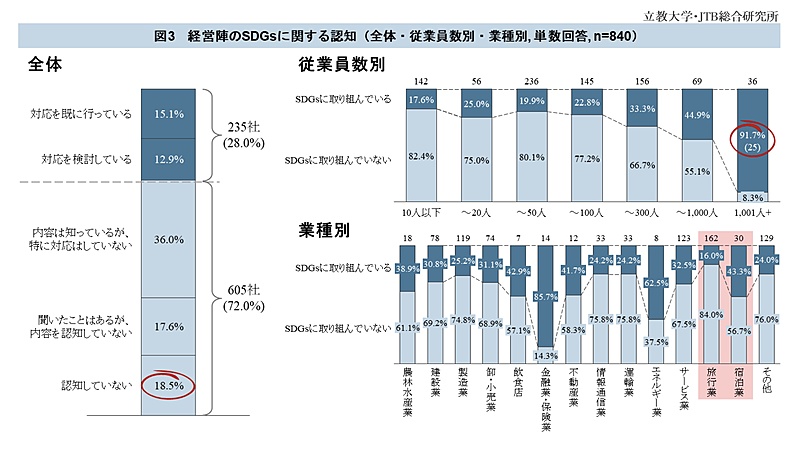 報道資料より
Corporate merits for SDGs actions are 'to raise awareness among employees (55.8%),' 'to improve branding powers (34.9%)' and 'to clarify management policies (28.6%)' for all of the industries. The top three merits are the same in the tourism industry, though the ratios are relatively low.
Answers of 'increase in sales (27.6%),' 'improvement of profitability (21.9%)' and 'increase in business partners (18.2%)' are more found in the tourism industry than in other industries.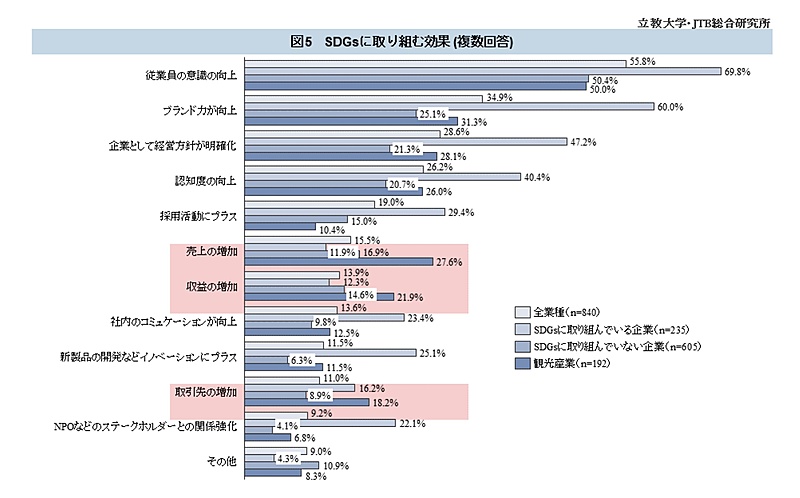 報道資料より
Regarding recognition to 'risks' or 'chances' for each of the SDGs, 'environment,' 'peace and fairness' and 'partnership' are higher in the tourism industry than others, while 'employment' and 'innovation' are lower.
Major challenges in taking measures for SDGs in the tourism industry are 'shortage of human resources (38.5%),' 'limited time (35.9%)' and 'shortage of budget (35.9%).'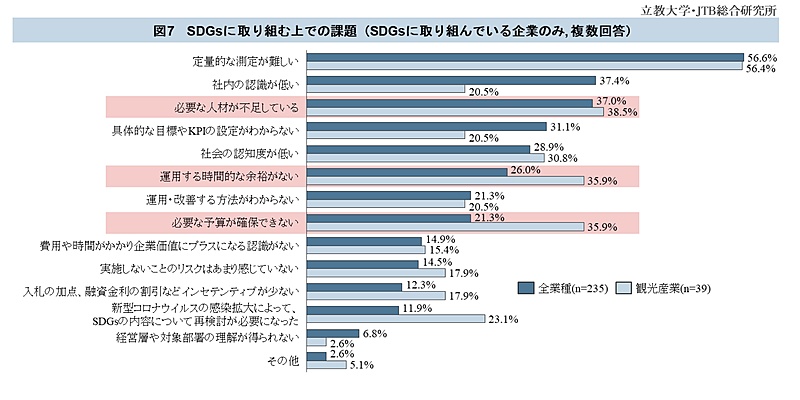 報道資料より
Expected supports in taking measures for SDGs in the tourism industry are 'subsidy (69.2%),' 'certification system (61.5%),' 'partnership with a local community (61.5%),' 'matching with a partner company (56.4%)' and 'design of business approaches (46.2%).'

報道資料より
Following the survey results, JTB Tourism Research & Consulting analyzed that small or medium-sized travel companies do not have times and human resources enough for achievement of SDGs. It also pointed out that it is necessary for them to raise economic and corporate values by taking measures for SDGs from a long-term point of view, particularly targeting Z generation travelers who are more interested in social and environmental challenges.