Panasonic Group, Fuji Kyuko and Navitime Japan has launched 'Mt.Fuji Area Tourism DX Innovation Consortium' to begin demonstration tests for 'free-hand tourism' in the area by using face recognition digital pass for payments and entries in Fuji Kyuko railway and tourism facilities.
Combining a shopping coupon service, a travel planning tool and a navigation service into 'Face Recognition Digital Pass,' they aim to help visitors go around the area and local communities gain more revenue from visitors.
This is the commercial project in the Japan Tourism Agency-led program to establish a local tourism model for tourism DX acceleration, supported by five local governments and tourism associations in the area.
Takahiro Kajii, Panasonic System Solutions Japan, explained, "We hope that the demonstration tests will be a solution for local tourism challenges. The demonstration will encourage visitors to visit unknown places in the area and to spend money there and also give them contactless travel."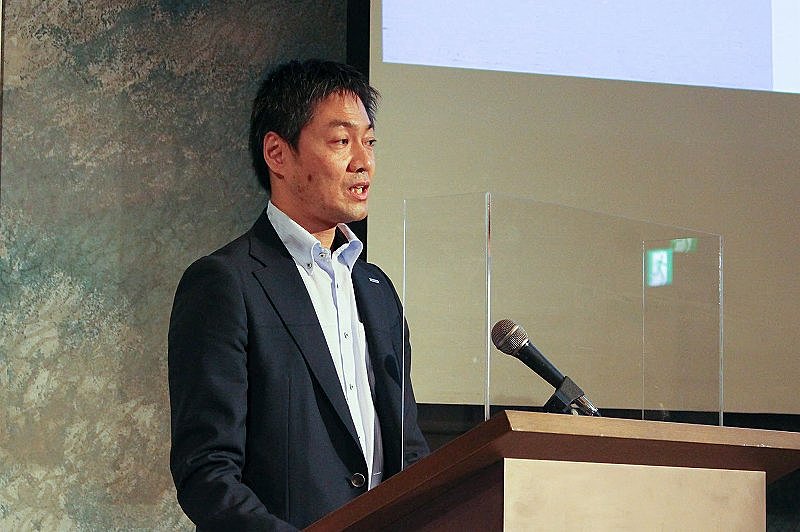 パナソニックシステムソリューションズジャパンのパブリックシステム事業本部システム開発本部プロセスソリューション事業センター長・梶井孝洋氏
The demonstration tests will be carried out from November 1 to December 31 2021. The Face Recognition Digital Pass is used on four bus routes, at five railway stations and in nine tourism facilities including Fuji-Q Highland. Payment through face recognition is accepted in four shops and three hotels.
Information on shopping coupons, travel planning and a navigation service is available on official Fuji-Q Highland app.

実証実験における各社の役割
Masao Amamiya, Fuji Kyuko, said that one of the goals is to increase visitors' spots from 1.3 currently to 3.0. One of the challenges in the Mt. Fuji area is that most visitors from Tokyo go back home a day because of convenient access to the area.
Also, Amamiya expects that the innovative system can distribute appropriate revenue to each of facilities because the face recognition clarifies the number of visitors accurately.
富士急行の執行役員事業部部長・雨宮正雄氏
Fuji-Q Highland has already introduced the Panasonic face recognition system since 2018. The theme-park, as a tourist hub, is trying to extend the system to encourage visitors to go to neighboring shops or restaurants for longer stay in the area.
"A key for the future success is that other tourism providers than Fuji Kyuko Group will join the program," Amamiya said. "We have a concept of Creating Shared Value (CSV) giving profits back to local communities."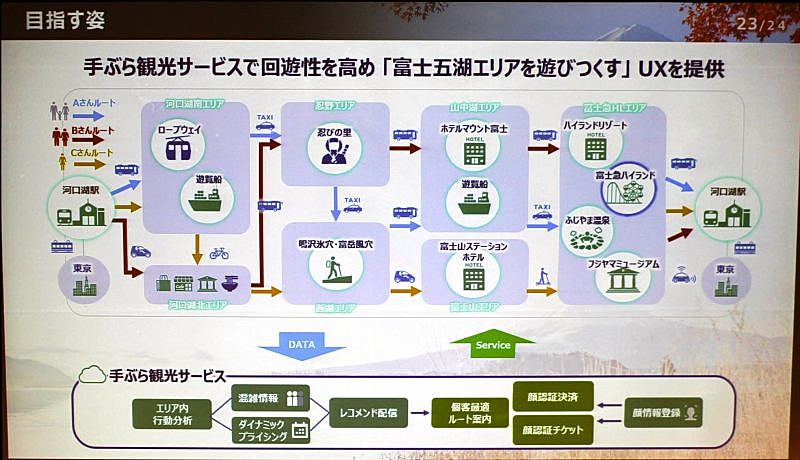 実証実験でパナソニックと富士急行、ナビタイムが目指す姿
Face Recognition Digital Pass is sold on Fuji-Q app, and ticket prices vary with AI-based visitor forecast. As a dynamic pricing system, price calendar is displayed for a user to choose a visit day.
実証実験の対象エリアマップ。富士五湖の広範に及ぶ。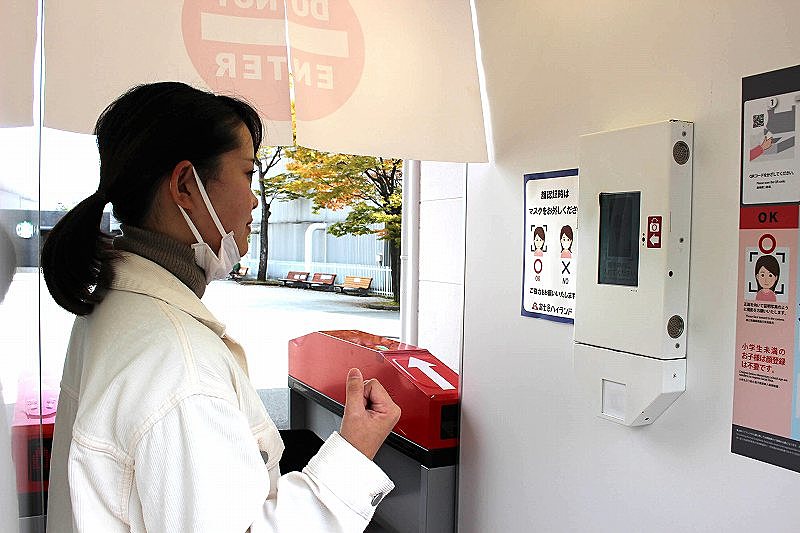 富士急ハイランドの入場ゲート。2018年から、園の入退場とアトラクション利用時にパナソニックの顔認証技術による入退場システムを導入。これまで延べ約3200万回利用されている。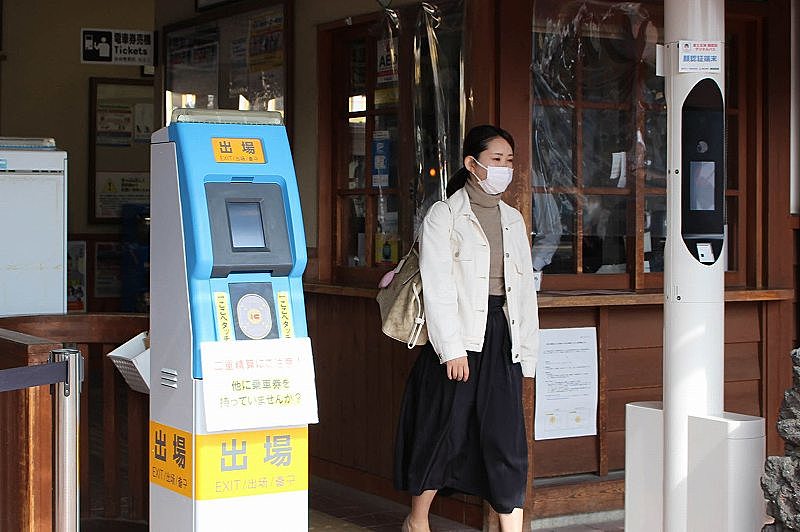 河口湖駅改札の顔認証ゲート。認証する速度は約1秒で、普通に歩く速度であればリーダーの前で立ち止まらなくても認識される。パナソニックの顔認証技術はすでに、企業のオフィスのほか、羽田や成田、関空など主要空港の顔認証ゲートでも実運用されている。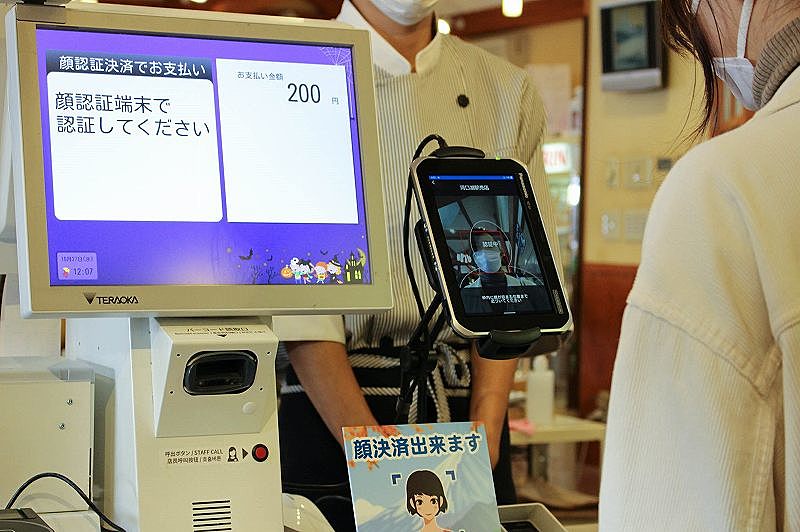 河口湖駅売店での商品購入の様子。物品購入時は顔認証での決済を利用することを申告し、画面で決済金額を確認したら、顔認証をして最後にPIN入力し、支払いが終了(PIN不要にすることも可能)。財布やスマホを出さずに買い物ができる。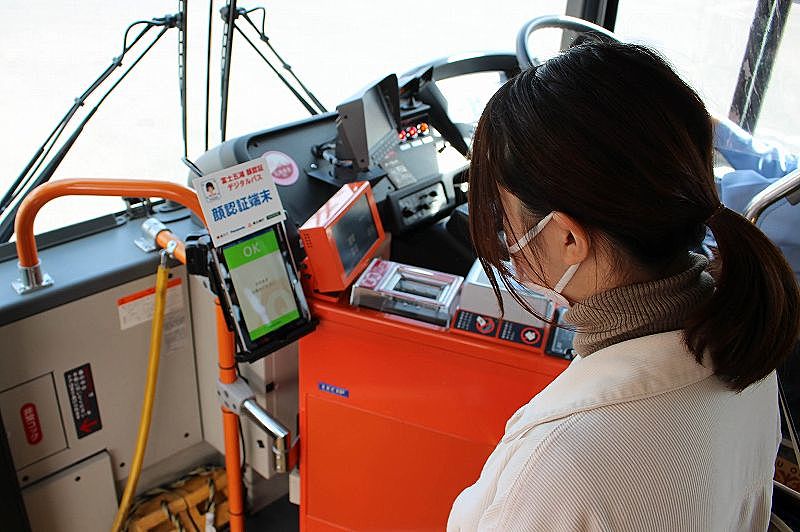 周遊バスも顔認証の「身一つ」で乗車可能。降車時に、顔認証リーダーで認証するだけ。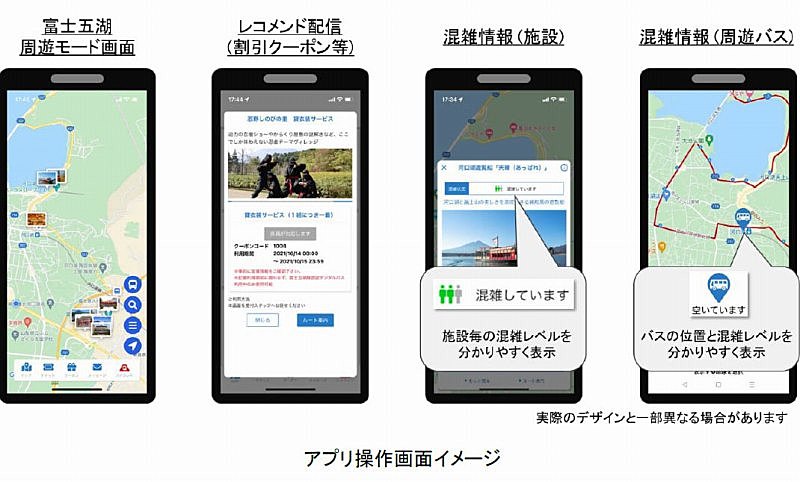 観光MaaS「手ぶら観光サービス」のアプリで利用できる機能。経路検索や割引クーポンなどのレコメンド配信のほか、事前の情報収集や旅行計画ができる旅程プランニング、観光施設や周遊バスのリアルタイムの混雑情報なども表示する