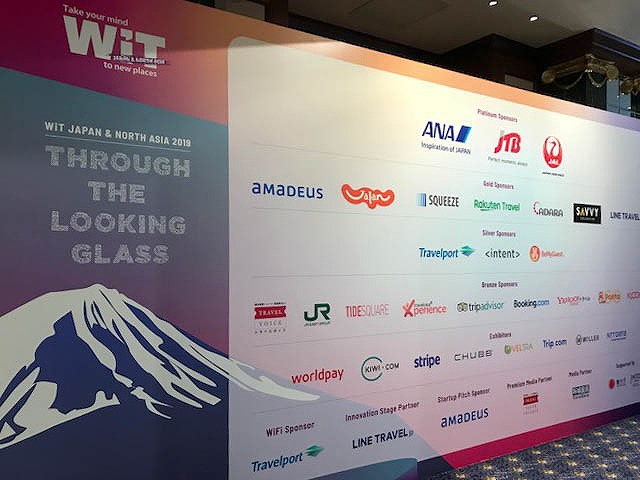 WiT Japan 2019 was held in Tokyo on July 4 and 5 2019, joined by 80 key persons to discuss the latest travel technologies under the conference theme of 'Through the Looking Glass." Kei Shibata, Venture Republic CEO and one of the organizers, said that East Asia becomes the world's leader in Super App, introducing that major message apps of LINE (Japan), WeChat (China) and KAKKO (Korea) generate several millions of air ticket, hotel and tour bookings everyday. 
Yeoh Siew Hoon, WiT Founder, described mobile booking as 'a weapon of big innovation,' explaining that the mobile booking ratio is expected to rise to 65% of the total by 2022. She stressed that conventional travel players have to change themselves.
She also expressed that the current online travel market is fragmented into global 'elephants' and local 'richer tigers.' With regard to Super App, she forecasted that they will soon enter into air ticket or in-destination markets because some of them, including ride-share app Grab in Southeast Asia, are supported by global OTA. 
Hideo Fujii, Executive Officer, LINE Corporation/Company CEO, O2O Company, talked about LINE's travel business as a Super App. One of the business strengths is to provide 80 million users with a variety of services on the app to make daily touch points with them Fujii also explained that LINE O2O provides users with both online and offline opportunities in shopping, dining and travel, taking advantage of users' authorized positioning information. 
Regarding the Japan's travel market as a big market of 2.5 trillion JPY, LINE is providing seamless services from before-travel to after-travel, according to Fujii. For an in-destination service, LINE has just launched 'Odekake NOW,' which a search service for a traveler to find on-site restaurants or activities in traveling. 
In the session regarding payment, some of the speakers were surprised by competition in Japan to acquire customers among six players like PayPay or LINE Pay. They were skeptical about their business sustainability. 
Regarding diversified accommodations, Timothy Hughes, Vice President Corporate Development, Agoda, said that redefinition of accommodation happens, as vacation rentals as well as conventional accommodations have begun offering ancillary services. Yumiko Toeda, President & CEO, Ango Hotels, who develops and manages separate-typed hotels in Kyoto, pointed put that many of conventional accommodations do not meet emerging guests' needs.