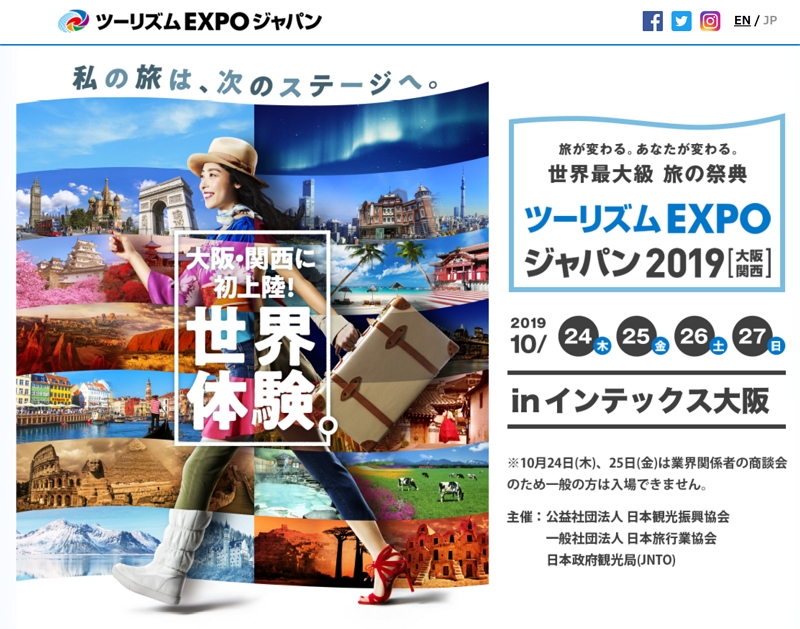 Japan Travel and Tourism Association, Japan Association of Travel Agents (JATA) and Japan National Tourism Organization (JNTO) announced on July 9 detailed contents of Tourism EXPO Japan in INTEX Osaka, which will be organized with a theme of 'Take Your Travel Up a Notch' for four days from October 24 to 27 2019.
The organizers expects to welcome 130,000 visitors for four days (34,000 visitors on business days and 96,000 visitors on showcase days for consumers), placing Osaka attracting world's attentions for EXPO 2025 as a gateway to tourism area in Kansai region. 
Tourism EXPO Japan 2019, as a comprehensive tourism industry showcase, will primarily focus on three themes: 1) local revitalization with tourism, 2) creation of new types of tourism and 3) rediscovery of tourism powers and attractions in Kansai in order to boost tourism industry development for the future. 
International conferences will be organized this year too. World's tourism key persons will come together to talk about today and future of the tourism industry, and also tourism ministers from 15 countries and tourism organization leaders will meet in Osaka. Theme-oriented symposiums are planned to be organized for digital marketing, overseas travel and entertainment.
The travel exhibitions will be joined by more than 100 countries and regions and 47 prefectures in Japan. Business meeting appointments between buyers and sellers may reach about 5,500 sessions.
At the same time, IR Gaming EXPO will be held for the first time in Japan to connect IR developers with the tourism industry and to appeal IR to consumers. 
In 2020, Tourism EXPO Japan in Okinawa will be organized for four days from October 29 to November 1.
Event Outline
Period: October 24th to October 27th 2019
Venue: INTEX OSAKA
Organizers: Japan Travel and Tourism Association, Japan Association of Travel Agents (JATA), Japan National Tourism Organization (JNTO)
Concurrent event: Visit Japan Travel & MICE Mart 2019 (VJTM 2019) organized by JNTO