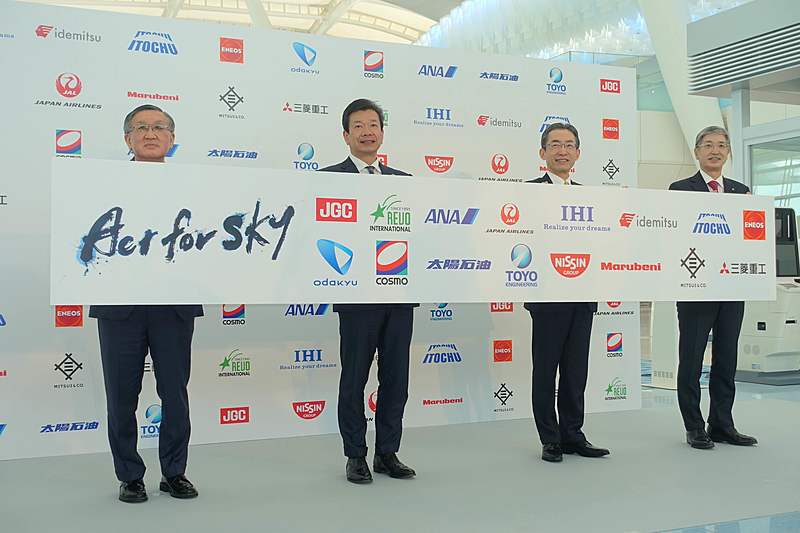 JGC Holdings Corporation, REVO International, ANA and JAL, as leader companies, launched 'ACT FOR SKY,' a corporate group to aim to commercialize Sustainable Aviation Fuel (SAF) in Japan. The group, comprising 16 companies, will work together to establish a domestic supply chain for SAF from material purchase and manufacture to supply.
Masayuki Sato, JGC Holdings Chairman and CEO, said at a news conference, "SAF is the trump card for carbon neutral in the aviation industry. For the domestic commercialization, we are going to cooperate each other as 'All Japan' to change of behaviors by encouraging people and companies to raise awareness to SAF."
SAF just accounts for less than 1% of the total aviation fuel supply in the world today. The aviation industry globally aims at practical zero emission by 2050, and ANA and JAL have a goal to replace 10% (1.2 to 1.3 million kiloliters a year) of the total fuel with SAF by 2030.
Challenges, however, are found not only in building of a supply chain but also in purchasing materials from different sources, such as used oil, biomass, micro-algae or plastics, which means the aviation industry has to depend on different energy resources from today.
Tetsuya Koshikawa, SAF manufacturer REVO International President, said, "It is difficult for one company to ensure stable purchase and to stabilize SAF quality."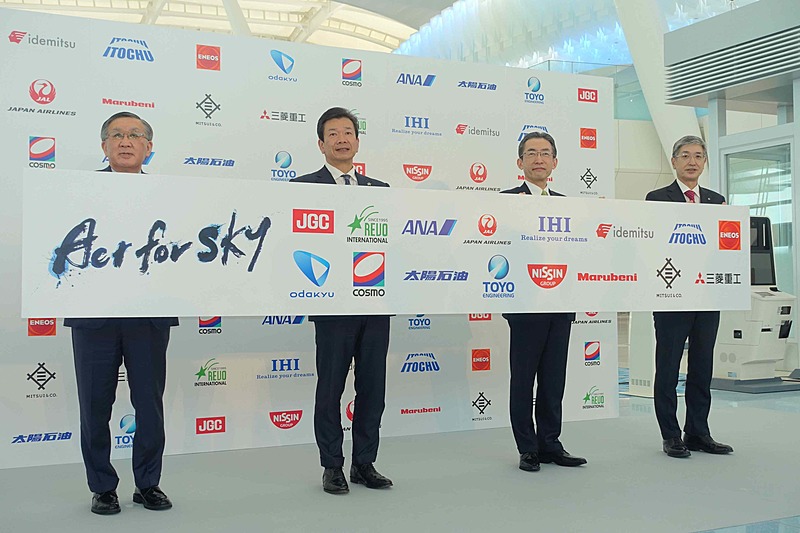 (from left)Masayuki Sato, JGC Holdings Chairman and CEO、Tetsuya Koshikawa,REVO International President, Yuji Hirako, ANA President and Yoji Akasaka, JAL President
ANA and JAL announced a joint report on zero emission in October last year to promote SAF in Japan. " With the report, we can share importance of SAF across a variety of industries," Yuji Hirako, ANA President, said. "SAF will has critical significance in national economic security in the future for island country Japan. As it is true that SAF is 3 or 4 times more expensive than the kerosene jet fuel, we will cooperate with the government to provide consumers with something benefit to expand usage of SAF."
"SAF is a dreamful story," Yoji Akasaka, JAL President, said. "I think we can create a new circular economy system in Japan based on SAF. It can be a solution for other environmental challenges."
Naming March 2, the announcement day, as 'DAY of SAF,' ACT FOR SKY is trying to increase member companies and to seek collaborations with the related organizations and local governments.
ACT member companies directly relevant to SAF production are IHI, Idemitsu, Itochu, ENEOS, Cosmo Oil, ANA, Taiyo Oil, Toyo Engineering, JGC Holdings, JAL, Marubeni, Mitsui Bussan, Mitsubishi and REVO International.
SKY member companies for a supply chain are Odakyu Railway and Nisshin Foods Holdings.