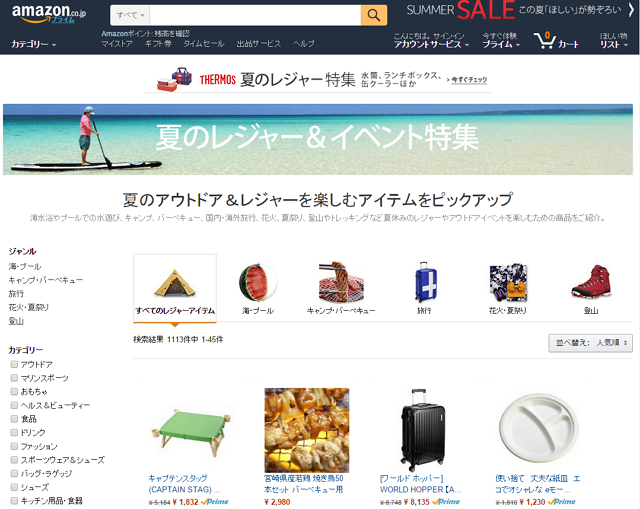 Amazon.co.jp began offering booking opportunities for outdoor activities on it summer leisure & event special in collaboration with asoview!, the activity and experience booking engine of Japan. At the same time, asoview!'s outdoor goods are also introduced on the special page. The collaboration with Amazon.co.jp is similar to that with Yahoo! Travel.
The special page consists of five categories of 'Sea and Pool,' 'Camping and BBQ,' 'Travel,' 'Firework and Summer festival' and 'Climbing' and several sub-categories of 'Outdoor,' 'Marine Sports,' 'Hobby,' 'Camera and Video' and so on. Through the categories, you can search activity products asoview! selects according to sex or age.
For outdoor activities, through six entrances of 'bungee jumping,' 'Canoe and Kayak,' 'Paraglider,' 'Rafting' and 'Snorkeling,' you can move to asoview! site and select and book activity plan you are interested in.
The search screen of asoveiw! on Amazon is as follows: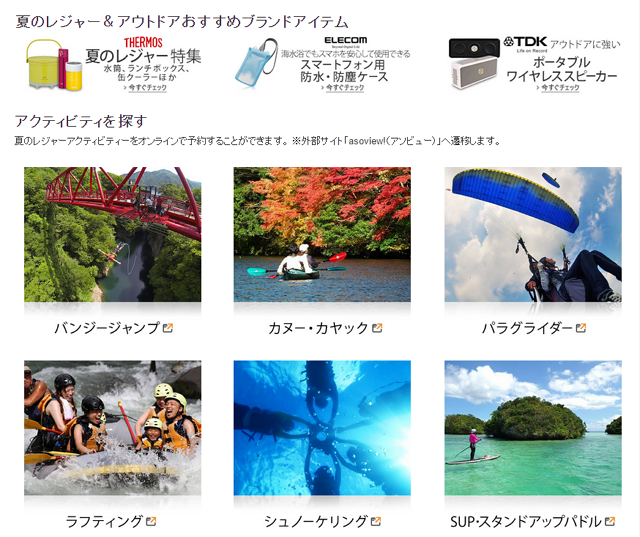 In Japanese